This upcoming collection will contain the first Firespiral wraps to be woven since last year!
It will be a small release, with every design woven in limited quantities, purely due to the small size of our business.
The cloth will be woven by our expert weavers in Burnley, then each wrap will be hand sewn by Tamsin. We will be offering this collection as a pre-order, and offering a 10% discount to anyone who joins it. The cloth will take a few months to be woven and sewn. So here are all the details to help you choose what to pick!
About the collection
This is going to be a split warp collection, meaning that there are two different colours of warp yarn being woven on at the same time. Confusing?! The trick is that the loom actually weaves two wraps worth of cloth at once- a wide roll that we then cut down the middle to create the wraps. The loom has a double repeat, meaning that it weaves the same design twice across the width. When we wind the warp on to the loom ready for weaving, we can choose which colour yarn to use. For a split warp we'll use one set of colours for one half and another for the other half.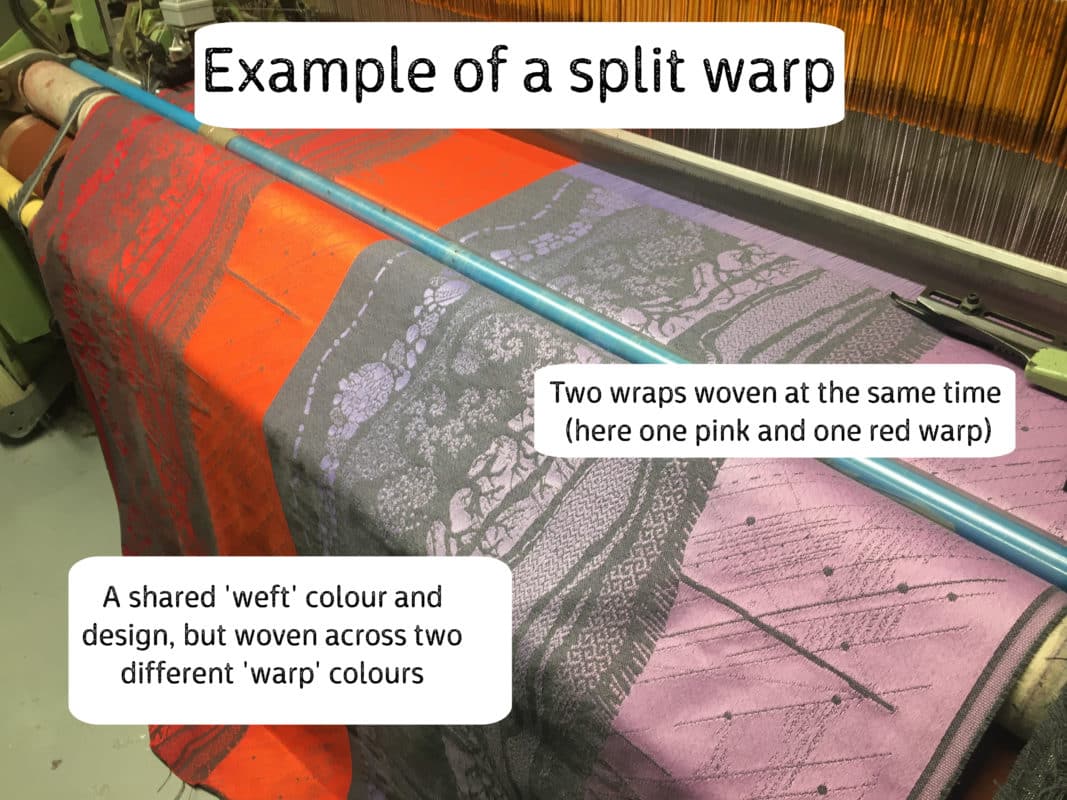 The two warp colours that we have chosen are burgundy and green. Each woven wrap will have a graduated warp of 3 colours, moving from a darker to lighter shade from the top rail of the wrap to the bottom. Our warps are made from organic combed cotton, and all our yarns are Oeko-Tex certified as standard.

A quick reminder about weaving terminology
Warp= the threads that run along the length of your wrap (often the solid 'background ' colour in a design)
Weft= The threads that run from the top rail to the bottom rail of your wrap. These are often more textured
Design= The picture/pattern that is woven into the cloth by the weft and warp threads swapping position.
POTENTIAL WRAPS IN THE COLLECTION
Our plan is to offer a number of different wrap ideas initially, but only weave the ones that reach a minimum threshold in the pre-order. This means that some designs might not come to fruition if they're not popular enough. We will weave what you want to buy! The number of orders we need to have on the books for each design is pretty low, so if there is a particular wrap that you are desperate to have made, then your help in promoting it to other babywearers will make it more likely to be woven!
On that note, we can also weave your personal suggestion of weft/design if you can get enough other people to support your idea. We need around 70 to 80 metres worth of orders placed for each design to go ahead, which works out at roughly the same as 16 x size 6 wraps as a guide. Orders can include ponchos, uncut cloth, bags, scarves etc to make up the minimum meterage.
** All the images below are digital mock ups to give you a rough idea of how the wrap might look. They are not colour accurate. You will need to use your imagination a little, and trust our expertise in creating beautiful cloth!**


PRICING GUIDE:
We've given a rough idea of the retail price for a size 6 wrap in each design. The final prices shouldn't be more than a few pounds different. There will be roughly a £9-£10 difference between sizes (so a size 3 will be between £27-£30 cheaper than a size 6).
We are offering a 10% discount on all pre-ordered wraps, so you can remove 10% from the prices stated here if you plan to pre-order.
weft 1
This weft is made up of 3 alternated yarns. It has the working name of 'Seaglass'
1 thick marled turquoise green lambswool
1 teal combed cotton
1 white slub viscose
They'll blend together to create an 'ocean on a cloudy day' shade of teal green, with flecks of colour throughout. The lambswool is the same as we used in the Silverdale wraps but the inclusion of the viscose and cotton will make for a lighter weight wrap. The viscose is the same as we used in vega (and the same type of yarn as Firerock).
This will be a beautifully textured weft, with the wool threads given room to bloom in between the finer cotton and viscose. It is likely to be around 260gsm in thickness, and will be very fluid and moulding to wrap with.
We're planning to weave it with the Charters Moss design, because we think it will look shimmery and magical!
A size 6 wrap will cost around £170 and we're planning to make around 15 wraps in total.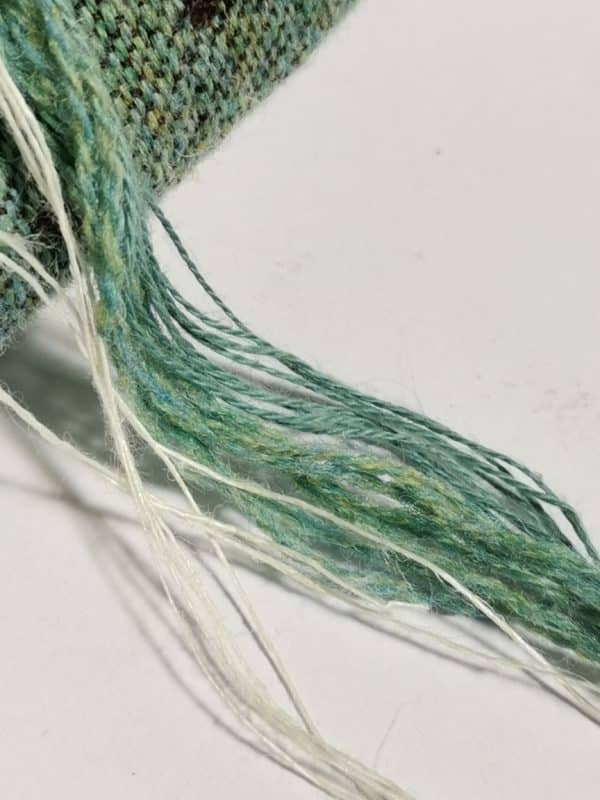 weft 2
This weft is made up from 3 alternating yarns. It has the working name of 'Earthy'
1 thick merino lambswool- a marled yellow/orange shade
1 copper coloured Italian supersoft linen
1 salmon coloured Irish Ross linen
The copper linen was used previously as part of the graduated Earthwitch weft. The merino lambswool is similar to the Firecrest wool in colour, but more saturated and richly flecked. The salmon coloured linen has been used in several previous wraps including Enchantress and Grizedale.
Alternating the wool with linen will 'thin' out the cloth slightly, creating a drapey yet cushioning cloth. This is likely to be around 266gsm in thickness. Our Alchemy weave allows our heavier weight wraps to still be moulding and easy to wrap with, compared to the same weight of wrap from other companies who use a denser weave.
We thought that this weft would pair beautifully with our birch trees design.
A size 6 wrap will cost around £180 and we're planning to make around 15 wraps in total.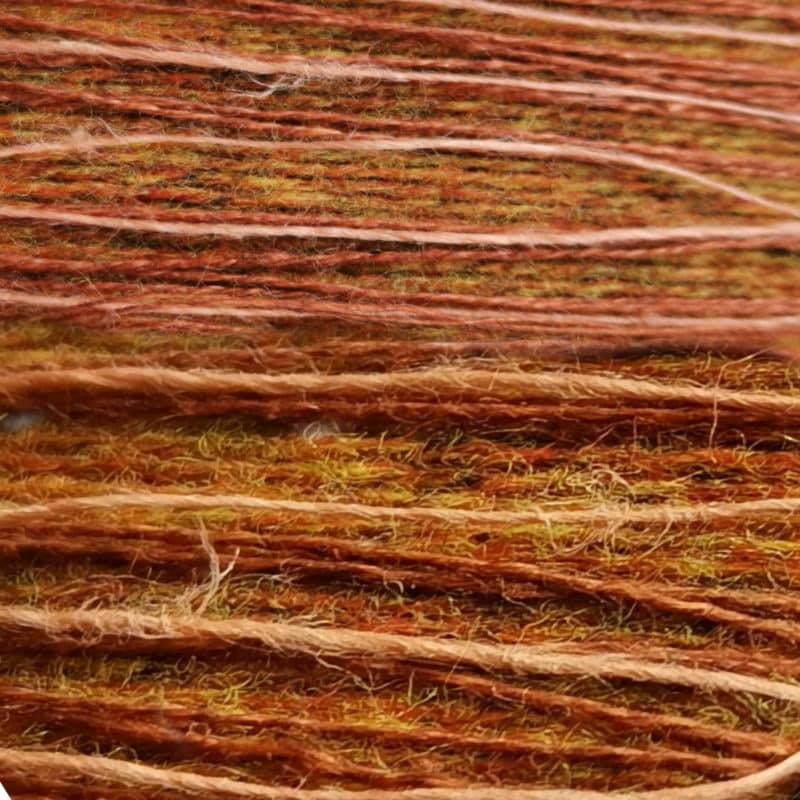 weft 3:
This weft is called 'Dryad' and we've woven it several times before. It is a quad blend of hemp, cotton, linen and viscose which creates a shimmering, slubby textured wrap- thick yet soft and moulding. The hemp yarn is always the same, but the viscose linen yarn sometimes varies in thickness depending on where we can source it from. This iteration of Dryad will potentially be mid scale in terms of past weft thicknesses, around 300gsm.
Dryad Dendron Birch Trees
Dryad Chryso Nocturne
Dryad Frost Birch Trees
Dryad Cyano Seafoam
Dryad Sunset Seafoam
We think that our Murmuration design will bring this special weft to life!
A size 6 wrap will cost around £180 and we're planning to make around 20 wraps in total.
Weft 4
This weft is just a single, 100% linen yarn, creating a 50% organic combed cotton, 50% Italian supersoft linen wrap. Our Italian linen wraps have the softness and ease of care and wrapping that you'd expect from a cotton wrap, with the shimmery support of linen and none of the stiffness. They're linen wraps for people who don't like linen from other companies much!! They're a mid weight wrap, great for small and big babies alike.
The working name for this weft is deep gold, and it is a deeper, slight cooler shade than the halcyon weft.
We're planning to offer two different designs in this weft- Gossamer and Geode. They'll weigh in around 250-260gsm.
A size 6 wrap will cost around £170 and we're planning to make around 10 wraps in each design.
Geode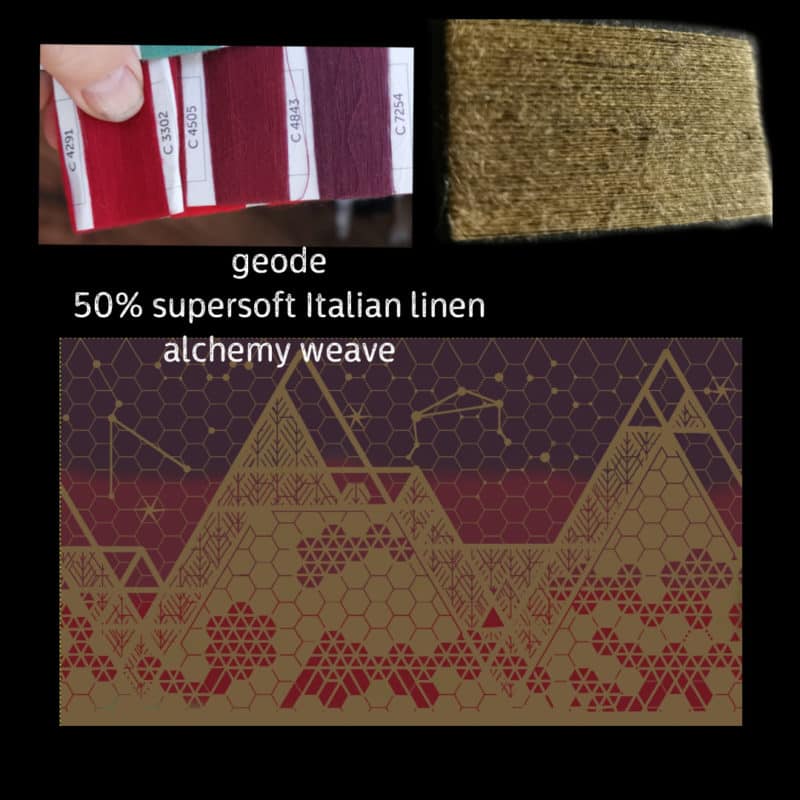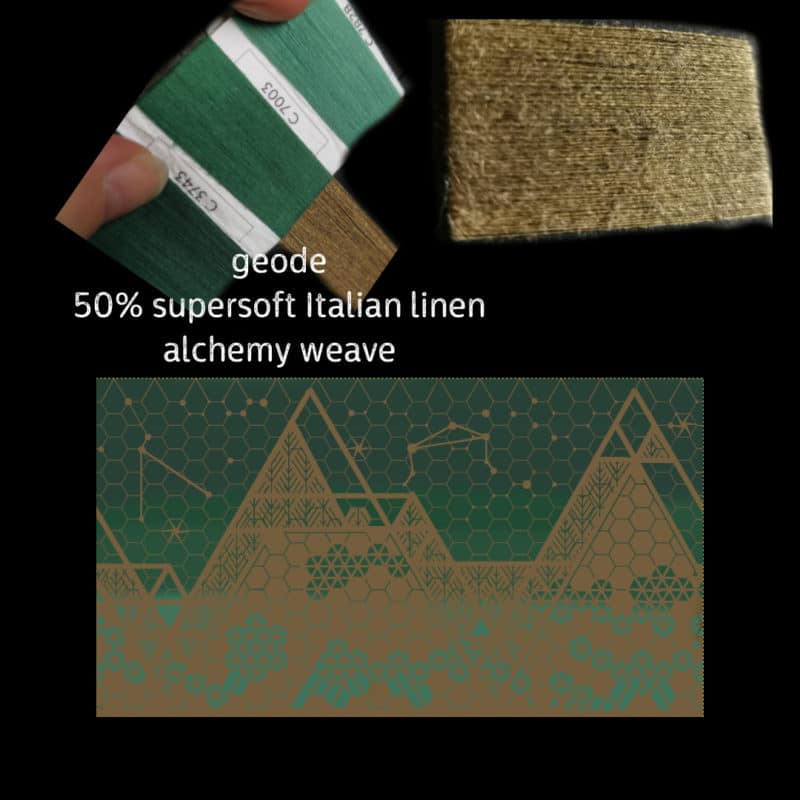 Gossamer
weft 5
This is a tri-blend weft made up of 3 alternating yarns. Working name is Twilight because it is a similar colour to the warp of the same name
1, darker indigo cotton
1 indigo hemp
1 indigo viscose
The hemp and viscose each have a shimmer that catches the light, making those yarns appear slightly lighter. The hemp has been used in the Touchstone weft and the viscose appeared in the Cloudburst wraps. Our hemp is 2ply and supersoft just like our Italian linen.
This will be the thinnest wrap in the collection at around 230gsm, and paired with the Starmap design they'll be a true 2 'two-face' wrap, with one side predominantly weft coloured, the other warp coloured. The starmap design doesn't show well in a small digital mock up, but these wraps will look lovely when woven!
A size 6 wrap will cost around £170 and we're planning to make around 20 wraps in total.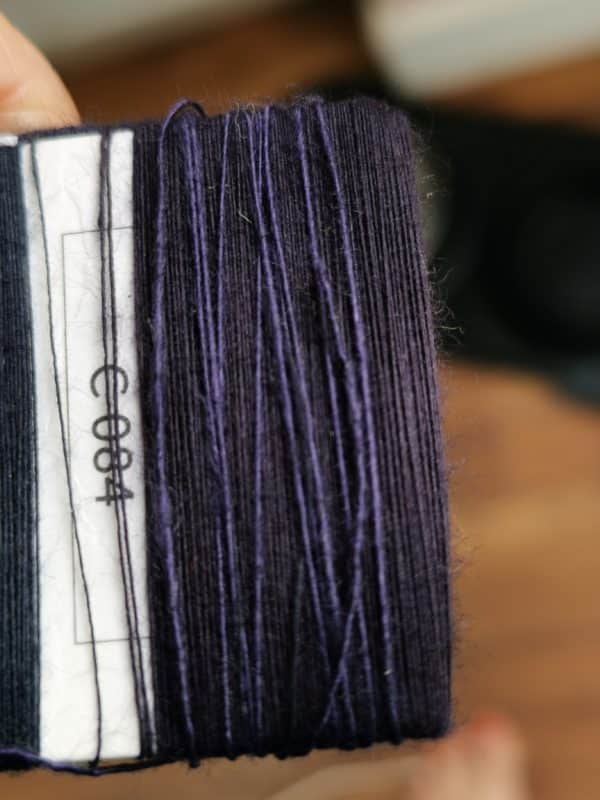 What happens now?
The cloth is already in the process of being woven and the pre-order is open for you to reserve any item you want to be made from it. All pre-orders will get 10% off the full retail price. We'll sew your order as soon as the cloth arrives with us. You can either pay the full amount upfront or use the code preorderdeposit2023 to pay 50% deposit and 50% once your order is ready to post.

If you have any questions at all you can message us at contact@firespiralslings.co.uk, chat to one of us via our facebook page or ring us on +44(0)7583 515389.