Firespiral Slings was set up in 2012 by friends Tamsin and Jen.
We met and became friends in 2009, when our eldest children were just babies. With them having been born only days apart, we found ourselves bumping into each other at various local breastfeeding and baby groups.
As new parents it is so easy to feel lost and unsure, especially if your parenting choices go against the mainstream. We both used slings and co-slept with our babies at a time when there were no local sling libraries and  fewer attachment parenting resources around. It was great to find someone else whose baby didn't like to be put down, and who napped in the sling or nursed to sleep!
By the time our second babies were born (this time a few weeks apart from each other) a local sling library had set up in our area, and we'd meet regularly to chat and share our love of wrapping. Back then there wasn't much choice when it came to wraps; some weren't easy to use and most of the designs were flowery or 'cutesy'.
Some time after our middle children were born, we were chatting over coffee about our shared love of woven wraps and how we felt there was a gap in the market for more 'alternative' designs. We both came from creative backgrounds, understood a bit about textiles and we lived in part of the country where the weaving tradition was still alive. We had an animated discussion about how great if would be to start a local business weaving our own wraps, then went home, still thinking about how we could improve on weaves, what our designs would look like… 

It wasn't meant to be anything serious, but the idea had ignited something in both us that we couldn't forget about, and within a week we were visiting mills and getting the ball rolling! At first we had no expectations or real plans for the future- if we had then the whole project might have been too daunting. As a result, the business pretty much grew organically, and we think that helped it to develop into something with enough flexibility to fit around our family life, and to weather all the various storms that we've been through.
Firespiral has grown with our children, and almost feels like part of the family. It feels like going back to a more ancient way of living, where there is no strict divide between 'work' and the rest of our lives, everything intertwines to function seamlessly. With that in mind, it is hard to fully comprehend how the business has grown, or imagine what the future holds, in much the same way that it is hard to get your head around how your children have grown up and changed over the years!
We've breastfed in boardrooms and changed nappies during meetings. We've had little kids running circuits round precariously stacked cones of yarn, and playing hide and seek in cloth samples, to the amusement of the weavers. One yarn stockist would always bring out a little saucer full of raisins to keep our toddlers entertained while we talked business. Back then we sometimes worried that we wouldn't be perceived as professional, but actually I think it helped to make a deeper connection within the whole process. Everyone involved in the supply and manufacture of our wraps has met our families, seen wraps being used first hand and understands how valuable their contribution is. That local, human connection helps to keep quality high, because everybody cares about our business on their own personal level -and we care about them too!
Things are certainly different from those early years when we had very small children and were still finding our feet. Through trial and error we've developed a pattern of manufacture and a range of products that work well for us. Our ethics and core values of local, ethical and minimum waste production have stayed the same since the very beginning, although we've become better at implementing those as we've become more established.
We're a family business at heart, and while we want to grow more robust and strong, I can't imagine we'll ever want to put profits before ethics, or grow larger to the point where we become less involved with the heart of the business. Firespiral has become our way of life.
Years later, and our business is still the two of us (with occasional help from our husbands and kids). We work closely with a nearby weaving mill, our local seamstress and other small independent businesses who supply us in some way. All these people are woven tightly into the wider Firespiral family, but all the day to day running of the business is still done by us. So if you get in touch, it will be either Jen or Tamsin who chats with you, and one of us will have lovingly packed and posted your parcel!
We each work from our family home (we have small workshops to store stock, but lots of the day to day work ends up done at the kitchen table).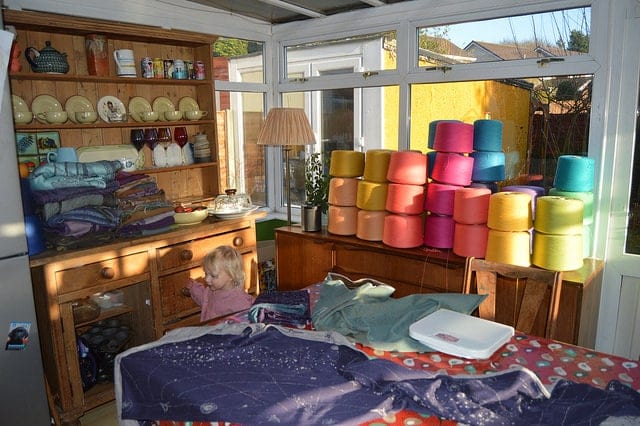 Originally we lived near to each other, on either side of Winter hill. Once Tamsin's 3rd child had been born, she moved up to Morecambe to be nearer to family. She loves living on the coast, and takes creative inspiration from the ever changing North sea-scape. Tamsin has lived all over the world, whereas Jen has been rooted to the North West of England for the majority of her life. Jen is raising her 3 children in the mill village that she herself grew up in, on the edge of the West Pennine moors. The landscape is wild and blustery, and a bit magical.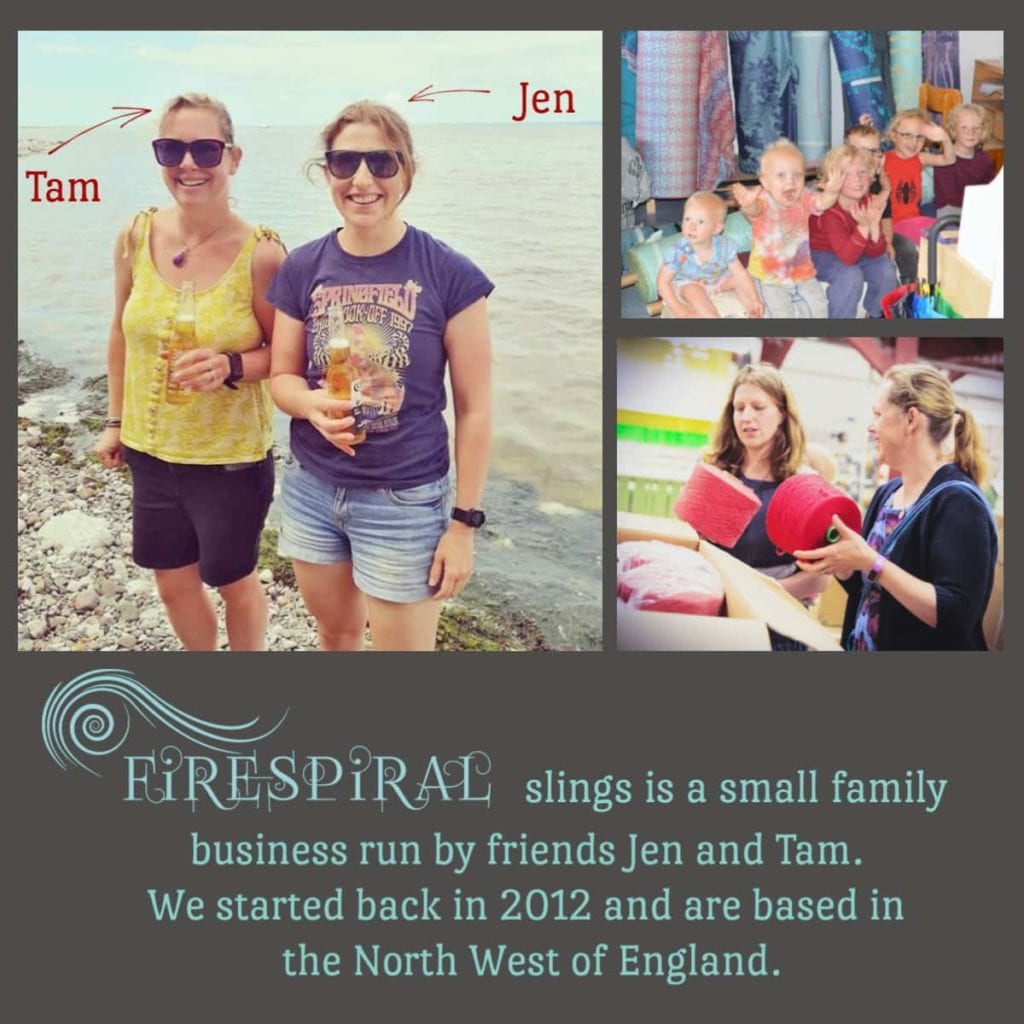 There's a god deal of both our personalities embedded in Firespiral, our ethics and our sense of humour.
We work well as a creative team, because we both inhabit different ends of the spectrum. Jen is the fire, Tam is the spiral. Jen loves earthy colours, Tamsin prefers the more ethereal colour palette of purples and blues. Jen lives off coffee, Tamsin is now allergic to it! Our differences in all things seem to complement each other, and when we collaborate on anything we meet at a perfect middle point!