With so many options out there, it can be hard to know which woven wrap to choose! We'll guide you through the decision making process and help you find the perfect wrap for you.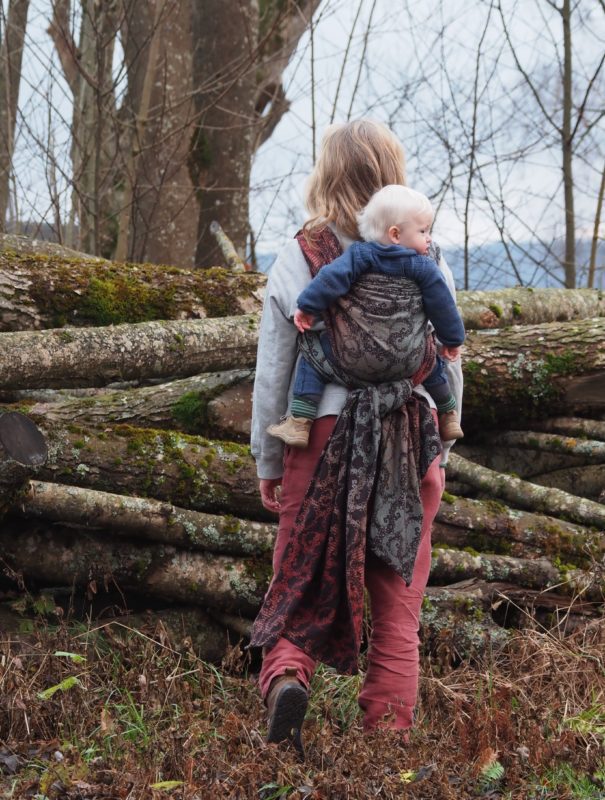 Luckily for you, you're starting here at Firespiral slings, so that makes everything much easier!
Our wraps are made from special cloth. It is woven for purpose using a unique weave specification that we developed from our understanding of woven wraps. This makes all of our wraps easy to use right from the start. There is nothing in our shop that would feel difficult or unsuitable to wrap with, so there is no 'wrong' choice for you, just a few factors to consider.
1. Appearance
We think it is most important to choose the wrap which calls to you visually. If you love how it looks, you'll enjoy learning how to use it! You will become adept at using that particular wrap, and learn how to work with its unique wrapping qualities. All Firespiral wraps are designed to wrap beautifully alongside looking beautiful, so simply choosing your favourite pattern or colour is a safe bet.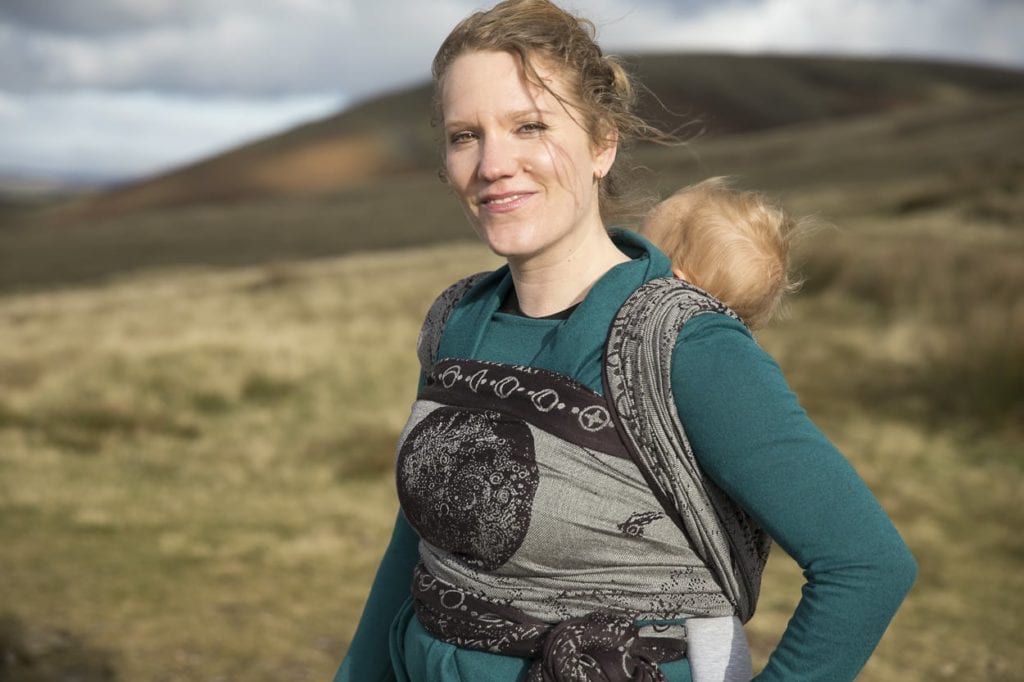 If there are several wraps that you like the look of, then you can start to take other factors into consideration, such as:
2. Weave Structure
We have created 3 bespoke weave structures that each have slightly different properties. We call them Alchemy, Synergy and Elements. You can read more about each of them here.
A brief overview is that:
Alchemy is the softest to touch and most snugly moulding of the 3. Alchemy wraps are incredibly easy to wrap with- they do the work for you! They make a great starter wrap, and give the smoothest, most effortless finish to wrap jobs once you're an old hand at wrapping.
Synergy weave is a double cloth- sturdy and forgiving of even the quickest and sloppiest tying! It has a more even texture to the cloth, without the silkiness or weft texture of Alchemy. Synergy wraps often have an iridescent quality to them to make up for this, and they have the capacity to make even the heaviest toddler feel weightless.
Elements weave is somewhere between the two – similar in style to Alchemy, but denser and quicker to tighten, similar to synergy.
It is mainly the weave structure (and the other technical weaving spec that goes alongside this) that makes Firespiral wraps feel different to other wrap brands out there.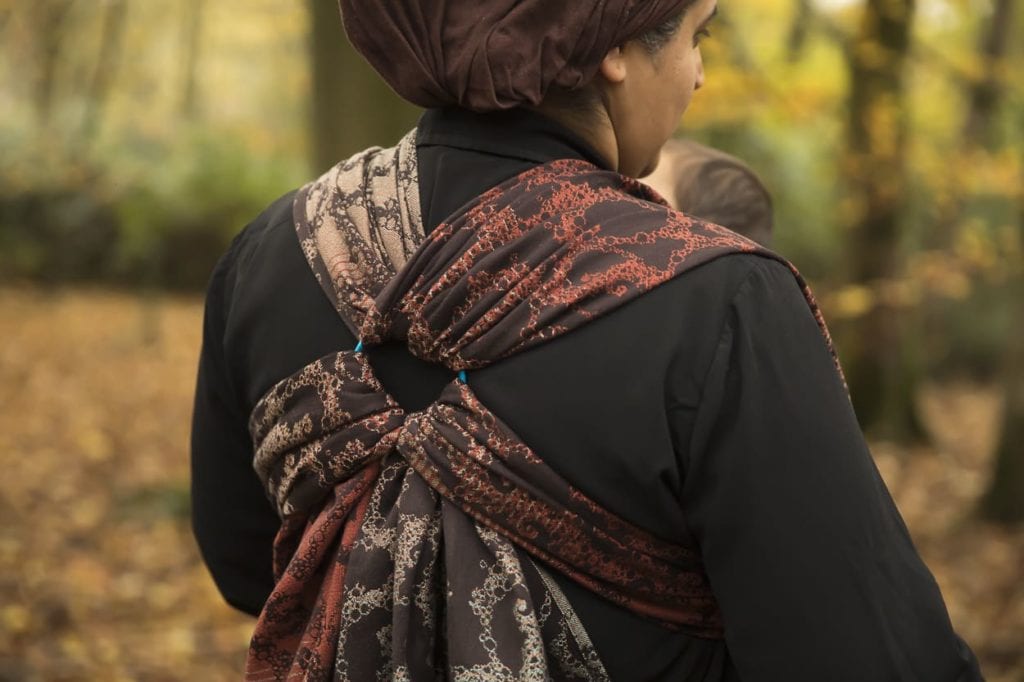 3. Thickness
The thickness of a wrap will change how it feels to use. Thicker wraps will generally offer more support than thinner ones, but aren't quite as easy to tighten fully. This is where personal preference and technique comes in.
Some people find thin wraps more comfortable for carrying big children as they're able to tighten them snugly and evenly. This prevents little pockets of slack cloth getting trapped you they're wrapping, which would subsequently lead to the wrap sagging and becoming less comfortable. Other people prefer a thicker wrap which doesn't need careful tightening and provides more natural cushioning.
A wrap's thickness is generally measured in GSM (grams per square metre). This is useful in some ways, but be wary of advice telling you to look for a specific GSM range! Firespiral wraps use open and airy weave structures that allow a higher GSM (thick) wrap to tie as easily as a thin wrap. Wrap thickness must always be considered in the context of other qualities too. Two wraps from different brands with the same GSM will not both wrap alike!
You can read more about GSM here.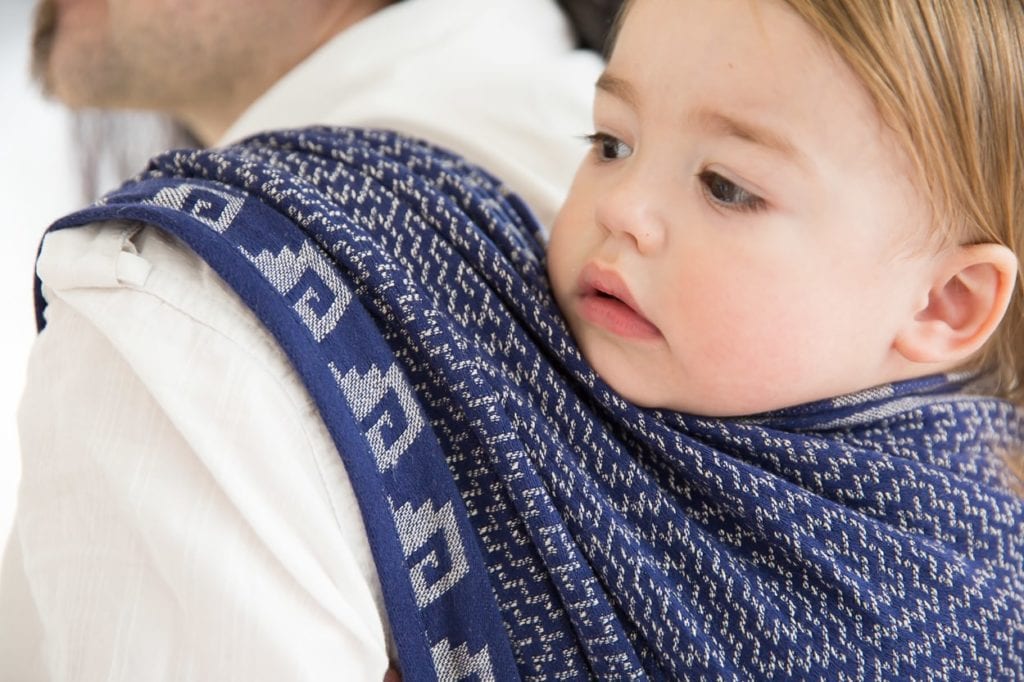 4. Fibre Blend
All Firespiral wraps have a 2ply combed cotton warp to give them the strength they need for years of use.
Weft fibres lend different wrapping qualities to a wrap.
Wool wefts are often quite cushioning and supportive.
Long fibres such as linen or hemp don't have much natural stretch, so they tighten quickly. This gives the feeling of them being more supportive.
Viscose has a silky stretch and recoil to it.
Cotton offers a general balance of qualities.
Lots of our wraps have a blend of different weft fibres to create visual interest as well as a lovely wrapping experience. Here's a more in-depth look at the wrapping properties of different fibre blends, but remember that a thin wool will feel different to a thick one, and the same fibre will feel different when woven in Elements weave compared to Alchemy!
If at this point you're feeling overwhelmed, just go back to point number one and choose the wrap that you most like the look of…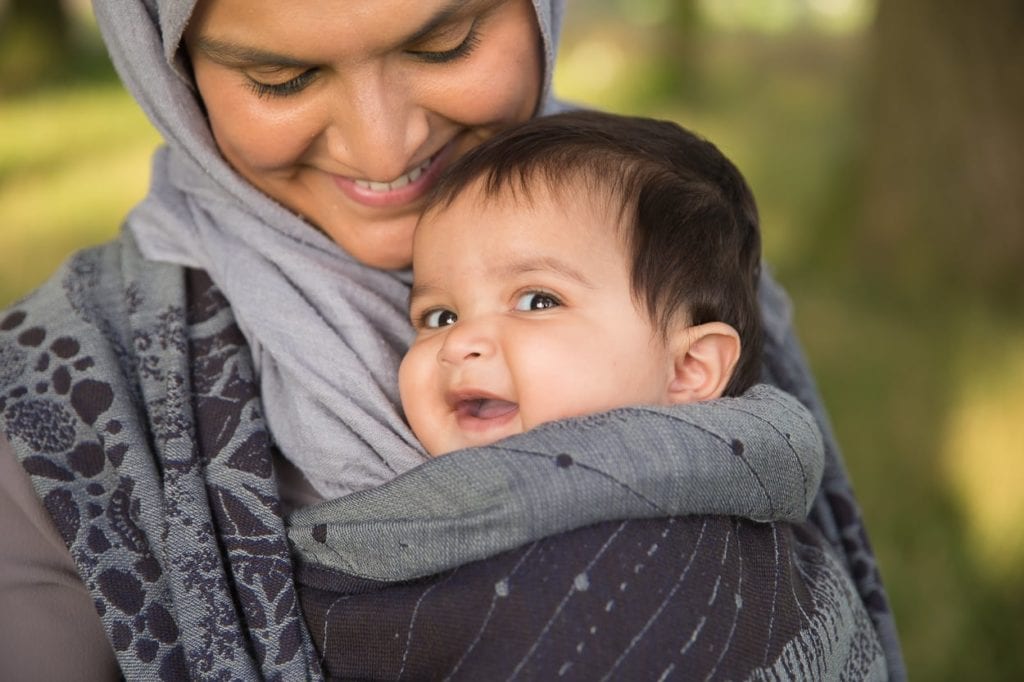 Take a look around our shop below, see what catches your eye and then learn a little more about the thickness, weave structure and fibre blend of that particular wrap. You can always ask for opinions and advice from us at Firespiral (via facebook message or emailing contact@firespiralslings.co.uk), or from the helpful online babywearing community.
CHosen your favourite Wrap now?
Get help with selecting the right size for you.