The prize draw is now closed, congratulations to all our winners!
At Firespiral slings we've had the privilege of playing a small part in the lives of many families for nearly a decade now. The time when our children are small is a really precious one, and every family deserves the opportunity to keep their loved ones close, safe and happy. The current conflict in Afghanistan is denying this basic right to many people.
Who are AfghanAid?
For close to 40 years, Afghanaid has worked with millions of vulnerable Afghans across Afghanistan, providing them with the training and tools they need to help themselves, their families and their communities. They are responding to the current crisis with emergency assistance where needed, supporting families who have lost their homes and livelihoods as a result of the conflict. Their ability to continue working is assisted by their strong local roots and reputation for impartiality. Your donations will aid them in their efforts to support families in need at this time.
You can read more about the charity and the work they do here.
How Can I Help?
We've set up a fundraiser on the AfghanAid site so that you can donate. We're hoping to raise £5000 over the coming month with your support!
To say thankyou for your donation, everyone who donates will be eligible to enter our prize draw for the chance to win one of 14 fantastic prizes! If we exceed our target then we'll add even more exciting prizes Find out how to donate and enter below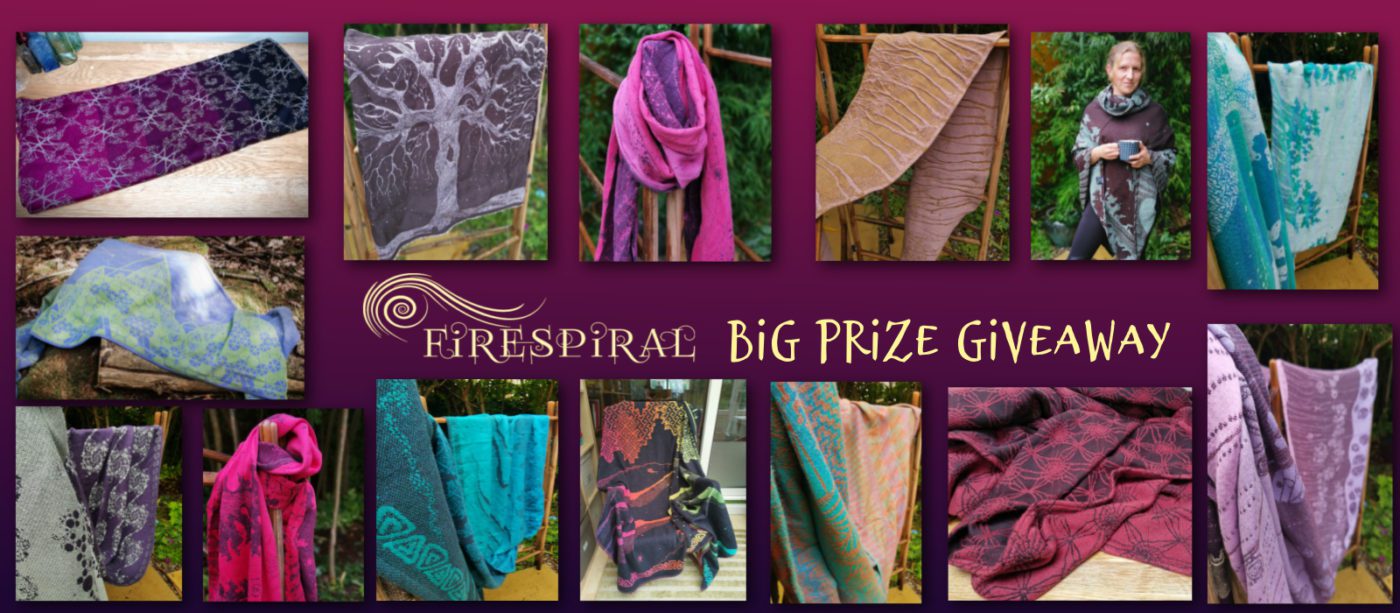 How do I enter the prize draw?
Make your donation to AfghanAid here .
You will be eligible for one entry into the draw for every £2 you donate. Please check which currency you are donating in! £2 gbp is roughly equivalent to €2.30 (euro) or $2.70 (usd), so that is the amount you will need to donate per ticket if you aren't donating in GBP (not €2 or $2).
Fill in the form below to give us your details and tell us how many tickets your donation qualifies you for. £2 = 1 ticket, £10 = 5 tickets etc
Share the prize draw with your friends and family to help spread the word and increase donations. If we exceed our target of £5000 then we'll add even more exciting prizes to the list!
Wait patiently until the 20th September 2021 when we draw the winning entries and contact winners via email. Entries close at midnight (BST) on 19th September 2021
Here is the form to fill in once you've donated.
Okay I've donated, so what can I win?!
We've 14 brilliant prizes available (more if we reach our £5000 target)!
Here's a bit more information about what you could win.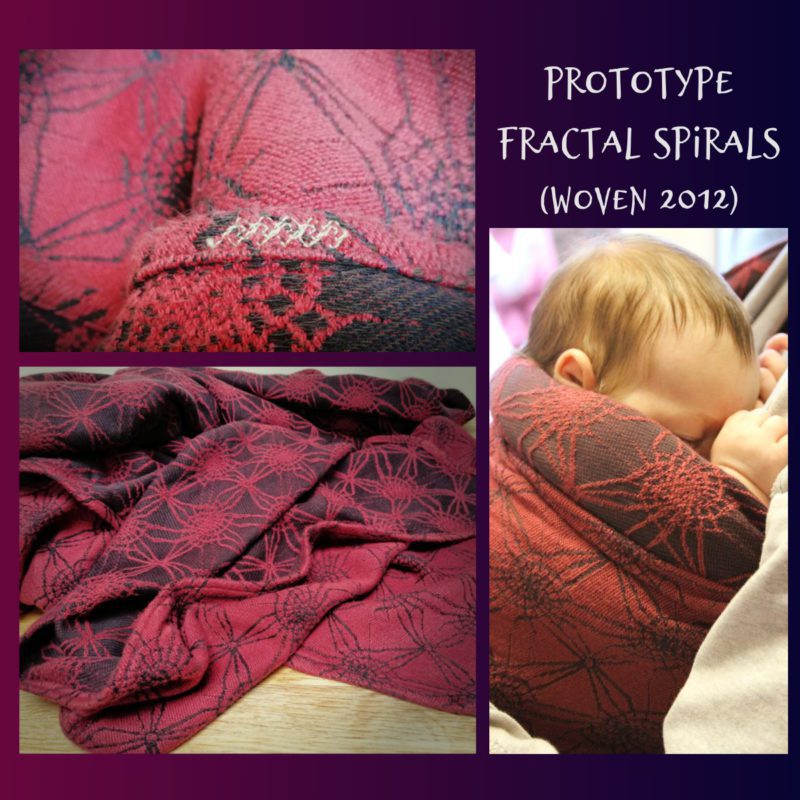 Prototype Fractal Spirals woven wrap size long 5/short 6, 100% combed cotton
This is a really special piece of Firespiral history. It is one of the handful of wraps made on our first ever test weave back in 2012, and this is the only wrap made with this weft! The warp was an alternating mix of purple and brown threads because we were still waiting for our first twilight warp to finish being dyed. We'd already created our initial 3 designs (Starmap, Seafoam and Gossamer) but this cloth was being test woven on the sample look which could only deal with a 3″ pattern repeat. We were testing out the sett, weight and weave structure that we'd been working on as our unique Firespiral weaving 'recipe', so we had to come up with a small repeat pattern that would fit the loom and still let us sample the feel of the cloth. Our middle markers hadn't been woven, so we stitched a small swirly sparkle on the hem instead!
It was the first ever Firespiral wrap to hold a baby, and it started our lovely journey.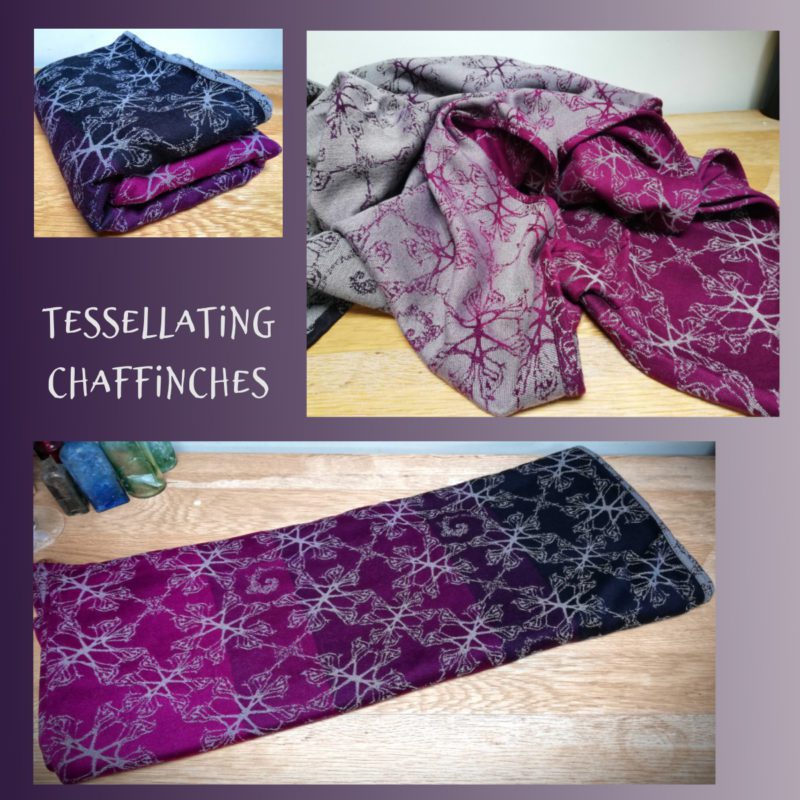 Tessellating Chaffinches woven wrap: size 4, 100% combed cotton
This is another unique wrap with an unusual back story! We were part of a lovely, silly private chat group, affectionately known as "The Chaffinches". Our friends Juliette and Rhys from Baie Slings were also a part of the group, and many of the members were babywearers. We decided to make an exclusive wrap just for our group, using the warp that Baie currently had on the loom. Tamsin created the pattern out of a chaffinch image run through a computer programme that created tessellating patterns. Only a handful of these wraps were woven, and they were never available for general sale.
6 Other Woven Wraps
These include some classic older wraps and some newer ones.
Driftwood Cyano Seafoam size 6 from 2014
Orange Cyano Librarian size 6 (only released to educators and sling libraries)
Zora Twilight Tourbillon size 4 from 2015
Touchstone Pink Moon Microcosm size 6 (this is a slight 2nd quality wrap)
Nights Watch Cyano Charters Moss size 4
Geode Nocturnal size 6 from 2017
Things that aren't wraps!
You've also the chance to win some non-babywearing things too..
If we reach our target of £5000 raised then we'll also add in some extra prizes for added chances to win!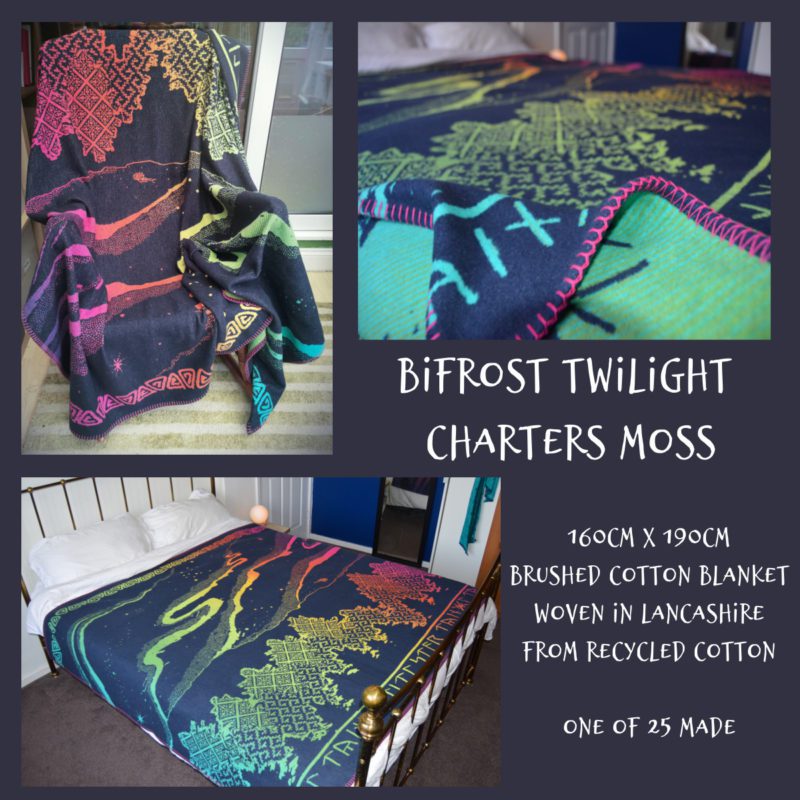 Thank you for your support, and good luck!
bit of small print at the bottom:
Firespiral Slings are not handling any money and donations cannot be paid straight to us.

AfghanAid are not responsible for the prize giveaway and have no involvement in this.

Entry into the prize draw is completely voluntary, you can choose to donate without participating in the giveaway if you prefer.

There are no alternatives to the prizes on offer. Tickets will be drawn at random and winners notified by email. If we are unable to get in touch with winners after 7 days, we will redraw the tickets for those prizes

We will not use any details given to contact you for any purpose other than contacting you if you win. We will not share the information you submit via the form with any 3rd party including AfghanAid.

AfghanAid is a registered charity (Charity registration numbers: England and Wales 1045348 and Scotland SC044614, Company number: 3034888)