We love our blankets and hope you will too! They are a gorgeously fluffy, snuggly and thick and feature an expanded version of our wrap designs. They are woven on the same loom as our wraps, but feel very different to wrap cloth,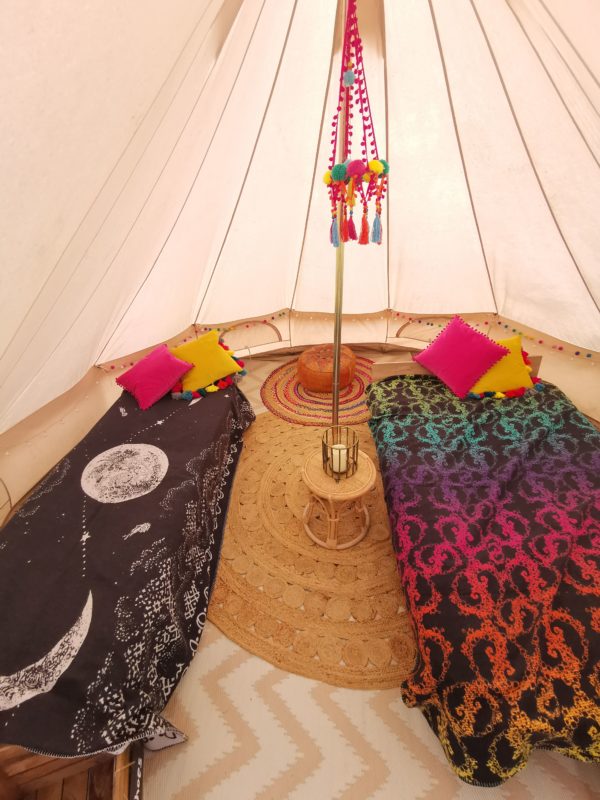 Why are Firespiral blankets so special?
They're made entirely in Lancashire, the home of cotton spinning and weaving. They woven in our local mill then the surface of each blanket is brushed to fluff up the fibres and create a soft, cuddly feel. The blankets are hemmed and stitched all within a few miles from us, then we collect them for checking and packing. Even the care labels are woven locally, keeping our carbon footprint small and ensuring that we can guarantee quality and ethical practices at every level of production.
They are woven using recycled cotton. Textiles are one of the biggest contributors to landfill globally, and growing new cotton (even organically) is costly to the environment. Our blanket yarn is reclaimed from off-cuts of cloth left over from textile production that would otherwise have gone to waste. The offcuts are gathered up and broken down into fibres that are spun into new yarn for us to weave with.
The blankets are woven onto a strong cotton warp, hidden inside the cloth, making them hardwearing, with a reassuringly heavy feel to them. They are woven to last, using traditional techniques.
We make blankets in 2 sizes- Double and Kingsize. Double are smaller at 160cm x 190cm, whereas Kingsize are larger, measuring 220cm x160cm Both will fit on your bed, cover a chair or sofa, or seat the whole family for a picnic on the beach.
The edges of the blanket are first hemmed, then decoratively blanket stitched for a traditional finish.

Each blanket is made in small quantities– often only 25 or so in total, so they are an affordable way to to furnish your home with unique style! They are a snuggly place to make memories and will become heirlooms that can accompany your children as they grow up.
Blanket Care

They can be machine washed and tumble dried, so you don't need to worry about getting them dirty- those muddy footprints and sticky finger marks will wash right off!
As with all fabrics, we recommend washing on the coolest, gentlest setting appropriate to the level of soiling, using your regular detergent. Blankets can be line dried, but a 10 minute spin in the tumble drier afterwards will help to fluff the washed fibres back up. Blankets can also be tumble dried.
You can spot clean any stains or marks, remembering that vigorous scrubbing in one area may disturb the surface of the cloth.