The Zora weft has a special lineage- it is made up from two yarns that we've used before. The first is the Winter linen,  a light and shimmery yarn that adds support to the wrap without extra weight. The second is our Spring cotton that we used on our first ever weave run. They work together beautifully and create a sophisticated pale green/grey that enhances the blue tones of the Twilight warp.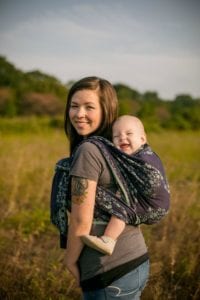 We held a competition for the naming of this wrap, and had initially thought we'd go for something that alluded to the point in the year where Winter and Spring merged, but were won over by the name "Zora" because it appealed to our geeky younger selves who spent many an hour playing Legend of Zelda on the Nintendo! The Zora were an aquatic race, graceful yet strong, and the bubbles in the design seemed very fitting to carry their name.
They are a medium/light weight wrap, airy and thin enough to work well with winter layering (the linen wicks moisture away to avoid you overheating under thick coats and woolies). The 25% linen content also makes them a good choice for older children without losing the cushioning offered by the two ply combed cotton.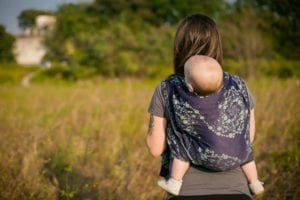 These wraps will be released for sale on our website at 10am GMT on Sunday 22nd November 2015.