(50% combed cotton, 25% hemp, 25% linen): available from Sunday 29th June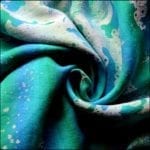 Driftwood is a sibling to the Spindrift Cyano Seafoam, but whereas the latter is 50% hemp, 50% combed cotton, this wrap has a hemp and linen weft making it 25% hemp, 25% Italian 2 ply linen and 50% combed cotton. Driftwood is ever so slightly thinner and lighter than the Spindrift due to the fine nature of the linen (which is typically soft and floppy as we have come to expect from the 2 ply Italian linens). The hemp is beautifully slubby and textured so the two yarns naturally complement each other.  Driftwood weighs in at just under 240gsm.
Another slight difference between the Spindrift and Driftwood is the colour pattern in the warp. Whilst both comprising of the same jewel-toned blues and greens, the Driftwood has a finer graduated stripe to it. Both are beautifully fresh, summery wraps and can be worn with either side of the wrap facing out for a different effect. Supportive enough for even the biggest toddler yet pretty soft straight from the bag and easy to wrap with from the start, these are very versatile wraps. The natural coloured weft will also take on dye really well, and these wraps could be tinted a soft aqua blue or green and still retain the vibrancy of the warp colours.
They are labelled as "100% Natural Fibres" on the care label, and they can be washed according to the instructions on the label and also on our website.
We will have Driftwood Cyano Seafoam available to buy in our shop from Sunday 29th June 2014 at 9pm (BST). We have made as many of these wraps as we possibly can for you as we think that they are rather wonderful!