Taking a flight with your baby might feel a bit overwhelming, and we see lots of people asking questions about how best to survive the experience!
Luckily we've been there and have plenty of tips for making it a smooth and calm journey.
What wrap should I take?
Realistically you're going to spend a good few hours walking about and waiting around at the airport, so you want both you and your baby to be comfy. A long wrap will provide great support for babies who might be in the sling for long periods of time. A short wrap will work really well for independent toddlers who might want to be picked up and put down multiple times during your trip. You don't need to bring extra options to navigate certain stages of the travel- just practice a few different carries beforehand so that you have options to alter your carry if needed. If your wrap isn't in use at any point then you can braid it and sling it over your luggage for easy carrying.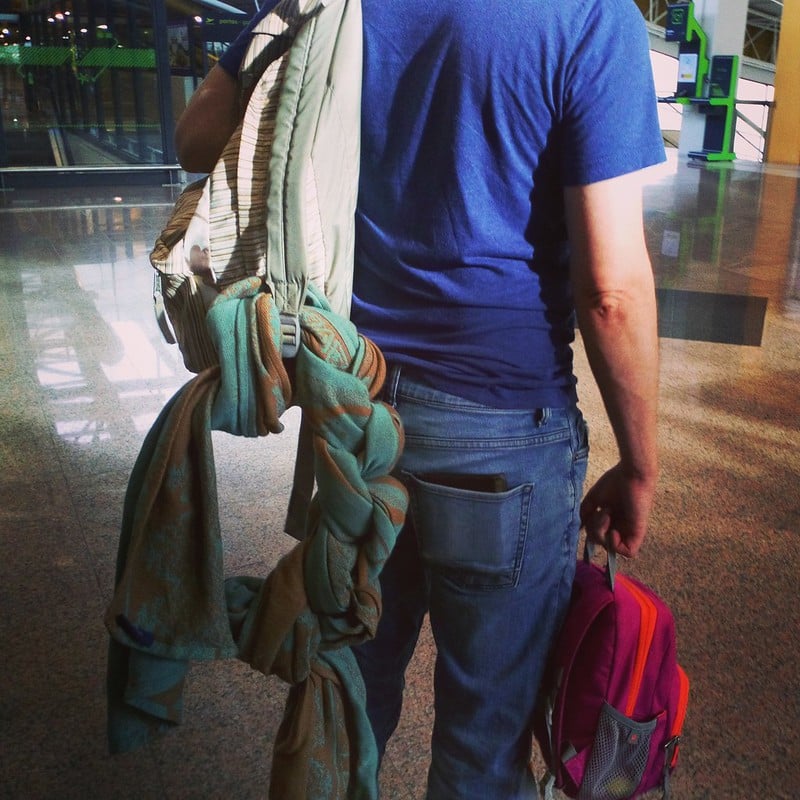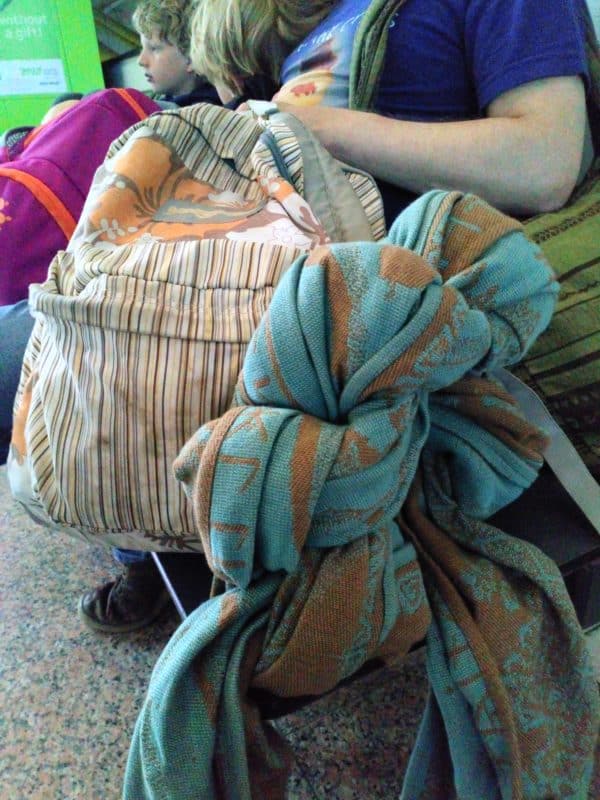 Take your favourite wrap- the one that your feel most confident wrapping with or that you just love the look of- to help keep you feeling cheerful during the trip!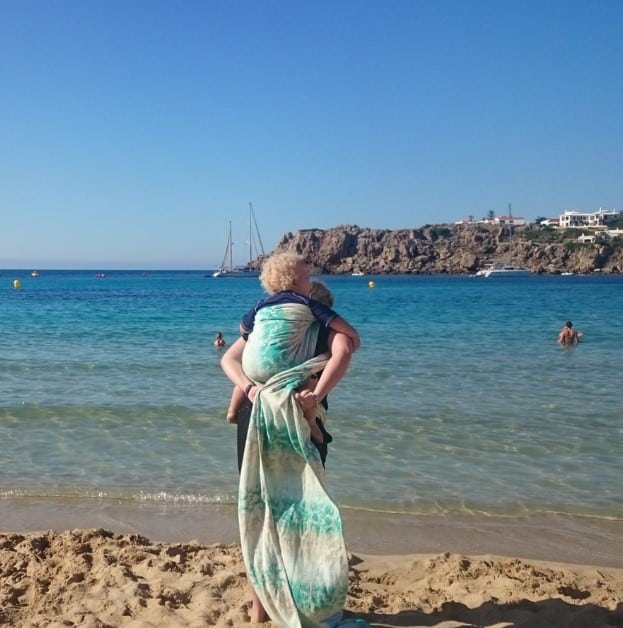 Going Through security
This is probably the place that people worry about most, especially wondering if they'll have to take their baby out of the sling going through the body scanner. In many airports, families with small children will be taken out the queue and fast tracked through security, in a quieter area because they recognize that it is trickier for you! There are no hard and fast rules about whether you baby needs to be taken out of the sling and/or the sling removed completely- it will differ from airport to airport. The thought of having to completely unwrap and rewrap might feel stressful, but in reality it is only going to be a minor inconvenience if that happens, and you need to have a carrier that will work well for all the hours you spend waiting around, not just for the 10 mins it takes to go through the scanner. If you have a long wrap then using a poppable carry like the short cross carry can make it much easier. Whilst it is a shorter wrap carry, you can still use a long wrap and just tie the extra tail round your waist to keep it out of the way.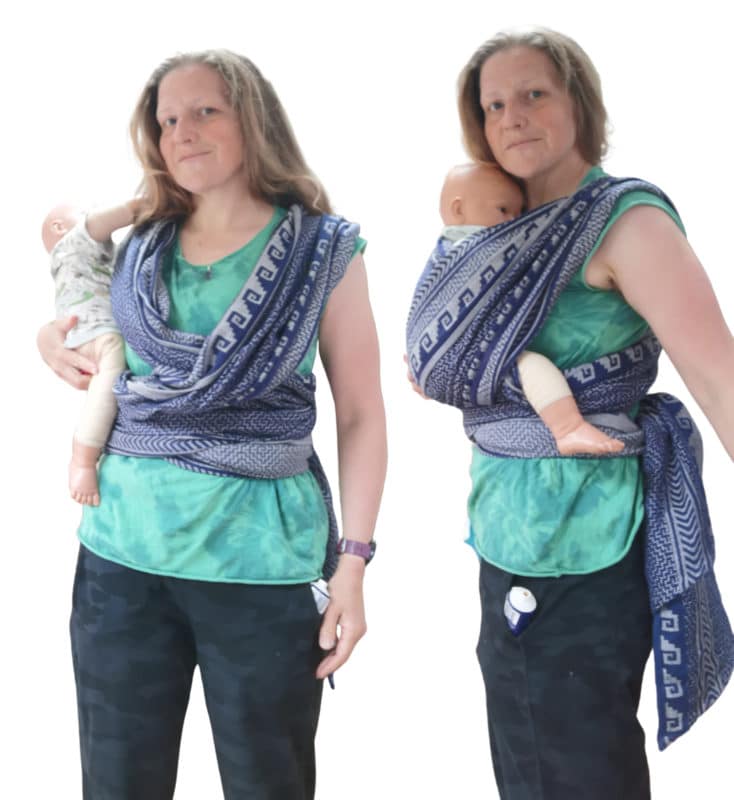 You can always swap back to your favourite carry when you're waiting at the gate!
If you have a short wrap then a traditional hip carry with slip knot is pretty poppable too, you can leave the knot tied and just remove the whole wrap if needs be.
On the plane

Most airlines are going to expect you to remove your baby from the carrier during take-off and landing as part of their safety protocol, even though they are going to be on your knee/in arms. That poppable carry is handy here too.
It is completely possible to wrap on a plane. You might need to move down the plane to get a bit more space, and you will definitely get a few interested glances because wrapping can look pretty impressive to the bystander! I've settled a 6 month old to sleep in the wrap during a flight, and people are generally very understanding and accommodating of you- especially if your wrap is helping to keep your baby settled. If they nap in the sling during the flight, then it is usually comfier to sit down wearing a wrap than more structured carriers. They can also be loosened while you sit so that you can adjust their position and support them with your arms. Wraps can also provide a bit of modesty cover if you are breast/chest feeding and feel a bit exposed. The air conditioning on a plane can create chilly draughts, so woven wraps can be a cover for your little one.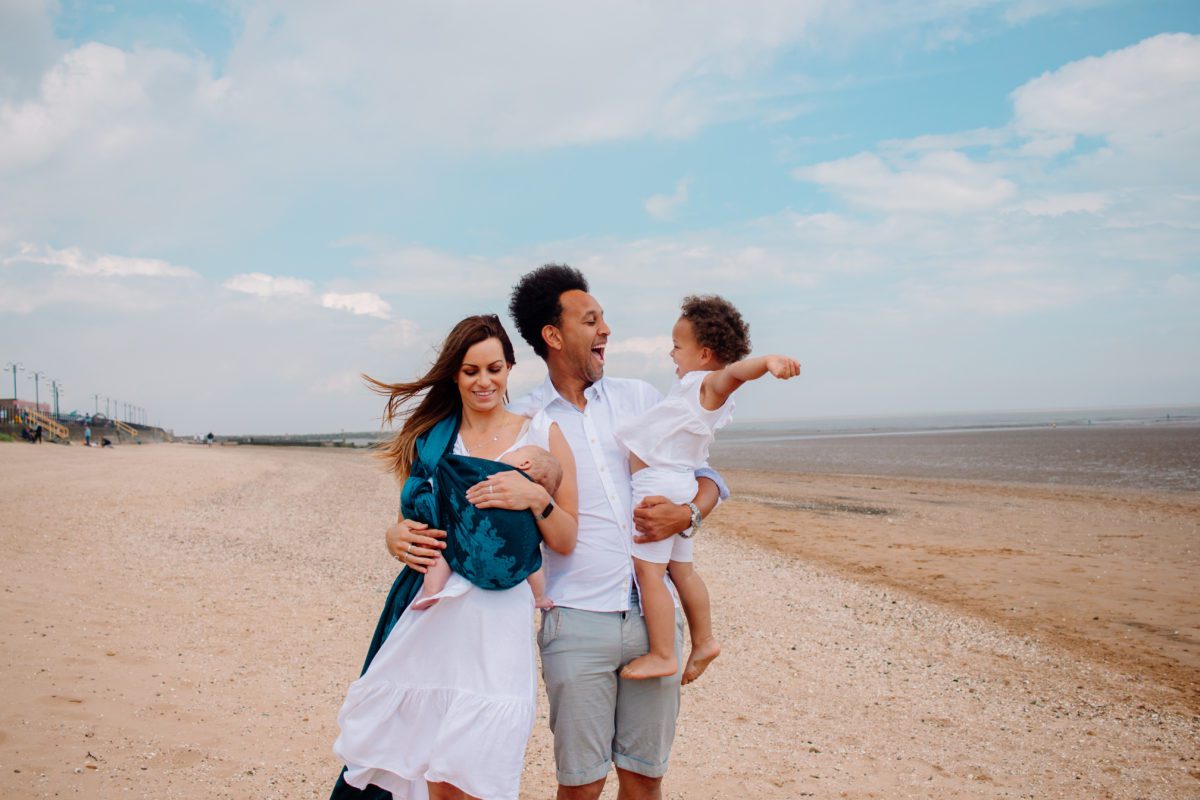 Arriving at your destination

If you live in the UK and fly abroad, then chances are you'll be landing somewhere warmer than you set off from!! The flexibility of woven wraps allows them to be used as sunshades in hire cars and coaches. Being made from natural fibres, woven wraps are more naturally breathable than synthetic padded carriers. You will still feel warm and sweaty, but your sweat can evaporate and cool you down like it is supposed to. You might want to use a single layer carry, even if you're using a long wrap.