Here are our easy to follow tutorials for tying a traditional sling pass carry and making a slipknot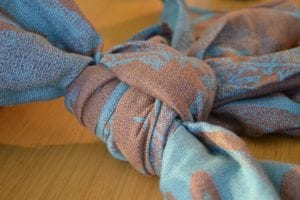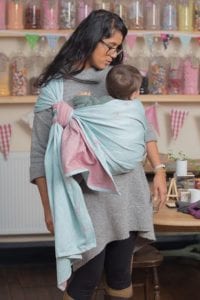 TRADITIONAL SLING PASS AND SLIPKNOT
The Traditional Sling Pass is a versatile option for a short wrap. It needs relatively little length, so you can use as short a wrap as possible ( with a longer wrap you will have more tails leftover).
It is a single pass carry which, using the slipknot, can be adjusted as often as is needed. This makes it a great option for breastfeeding and wonderfully supportive for newborns.
It is fab for 'quick ups' for older children You can pre-tie it before you go out and leave it in place if your child wants to walk; potentially starting a fashion trend for cloth 'sashes' in your local area!
This can be a hip carry right through to a slightly off-centre front carry, depending on how far around your torso you seat your child, giving you the flexibility to find the most comfortable/practical positioning for you both.
It functions in much the same way as a ring-sling (only with the knot in place of the rings). Some people who struggle to get a ring sling comfortable can find this carry easier to tie and adjust.than positioning and tightening the fixed rings correctly.
Below you can see our GIF tutorial for a Traditional Sling Pass:
TSP
Here is a video that Noahs Arc Sling Library made for us:
The slipknot is an incredibly useful tool to have when babywearing and once you can do it confidently and quickly it also looks awesome! We have a couple of different tutorials below of how to do slipknots, a GIF tutorial and a picture tutorial. We will also be having a live chat later in the week about different finishes so join us then and let us know if you have any questions about slipknots.
slipknot
Here is a step by step photo tutorial for how to do a slipknot: