These are the washing instructions for all of our wraps that don't have a high percentage of wool in their weft. Some wraps that only have a very small amount of wool in them (usually less than 10%) can also be washed using these instructions, as can any accessories made from wrap fabric.

The specific instructions for washing a wool blend wrap are here.
Our woven wraps are made from high quality materials, making them very hard wearing and durable. We suggest a delicate washing approach purely to prolong the silky feel of the organic combed cotton warp, and to minimise environmental impact. If your wrap gets stained or heavily soiled then it can be spot treated or washed with a hotter more vigorous cycle, but this might make minor or temporary cosmetic changes to the softness and sheen of the wrap.
How to Wash Your Woven Wrap
Your brand new wrap needs to be washed before you first use it, as it arrives in loomstate. After that it only needs washing if it gets dirty. Think of it like a coat rather than a shirt- it doesn't need washing after each wear.
You can wash your wrap in a washing machine. Here in Europe, most machines are front loaders with plenty of suitable wash cycles pre-programmed. North American machines are not always so helpful!
Your wrap is packaged in a zip fastening delicates laundry bag. If you wash your wrap in the laundry bag it will help to minimise creasing during the wash cycle. It is recommended but not essential to use the bag. Pop the wrap into the bag, carefully fasten the zip and tuck the zipper into the elastic tag to keep it out of the way.
We recommend that you use a 30°C (86°F) or cooler, delicates wash cycle. A delicate wash cycle uses more water, is generally less abrasive and has a gentler, slower spin at the end, If your machine doesn't have a dedicated 'delicates' setting then these are the conditions you are looking to replicate.
Use a liquid detergent, ideally one without optical brighteners. This is to help prolong the life of your wrap, so an occasional wash with a small amount of powder won't be harmful. You can use a non-bleach based spot stain remover if you ever need to, making sure that all soaps/detergents are fully washed out of the cloth before you use it with children
Do not use fabric softeners or conditioners. These can coat the fibres and make wraps slippery to use.
How to Dry Your Woven Wrap
You can tumble dry your wrap in a machine, although we recommend taking it out when it is still slightly damp and air drying or ironing until completely dry
You can air dry on a washing line or tented over a maiden. We recommend using plenty of pegs so that the wrap's weight is evenly distributed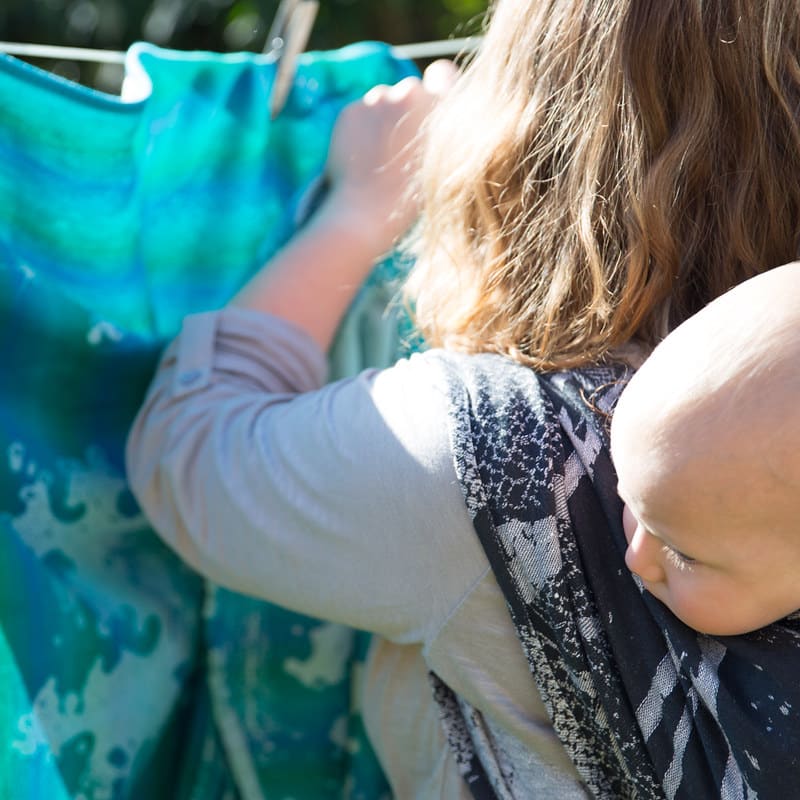 How to Iron Your Woven Wrap
Ironing whilst the wrap is slightly damp will make the job easier! You can use a steam setting and a hot iron.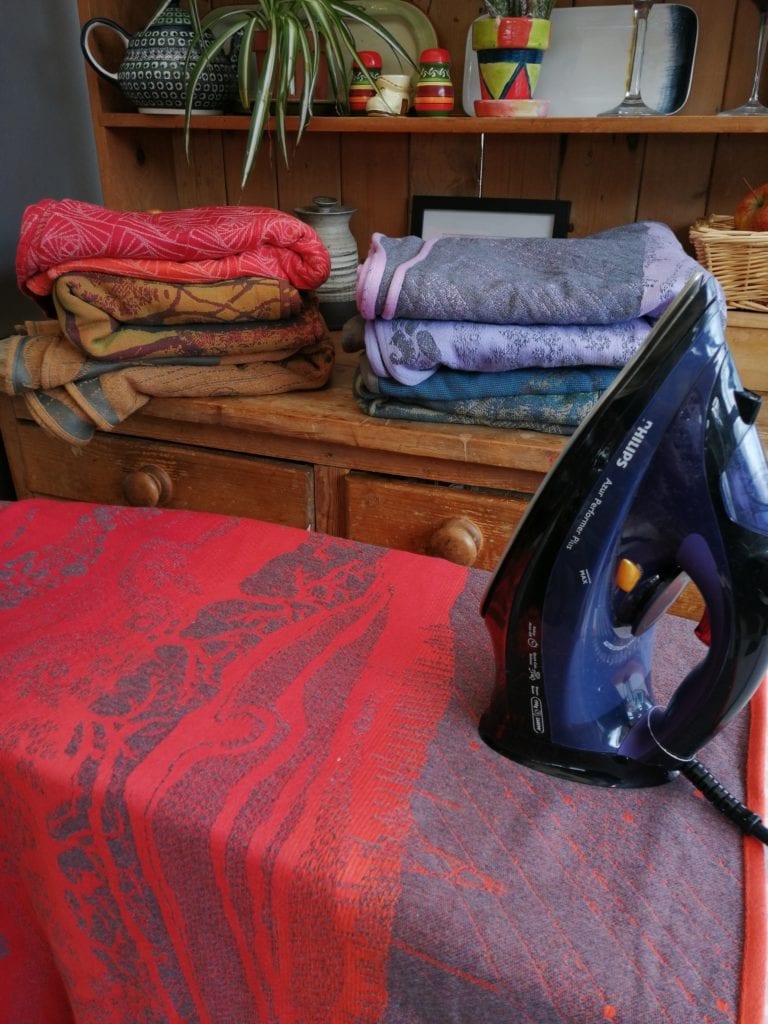 Extra Care Instructions For Crease Prone Wraps
Some long staple fibre wefts (linen and hemp) are more prone to creasing, especially during the first few washes, until the yarns settle into their place in the weave. Following these extra steps for those wraps can help to minimise creasing.
Wash in a delicates laundry bag, especially for the first wash.
Wash on a wool cycle if you have one. This cycle type reduces movement of the cloth so that creases aren't wrung into the wrap.
Keep spin cycles reasonably low and gentle.
Re-shape the cloth after washing and before drying. We'd recommend stretching out cloth when it leaves the washing machine before line or tumble drying. Stretching the cloth diagonally in both directions helps to settle the weave again. I usually 'walk' my hands along the length of the cloth, stretching diagonally in one direction then the other. Never fully dry the cloth, remove from a tumble dryer when still damp
Iron whilst still damp on a high heat without steam and continue until completely dry. The wrinkles will start to reappear if the cloth isn't dry enough. You may need to iron both sides of the wrap.
Here is the step by step guide that you would receive if buying a wrap prone to wash creasing