We have worked hard to find a repeatable source of easy to use, easy to care for, machine washable wool, and this is a post that gives you a more in-depth look into our standard lines of wool weft and the different ways we use them.
We have used wool from different sources in the past, and will continue to do that when we find something extra special, but these are always 'one-offs'- a batch of lovely wool yarn that we just can't pass up but which may need to be treated differently to our normal care instructions. Rowan Twilight Curves of Pursuit is a good example of this. It was a limited quantity of deliciously soft, berry red wool that ticked all our boxes in term of ethics and sourcing. Most cloth production occurs in scales far in excess of anything we could ever imagine- we are a 'micro-weaver' in comparison. Our scale makes UK weaving comparatively expensive, however it means that we can benefit from buying boxes of yarn that are too small for those larger companies to use. They are often cones left over from a production run (their leftovers that they can't use are big enough to cover our entire run!!!). We get access to some really unique yarns this way.
That was a massive digression, because this article is actually for discussing our repeatable merino wools, These offer consistency and familiarity. We use a supplier whose production ethics match our own, and we know how the wool will weave up, handle, wash and wrap; all that changes is the colour it has been dyed which is really helpful for us! This means that unless we specifically say that a wrap uses a different, unusual wool, ALL our other wool wraps follow the same machine washing instructions (extra info about wool washing can be found here and also on our 'caring for your wrap' page)
We currently have two merino yarn fibres that we use- one which is a pure merino lambswool and the other a blended merino/cotton yarn. When used on their own as weft with a combed cotton warp, the pure merino lambswool makes a 50% wool, 50% combed cotton wrap, and the merino/cotton becomes a 25% wool , 75% combed cotton wrap. However there is so much that we can do in terms of alternating this wool with other fibres in the weft, or using different thicknesses of yarn, different weave structures etc to create different blends, textures and appearances; so we aren't limited in this way.
The following wraps all use either our pure merino lambswool or our merino/cotton blend.
Moss Twilight Winter Hill.
This wrap uses the merino/cotton blend yarn as its weft thread. It is an even thickness and creates a soft, smooth surface with some interesting colour variance in the fibre. Other wraps similar to this are Nebula Frost Starmap, Juniper Frost Midwinter, Albus Twilight Starmap etc. This is an alchemy weave wrap.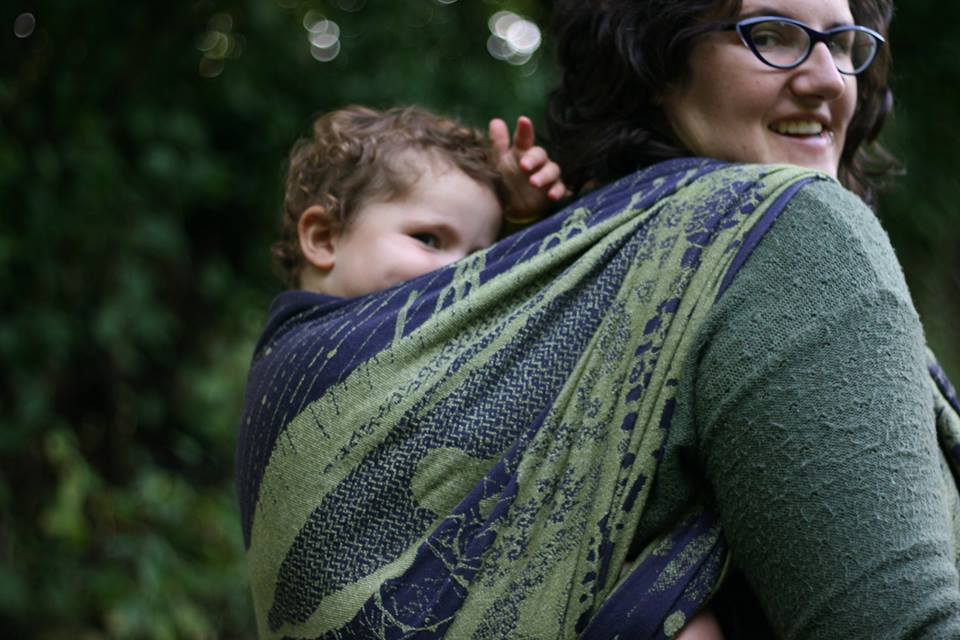 This wrap uses the same merino/cotton as Moss, but twice the thickness, as the yarns are plied together. Plied yarns are stronger and more flexible than a single thick yarn would be, so they don't have a 'bulky' feel to them. We team this thicker yarn with finer cotton yarns in the weft to add texture and a depth of colour. These wraps feel thicker to the touch, but the mix of different weft yarns balances the overall weight out. Combining different weft threads gives us countless options for blending colours and textures. Aconite Denron Gossamer, Rosewood Dendron Birch Trees and Grizedale Twilight Birch Trees all use our merino/cotton yarn in this way.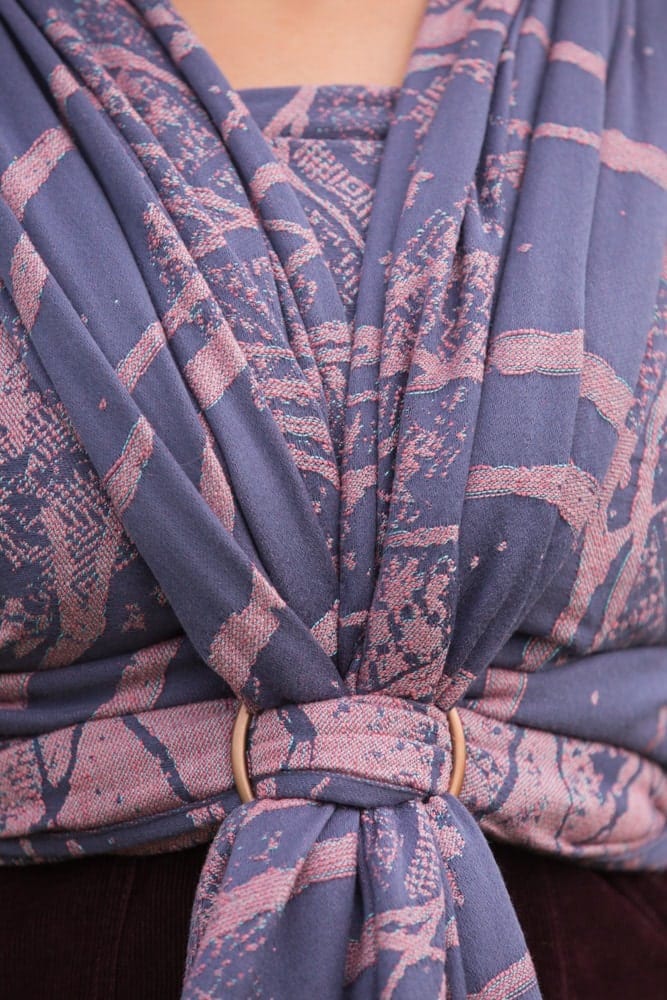 This is one of our Winter Wovenland exclusive wraps and uses the same alternating thick merino/cotton and thinner cotton threads as Bowland does. The cloth has a very different look and feel due to it being woven in the elements weave rather than alchemy.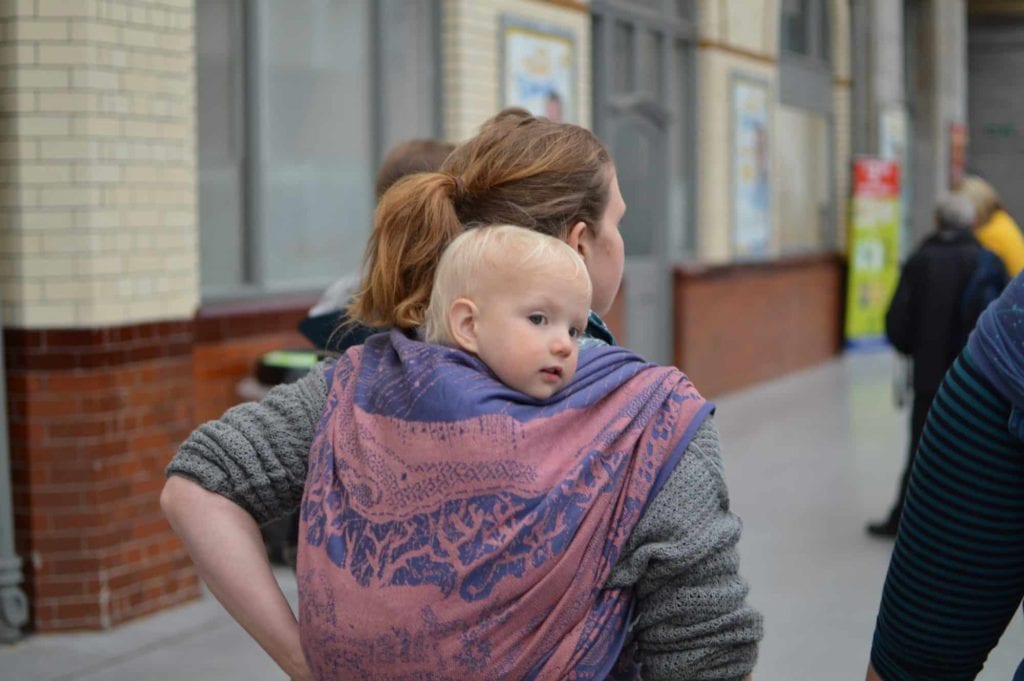 Fantasia Aqua Curves of Pursuit.
Fantasia, like Greystoke Glasto Birch Trees, uses our pure merino wool weft. Their wefts have more of a natural wool texture to them and they are a thicker wrap but still soft and moulding enough to accomodate a newborn. There is a natural bounce and cushioning to the cloth which, once washed a few times to remove any natural processing oils, is soft enough to wear directly against your skin without any prickle to it.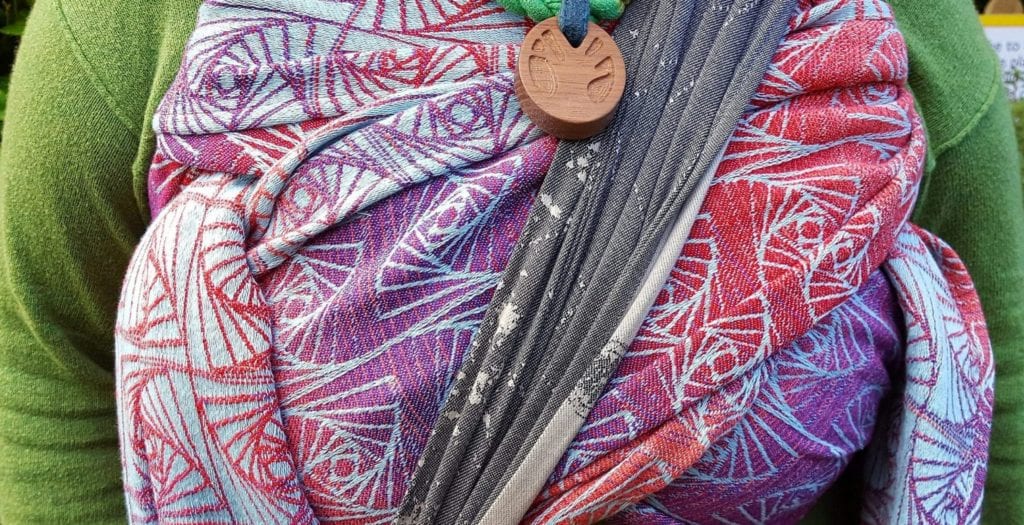 HOW TO WASH WOOL WRAPS (any wrap that has a wool content)
Our wool wraps are safely machine washable unless the label states to handwash only. The majority of our wraps are machine washable.
Use a delicate, wool specific liquid detergent. These are widely available in shops
Do not use fabric softener
Wash on a wool cycle at the lowest temperature, and with the lowest spin available. We recommend 600rpm or below
Do not be tempted to add non-wool items to the drum (pillowcases, towels etc). The wool cycle isn't designed to deal with these items.
Air dry flat, do not hang on a radiator or other heat source
Wool wraps can be ironed on a gentle/cool setting.