**Please note that this article is specifically about washing our 25% merino, 75% cotton blend wraps and that we at Firespiral recommend that you follow the washing instructions on the care label of your wrap**
Our 25% merino wool, 75% combed cotton wraps are designed to be easy to care for and to be washed in a washing machine. We use a blended merino/cotton weft thread for extra stability, and the yarn is 'clothing grade' – created specifically for wearing against the skin and getting some serious use/wash action!
We are aware that washing machines are not the same the world over; in the UK and many parts of Europe we tend to have front loading machines with multiple specific wash cycles. These will have have all the variables of the wash finely tuned for the task at hand (spin speed and rate at which it reaches maximum speed, water level and temperature, agitation level and so on).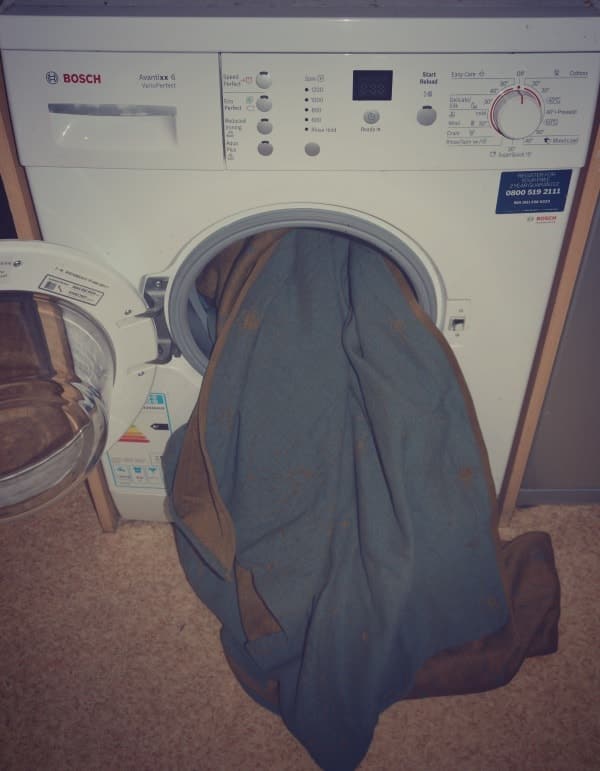 If you have the kind of front loading washing machine that we've described, then you are fine to go ahead and machine wash your wool wrap according to the instructions- the testing below doesn't refer to your kind of machine. We build in extra levels of caution in our washing guides, so you would have to make a pretty big mistake to felt it! Go confidently and wash your wrap!
However, in the USA especially there is a tendency for machines to be top loading and to not have the same range of wash options
We often get asked about US washer settings when we specify UK washing instructions, (especially when it comes to washing our woolly wraps, as there is always the possibility of felting them if something goes wrong), but we don't have much experience in that field!
So, when one of our US customers, an engineer called Kate Krengel offered to do some testing we were absolutely thrilled. We sent Kate a selection of large 25% merino 75% cotton wrap scraps and these were the findings from her tests.
We all get nervous washing wraps, especially new ones, and especially when we are new to woven wraps. Add in blends, and those nerves go up a notch. Make it a wool blend, and some people just stay away all together. The lovely ladies of Fispi have given us easy care merino wool blend wraps, but many of us were still hesitant to do anything other than hand wash. And those of us in the US, many of whom do not have washers with a wool cycle, have been even more hesitant.

Well, fear no more! I've done some testing with scraps Tamsin sent over to me for US testing, and have results for you all!

I had 6 scraps of different sizes, all 25% merino; a variety of Nebula Frost Starmap, Glacier Frost Seafoam scarves, and a piece of Rosewood Dendron birches. They came in loom state, so the same way you would receive a new wrap or scarf direct from Fispi. Here are some close up shots of them pre-wash, in the lovely yellow lighting of my laundry room.

I wanted to test out both a typical, gentle wrap washing routine, as well as be as brutal as I could to see what would happen. My washer has an agitator, spins at 700rpm, and the controls look like this:

Usually I use the "Delicate" cycle without an extra rinse, and "Cold" water to wash wraps. Firespiral recommends to always air dry wraps with any sort of wool content, but since I was going for broke here I decided to try drying some of the scraps in my dryer also. For those who are curious, it looks like this:


And for cotton or other dryer safe wraps I tend to use low heat and the "energy saver" sensor dry setting.

Because I'm an engineer, I like charts. This chart shows the dimensions of the scraps before and after washing (no ironing), and indicates what sort of wash and dry cycles they had. For all of the wash cycles I used a small amount of Eucalan (a wool wash commonly used for wool wraps in the US), and the "small" load setting as it was at most three scraps.

You can see that all of the scraps shrank a bit, usually 1-2cm per dimension. I confirmed with Tamsin that this is totally normal – all of their wraps are cut a bit long with the expectation of some shrinkage after washing. Most wraps will stretch out a bit with an iron or some use, but since these are scraps I couldn't wrap with them to stretch them back out. I did give the Seafoam a quick iron on a low heat with no steam, and it stretched back out a bit to 29 x 33.5 cm. The result that surprised me was that the dryer didn't seem to shrink them any more than air drying.

None of the scraps felted, not even the hot wash in the full "Normal" cycle with an extra spin that I use to wash my dirtiest workout clothes followed by a hot dry in the dryer. However, the two scraps that went through a "Normal" cycle were definitely more stressed looking. They were also softer and floppier, but the fibers were more hairy and less distinct from one another. Here is a comparison of the two seafoam scraps – the top one is unwashed, and the bottom went through the harshest hot cycle I could give it.

For contrast, here are the three starmap scraps. They all went through a cold, delicate wash, and then one was air dried, one low heat in the dryer, and one high heat in the dryer. I couldn't tell the difference.

At this point, I was pretty comfortable that the gentle cycle was safe. But what about washing cold but in a "Normal" cycle? So I ran one of the starmap scraps through that cycle, with an air dry (not in the dryer). And that one came out looking much like the harassed seafoam. Here it is compared to the one that had only been through the delicate, cold wash and an air dry. Also shown is the other starmap, which went through a delicate, hot wash and air dry. Left is delicate cold, middle is delicate hot, and right is normal cold.

There is a progression, with the delicate cold showing the least change, the delicate hot looking a little more fuzzy, and the normal cold looking a bit hairy, and it is softer with more beat up fibers. It's not felted, but the fibers are less individually clear.

From this, I'm concluding that the harsher cycle, with more spinning and more agitation, is much harder on the fabric than a delicate cycle, even when the dryer is used. It gave me the confidence to run my Rosewood Dendron Birches through a cold, delicate wash, and it turned out beautifully. I will not use the Normal cycle for any wrap (never have, but this confirmed it). I may use it for my wool fispi scarves though, the resulting softness and coziness would be perfect for a scarf.

Go forth and wash your wraps, fellow Fispi lovers!