If you talk to people about baby carriers, many of them will be imagining the kind of thing you commonly see in TV shows or high street shops; a sort of technical looking baby rucksack with straps and plastic buckles.
Woven wraps might be not the mainstream option for carrying your baby, but they are at least as good (if not better) than the carriers made by big companies with big advertising budgets…
Put your feet up for a few minutes and let us show you how woven wraps are such a great choice for carrying your baby, and how Firespiral are the best woven wrap brand to use! Then read on to find our fantastic deal for getting your first Firespiral sling…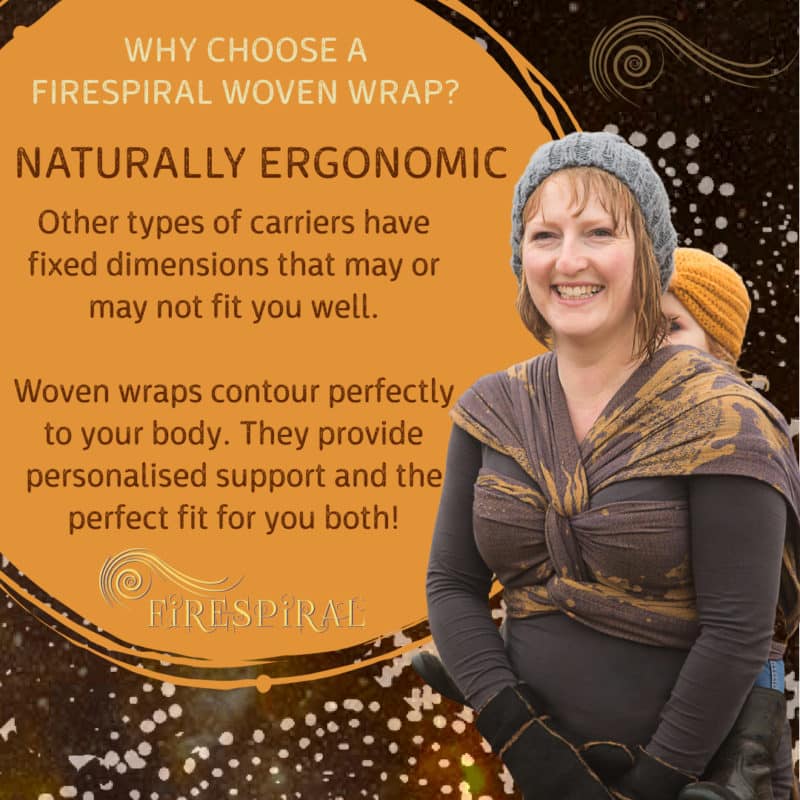 A snugly fitted carrier will spread your baby's weight evenly through your body, make them feel lighter to carry. The brilliance of a woven wrap is that as you tie it round yourself, you create a sling that has the perfect fit for you and your baby. The straps and body panel that you create as you wrap will be the ideal height and width for you, and can be fine tuned so that there are no gaps or pinch points.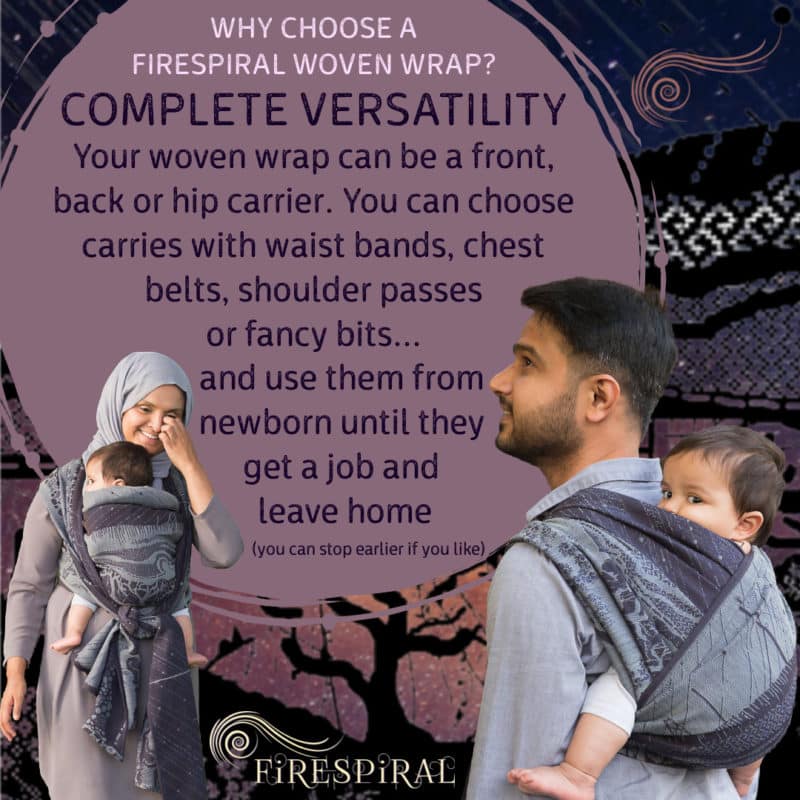 You can use your woven wrap to carry any age of baby and in multiple positions. High-street carriers boast about being 4-in-1 or multi-positional, yet woven wraps are the ultimate versatile carrier with hundreds of different ways that you can choose to tie them.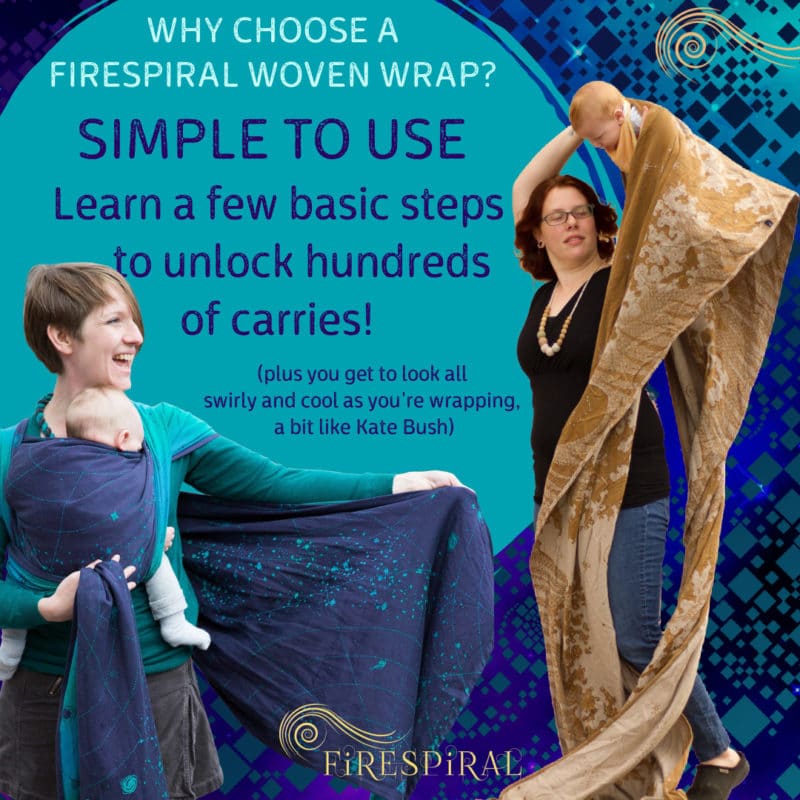 The standard advice given about woven wraps is that they have a steep learning curve compared with other types of carrier. Whilst it is true that you do have to learn how to tie them, the process is actually really simple. Each carry can be broken down into a few basic steps, and you simply put them together slightly differently to create each different style of carry.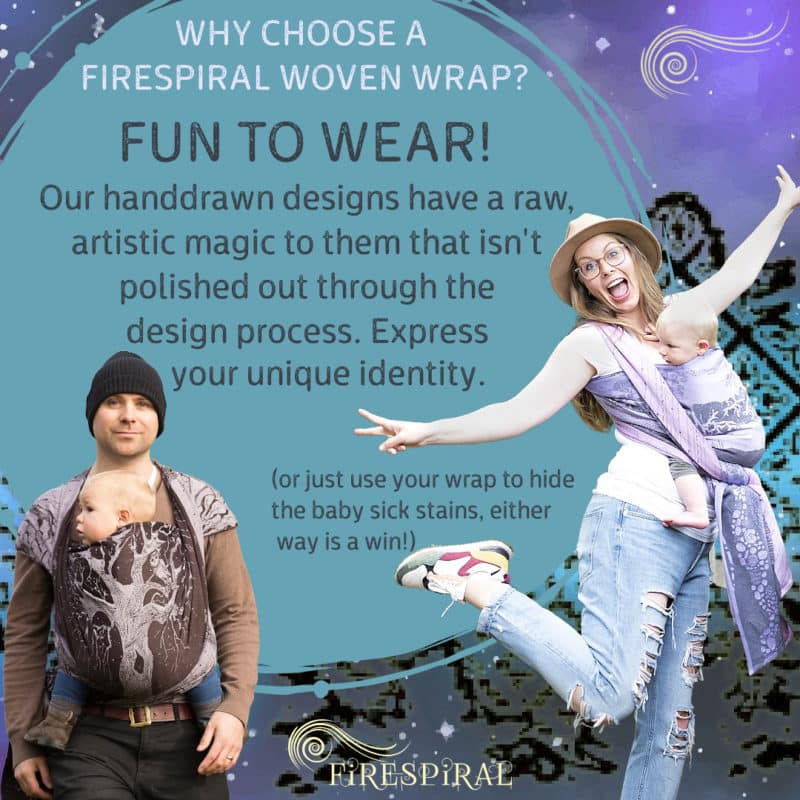 The process of tying woven wraps can be really interesting and fun, whether you go for fancy finishes or just simple elegant carries. You can express your identity through wraps just like you can through your fashion sense. Think of them as accessories to your style as well as functional items. Having small children to look after can mean that your own identity takes a back seat at times, and wrapping is a lovely way to reclaim a little bit of 'you' in an otherwise hectic life. It is also a lovely way to meet other people, share ideas and admire each others' wraps!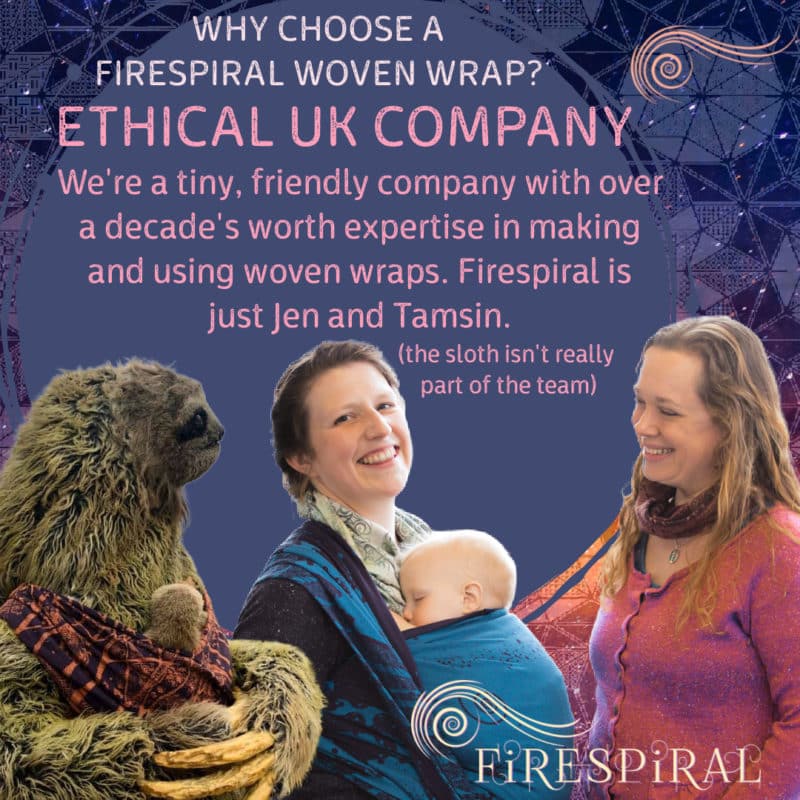 We were babywearers ourselves for years, so we know our stuff and pride ourselves in making really great wraps! We're a 2 woman business so we do everything ourselves. Tamsin will have sewn your wrap, if you email us then you'll chat to Jen. We're the ones who pack your parcel and we love it when when you share photos with us of your little ones being carried in their slings! We have a lovely Facebook chat group that you can be a part of, where we regularly get advice and inspiration from the members, because our customers are an important part of Firespiral too.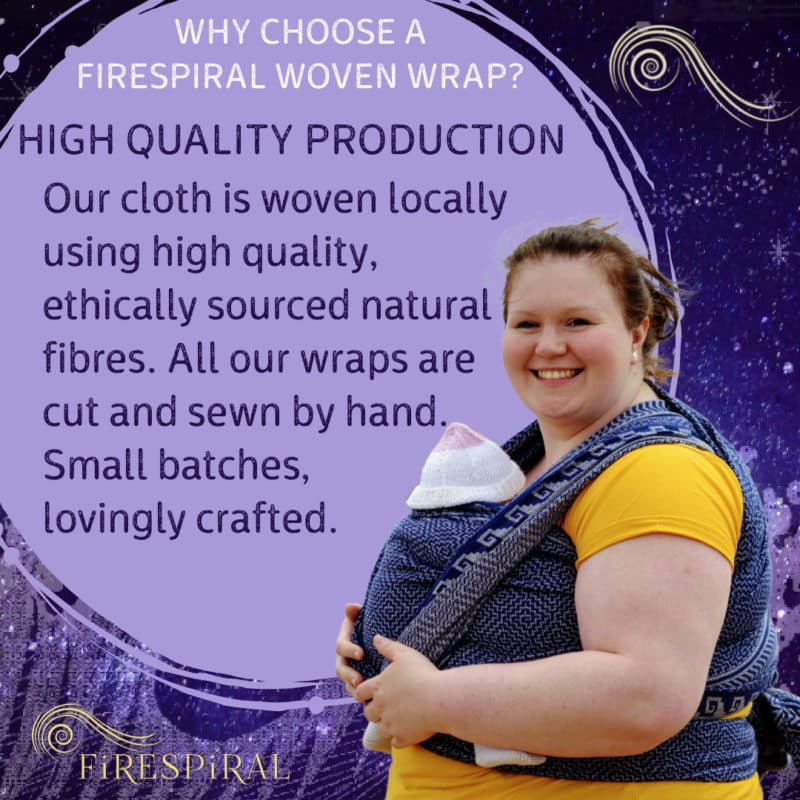 We have complete transparency of production and we're involved in every step of the process to guarantee that we make the highest quality product and never compromise on ethics. Our wraps are woven, cut and sewn here in Lancashire and we're a zero waste company to keep our carbon footprint low. Each wrap is part of a limited edition run (just because we're only a small company, not because we want to trade on exclusivity or inflated hype). That makes every wrap we make pretty special. We have a sale and trade section of our facebook group to allow you to sell and swap your wraps with other Firespiral fans, giving you greater opportunity to try something new. We doubt that a single Firespiral wrap has ever ended up in landfill. Our cloth is so durable that when your carrying days are over you can either pass it on to someone else or repurpose it into something else!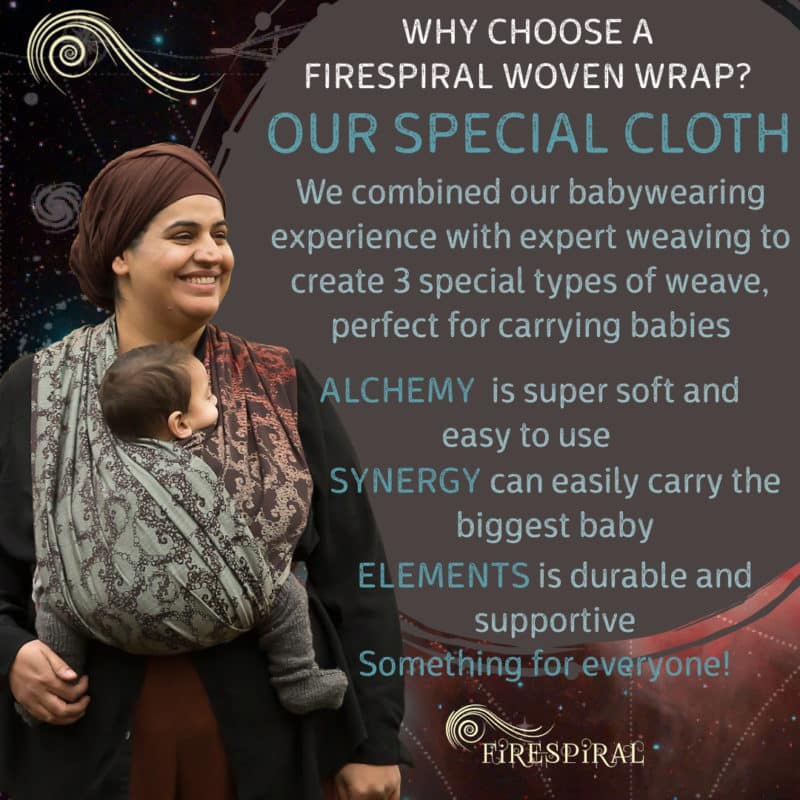 Not all cloth is equal, and certainly not when it comes to the qualities you need for carrying babies comfortably. The properties required of wrap cloth are pretty unique, and not what you'd want for furnishing fabric or clothing. Our weaving mill thought our requirements were pretty odd until we showed them how wraps work!
We've created 3 different 'recipes' for cloth that not only look good, but feel really easy to wrap with. All of our wraps are easy to use right from the start.
Shouldn't i buy a cheap woven first to see if i Like wrapping before i commit?
Like so many other items out there, buying cheap can be a false economy. Something that has been designed to work well will give you a better initial experience, rather than battling to learn with something difficult to use.
Use the code
Firespiral15
for 15% off your first Firespiral woven wrap!
If you need any help choosing or have questions about sizing etc then message us via Facebook or email at contact@firespiralslings.co.uk and we'll be happy to chat!