At Firespiral we combined our experience of babywearing with our understanding of the science behind weaving to create 3 different weave structures that each work perfectly for carrying babies!
You can read more about the differences between each of our weaves in the link below, but this post celebrates the synergy weave.
What is Synergy weave?
Synergy weave is a type of double cloth. This means that there are two separate wefts (that's the 'double' bit) and the warp gets sandwiched inside them. The two wefts create the pattern, and the hidden warp just peeps out through them slightly.
Given that the warp doesn't really feature on the outside of the cloth, it has a surprising presence, and sort of 'colour washes' the external wefts, changing the way you perceive their colour.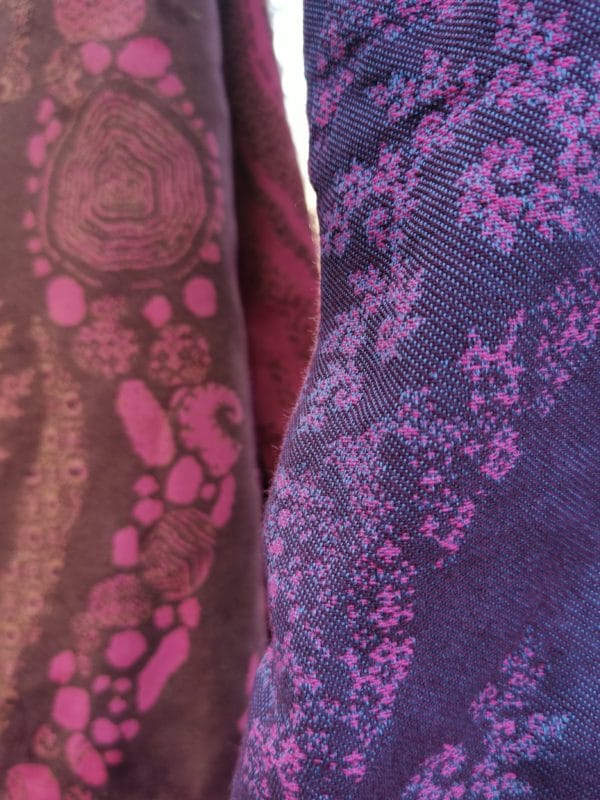 Sister wraps like Eos and Helios Winter Hill are a great example of the internal warp affecting colour perception. Both wraps use identical wefts which take on different appearances due to their respective blue and yellow warps inside.
The warp also often creates an iridescent effect, so the colour shifts and shimmers as the cloth moves- perfect for adding sparkly interest to your wrap job!
What are the wrapping benefits of Synergy weave?
The double cloth construction creates a slightly thicker, airy cloth with plenty of bounce and stretch to it. With no exposed warp, this cloth doesn't have the silky feel or texture that Alchemy wraps have, but they still have a gentle grip and lots of softness which only improves with use.
It is a hardwearing, workhorse of a weave so you can give your wrap a real workout and take it on plenty of adventures then bung it into the washing machine at the end of the day!
It is forgiving of an imprecise or rushed wrap job, so even if your carry doesn't look beautiful it will feel super-comfy. Whilst it will do the hard work for any new wrapper, giving good results from the start, it will also bend to the will of an advanced wrapper, and has lots of scope to look good with fancy finishes etc.
Whilst synergy wraps are thicker, they aren't dense and unwieldy. This makes them fine for smaller babies, but they really come into their full glory when carrying a heavier child!
We've 5 synergy wraps in stock at the moment, and until the end of June 2022 we're offering 20% discount on all of them using the code SYNERGYSUMMER !
What do people say about our Synergy weave?




I can not believe the colors on this! I love the way they shift and change, and I can't stop looking at it when we use it. It's easy to wrap with from the get go, even with a young baby. Synergy weave gives a good bounce, and is pretty easy to tighten without too much grip. I look forward to seeing how this grows with us!
Bifrost Chryso Starmap
Bifrost geode is quite thick as Firespiral wraps go. For me, it's the perfect winter hiking wrap. This is the wrap that goes with me in the car to the countryside when I have no clue where I will be wrapping. The weave structure makes it fairly resistant to pulls, and it's dark so I'm not afraid of getting muddy tails.
It's very cushy on the shoulders so it's great for carrying bouncing toddlers. I'm prone to aches and pains generally (without even babywearing) and this wrap is great for me because I can carry my 19 month old very comfortably for a few hours without getting fatigue.
The bright bifrost design is a hit with my children, luckily this wrap is able to withstand life in a house with four children (two of them teens now) and it is frequently a swing or a cover for a den. Synergy weave wraps are thicker than alchemy weave wraps, and they are a bit stiffer when new, but they get much softer with use and they become very easy to wrap with.
Bifrost Geode
It's a real workhorse of a wrap. Mine is really well broken in now and whilst not as super soft as alchemy, the synergy weave has got lovely and floppy and strokeable. It is rock solid once wrapped, with very little 'give' but very forgiving of a quick ruck even with a preschooler. I love it!
Arbor Low Birch Trees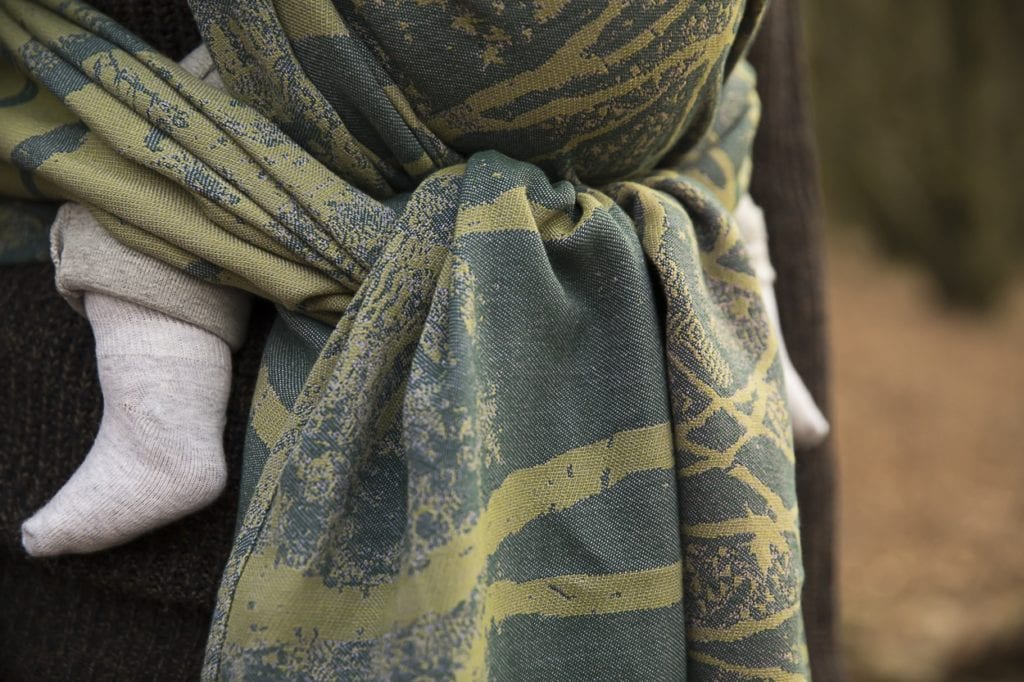 After a week the wrap is breaking in nicely (it still has a little way to go) it's already easier to tighten and get a snug wrap job with (although it was never particularly hard to tighten in the first place). It has a good amount of bounce and a little stretch. It honestly makes my 32lb 2 year old feel weightless on our 1 hour walks.
My little girl is also smitten and wont let me wrap her in anything else which says it all really!
Eos Stargaze Winter Hill
In hand it has a spongy feel, wraps solid and comfortably with an imprecise wrap job with my 29mo old toddler.
I think once broken in it will be good with little babies too.
Helios Sunhaze Winter Hill