Textiles are one of the biggest contributors to landfill worldwide, and the 'fast, disposable fashion' attitude for clothes and home furnishings sees us encouraged to be constantly updating and replacing the textiles that we surround ourselves with.
Nowadays you can buy bedding from supermarkets, cheap enough for you to throw away and replace to fit the latest trend or season. It costs far more to sew your own dress than it does to buy one from a big retailer. The shop prices might be low, but the cost is being paid somewhere down the line, either by low paid workers or the environmental impact of our over-consumption.
Textiles used to be highly prized, due to the huge amount of effort that goes into making them from start to finish. Think about all the textiles in your life right now. Now, imagine that you had had to spin the yarn for all of them, then weave the cloth, then sew them up…
That would significantly increase their worth to you right? When a humble tea-towel represents days worth of work, you would treasure, mend and repurpose it until it fell apart!
Being a small company, we can offer complete transparency when it comes to our production practice, and last year Tamsin gave a talk on our sustainable practices to the Brilliant Babywearing Business group.
The mainstream fashion industry is built upon the exploitation of labour and natural resources. Wealth and power are concentrated in the hands of a few, and growth and profit are rewarded above all else. Big brands and retailers produce too much too fast, and manipulate us into a toxic cycle of overconsumption. Meanwhile, the majority of people that make our clothes are not paid enough to meet their basic needs, and already feel the impacts of the climate crisis – which the fashion industry fuels. As global citizens, we all have the power to take action. This Fashion Revolution Week, join us in reimagining a just and equitable fashion system for people and the planet.

Fashion Revolution Week 2022
So, who made my woven wrap?
We are a truly tiny company consisting of just two people (Tamsin and Jen), so once the wraps are made they are processed by one of us. We have no 'departments', so it is always one of us who answers your call or email, packs your parcel, comments on your lovely photo on social media etc!
All our wraps are sewn by one person- Judith. She's an honourary member of Firespiral and has worked with us for years now, but she runs an independent business that we helped her to set up, rather than being our employee. This means that she now hems wraps for other UK companies too. She's super skilled and a wrap fabric expert (and also an ex-babywearer)!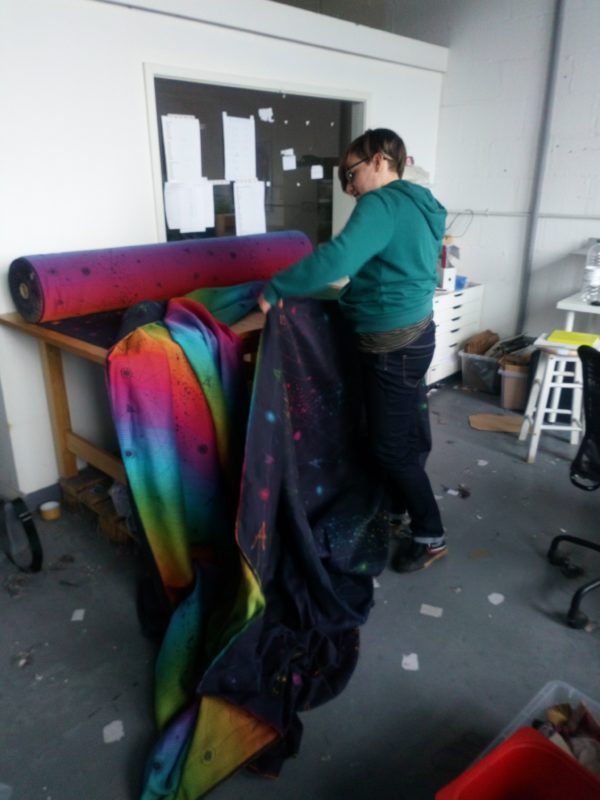 The wrap cloth is delivered to Judith in a van from the mill. Luckily we all live and work in close proximity, so it is only a short trip. Our cloth is woven at John Spencer Textiles– a family owned mill in Burnley. There the warp yarn is measured and wound onto the beam, then the cloth is woven and checked. Deborah from the mill organises our weaves, making sure that our yarns arrive, checking over our designs and passing on the correct information to the weavers. She's a weave designer too and can help with any technical issues that stump us!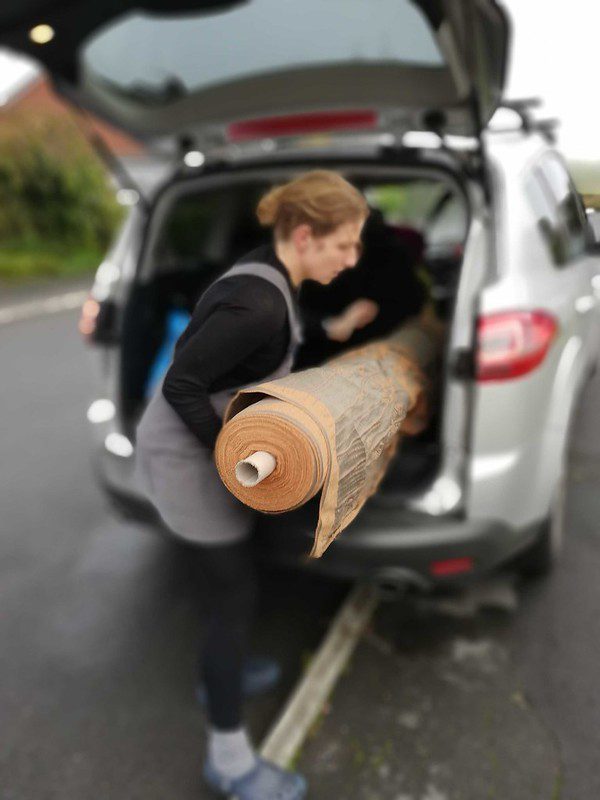 So from start to finish, your wrap only passes through a few regular hands, and you get the guarantee that everyone involved is paid a living wage and fully protected.
We feel the way we work is genuinely revolutionary in the 'fashion' industry, because our business model is built on balancing creativity and sustainability without any excess.
By weaving in small quantities we ensure that there is no waste. We have been trading for nearly a decade now and we've not made ourselves rich in the process, but we feel we've found that balance point (despite the fairly catastrophic affects of brexit on small uk businesses like us), where we can carry on offering you the reassurance of high quality at the most affordable price possible, whilst still treading lightly on the earth. In a world of billionaires and massive inequality, I think that is something we can be very proud of, and you can feel good being a part of too.

You can read more about our production practices here, and more about Fashion Revolution week here.