At Firespiral slings we're lucky to get to play a small part of the lives of so many families. Every family should have the opportunity to keep their little ones safe, close and happy. We're fundraising to support Disasters Emergency Committee in their efforts to provide this same basic need to Ukrainian families living in crisis conditions.
Thanks to your generosity we've raised nearly £13,000 with our charity prize draws over the years. We've come up with a truly fantastic prize this time- "A Year of Firespiral!" and we know that you'll continue to show your support.
Entering the prize draw is simple, and for every £5 you donate we'll give you one entry into the draw. Here is what you could win!
The Prizes
One lucky runner-up will win a completely unique size 6 prototype wrap! This is an organic combed cotton wrap in version of our newest design called Labyrinth. We've changed it slightly since this test weave, making this wrap a true one of a kind. Another runner-up will receive 5m of the same cloth unhemmed.
The main winner will receive "A Year of Firespiral"! Every 2 months for a full year we'll send them absolutely any item they want from our shop! They can choose from wraps, ponchos, blankets, bags, literally anything they fancy… If you're struggling to choose anything we will video call with you and help you decide!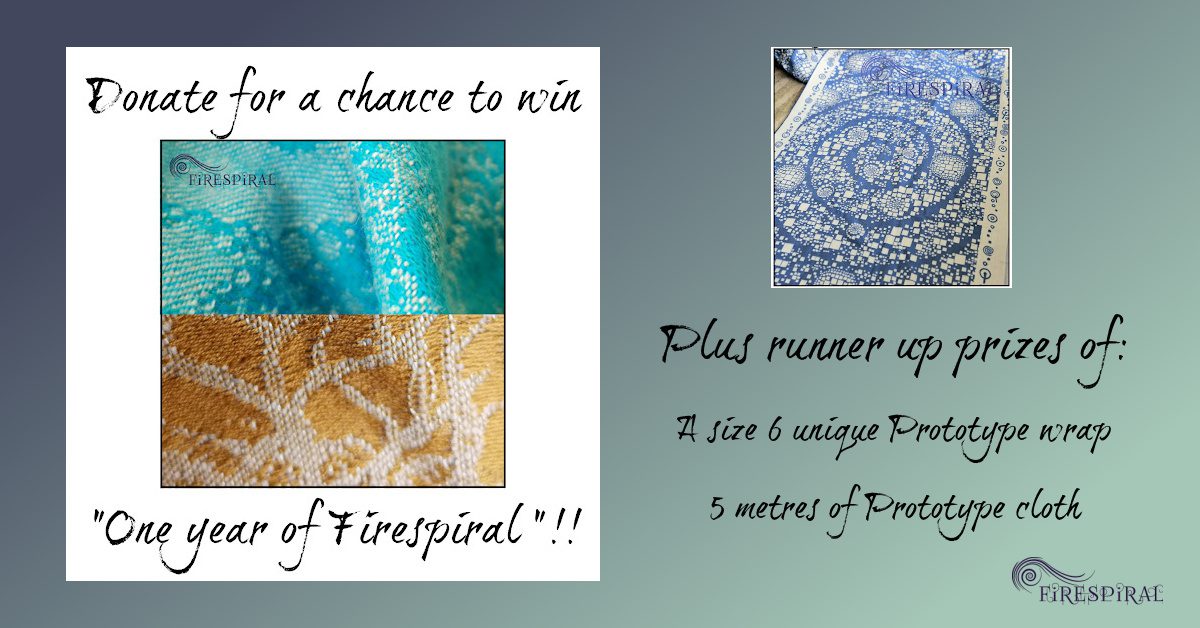 How To Enter
Donate directly to our Just Giving page . For every £5 you donate (or equivalent sum in your own currency) you'll get one entry into the draw. At time of writing £5= €5.97, $6.59 USD or $8.44 CAD
Come back to this page and fill in the form, telling us how many entries you need based on what you donated. (so £5= 1 entry, £10= 2 entries etc) We'll only use the email address you supply to contact you if you win, and we won't share your details with any one else.
 Sit tight and wait until we draw the winning tickets on the 23rd March 2022!

You are also welcome to donate without entering the draw if you wish- tickets are optional. All prizes are donated by Firespiral and all monies go directly to the charity.
The important small print.
Prizes have no alternative cash value.
Entry to the draw is open internationally, however:
the "Year of Firespiral" winner will be responsible for their own shipping and import duties if they reside outside the UK.
The 'year of Firespiral' prize consists of the winner's choice of any 6 items from our shop over the course of 12 months. You do not have to spread them out over the course of the year, we're happy for you to redeem your items at any point (or group them together as one order) but all 6 items must be chosen before the 23rd March 2023.
You can select any items we have in stock, including wraps that need to be sewn to order for you and pre-order blankets (even if the pre-order won't be ready until after the March 2023 deadline).
Unhemmed cloth is included in the Year of Firespiral prize, with upto 5m = 1 of your items (you can get all of one single design or several designs totalling 5m)
The Year of Firespiral prize excludes gift vouchers and any items that need making to order for you by 3rd party manufacturers (Absolute Bobbins Bags, buckle carriers etc). We cannot extend the deadline beyond the 23rd March 2023, even if we're about to release something new that you reeeallly love just after that date!
Once you have donated, fill in the form below…
Good luck and thank you!