Firespiral is based in the North West of England, and our wraps are made here from start to finish too! We aim to be an ethically run, zero waste company, and so local production ticks a lot of boxes for us. It means that we can stay hands-on in pretty much all the stages of production and keeps our carbon footprint small. Textile production was the lifeblood of our region, and continuing that tradition and expertise is important to us.
Firespiral is run by just the two of us- Tamsin and Jen- and you can read more about who we are and how we created the business.

In this article we take you behind the scenes and show you how Firespiral wraps are made.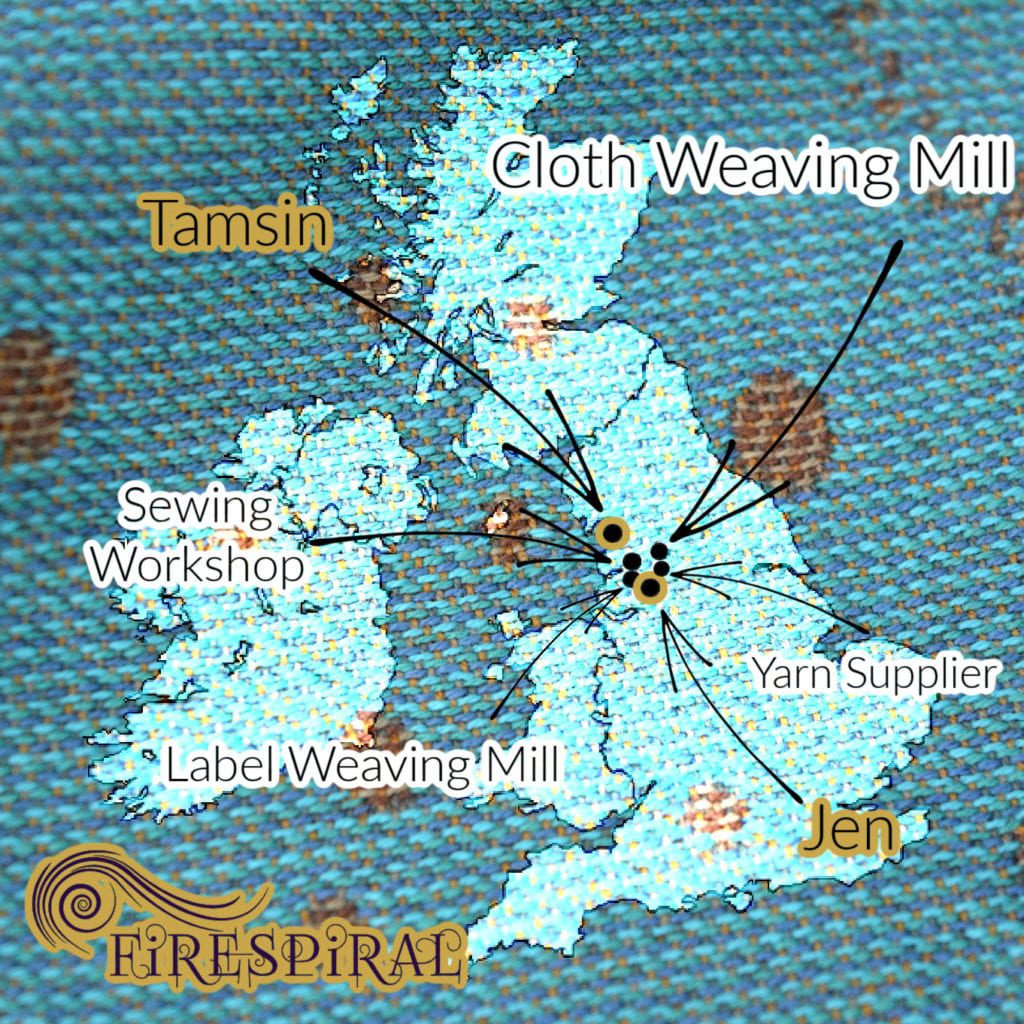 Firespiral HQ
We met when we both lived in Bolton, but Tamsin moved further North up to the seaside, so we are now split between Morecambe and Bolton. We work from our homes and each have a small studio workspace there, but we'll quite often work from our kitchen tables, or beside the fire in winter! Firespiral is like another member of the family for both of us and slots in alongside daily life, so it feels natural for home and work life to be so intertwined. We don't need to keep them separated. Our sewing workshop is in Preston, and we tend to meet there as a halfway point. It is great to meet up in person, but on a daily basis we chat over the computer or hold meetings via video call.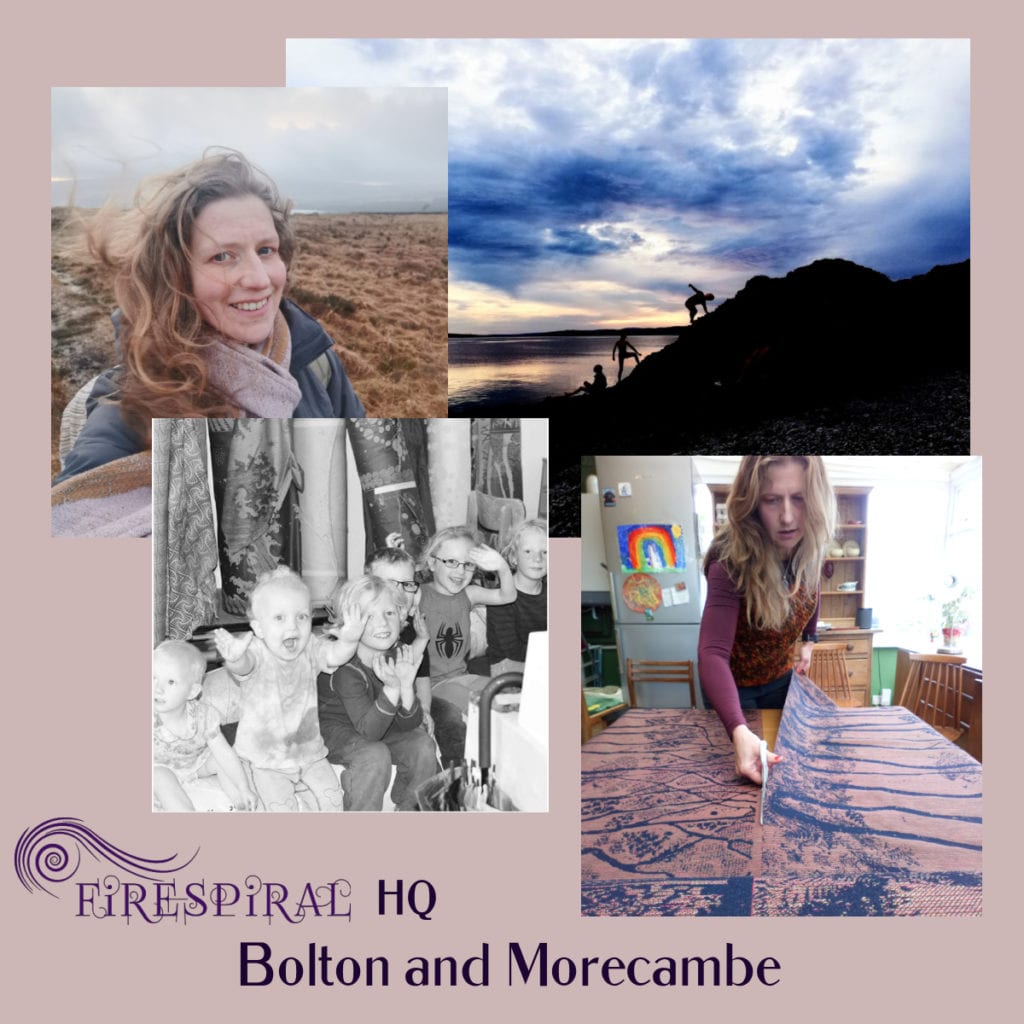 Designing
we create our own unique designs, inspired by science, magic and our local landscape. We start with sketches, doodles or just the spark of an idea that we write down. We then work the initial artwork up digitally. This might be by scanning it in to work on or by re-drawing on the computer from scratch. We build the image in black and white, to represent the two sets of threads that will create the design during weaving. The design gets passed between the two of us, each making changes until we feel happy enough to call it finished. Sometimes we don't find the 'click' point and shelve the design for months until we're ready to revisit it again! We have to bear in mind the point at which detail will be lost during weaving, and that the cloth needs to look good when wrapped round you both, not just as a flat image on a screen. We then convert the final image into a format that the mill can use to weave from.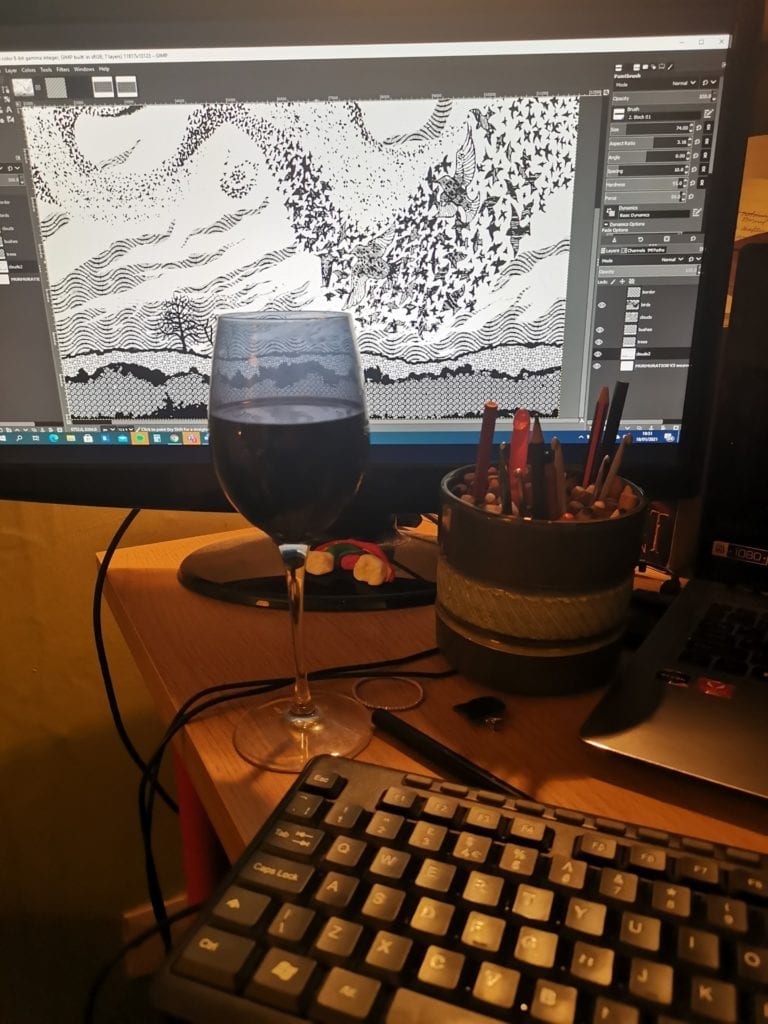 Planning a New Collection
Planning what to weave next always starts with choosing a warp colour. The warp has to be dyed and wound onto the loom especially for us, and this is a big undertaking. In order to purchase a long enough warp to make it viable, we need to weave multiple different wrap designs onto it, one after the other.
The warp colour is then shared between all those designs. We start with a rough idea of the colour we'd like, then bounce around ideas for designs and wefts to go with that. Sometimes the creative process will move the idea along, and that will influence the final warp shade that we pick. We keep going round in circles, throwing in more ideas until we both feel that 'click' point!
We generally plan between 4 and 6 designs in a single warp collection. We then have to try and read what we've scribbled down and write it out as a weaving plan to send to the mill.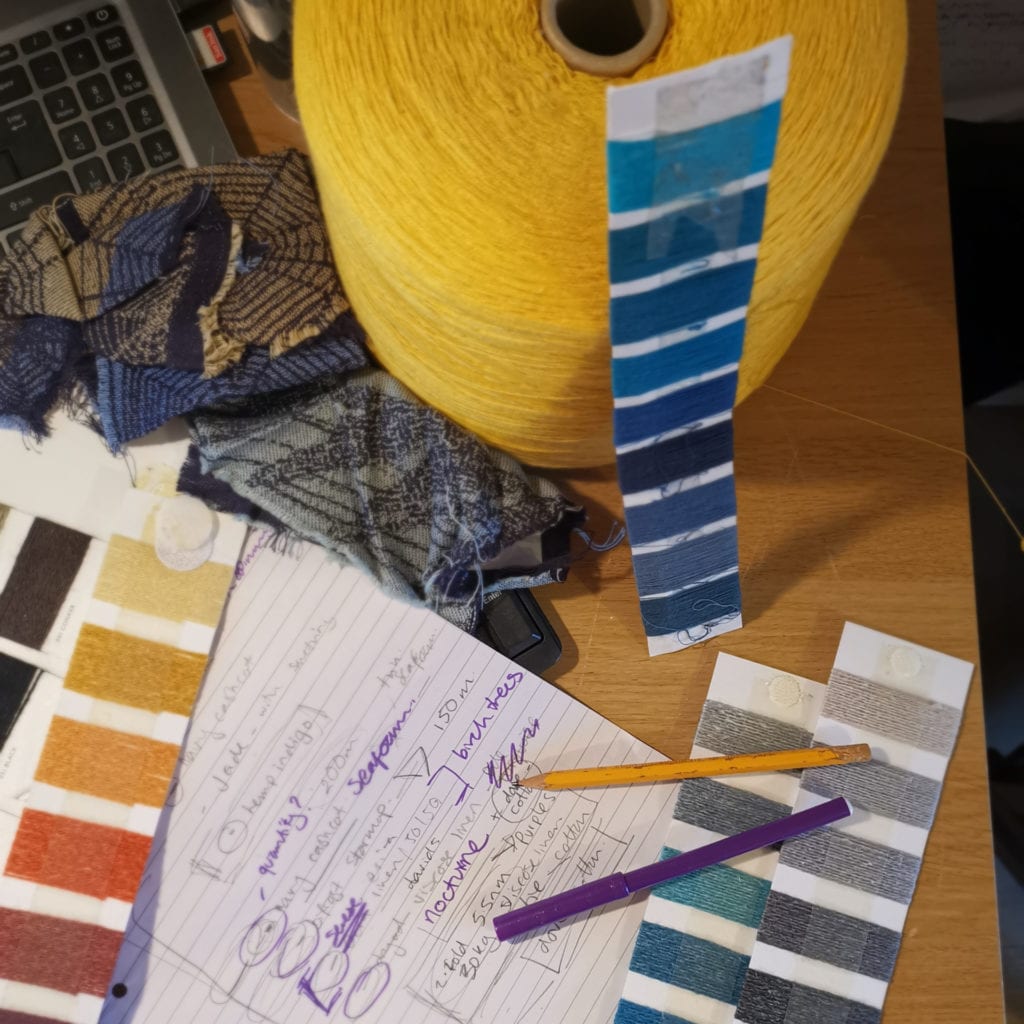 Sourcing Yarns
When we're planning a new collection, we generally already know what yarns are available to buy, and what we currently have in stock in our own workspace ready to use. We use suppliers who can provide good quality, ethically sourced yarns in repeatable quantities, and also a local specialist yarn merchanting business. David specialises in finding leftover and redundant stock from spinners or textile manufacturers. Often, big companies will have spare cones of yarn remaining in far too small a quantity for them to use, but the perfect amount for our micro-manufacturing scale! We're able to use beautiful yarns that would otherwise be out of our reach as a small company, and we get the satisfaction of knowing that we're helping to minimise waste. We ourselves have tiny amounts of yarn left over that we also can't use, and that goes to handweavers or crafters to keep us completely zero waste.
We've worked with David for a long time now, and he knows our business well. He'll keep his eye out for things that we might find exciting and lets us go and explore his warehouse for hidden treasures, which is always a source of inspiration! He's also been able to share some of his considerable yarn wisdom with us which is both fascinating and useful.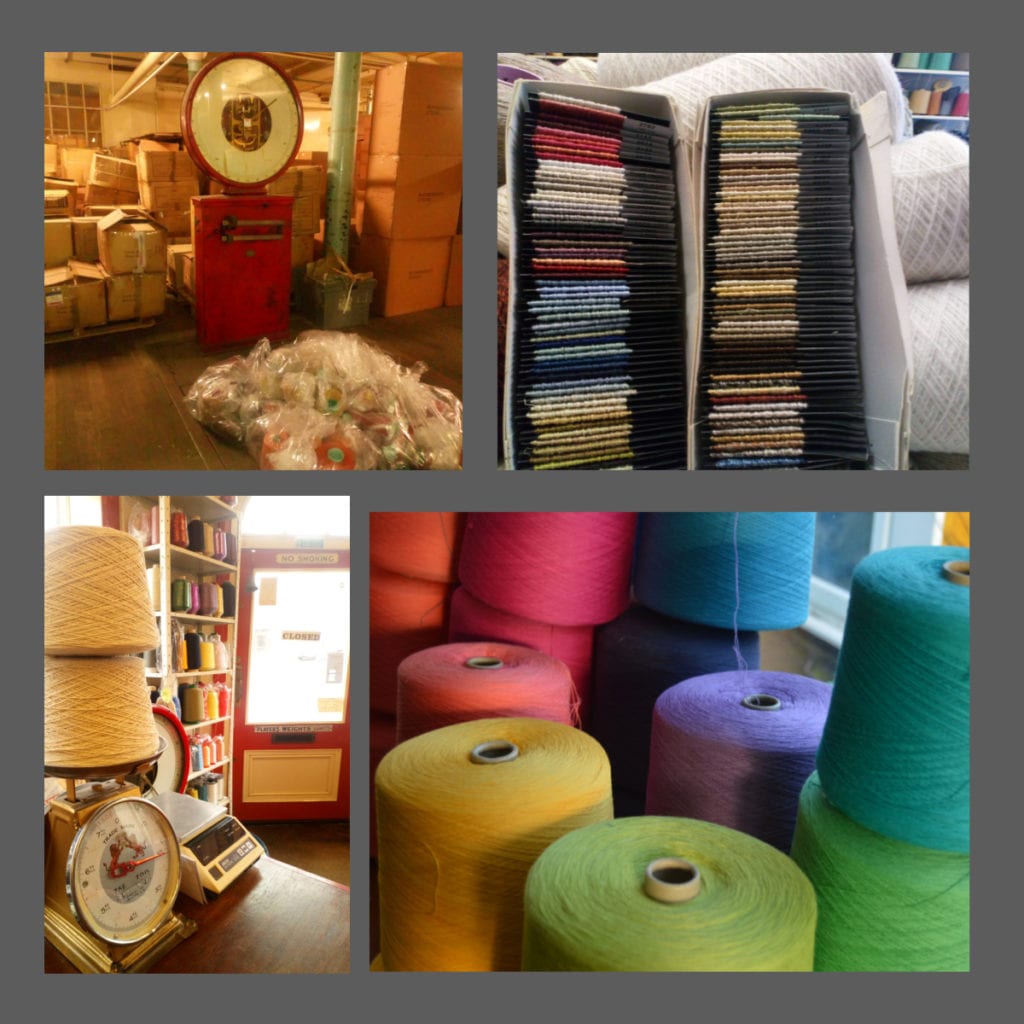 Weaving
Our cloth is woven for us by a local weaving mill. They're a family run business with over 150 years experience and are one of the few remaining traditional cloth weavers in the country.
We give them a plan that tells them which designs we want weaving and which wefts, weave structures and other variables to use. They already have our designs on file, and they create a digital mock up to check all the details. Once we've finalised all the details, we send them the yarns, and they get the warp ready.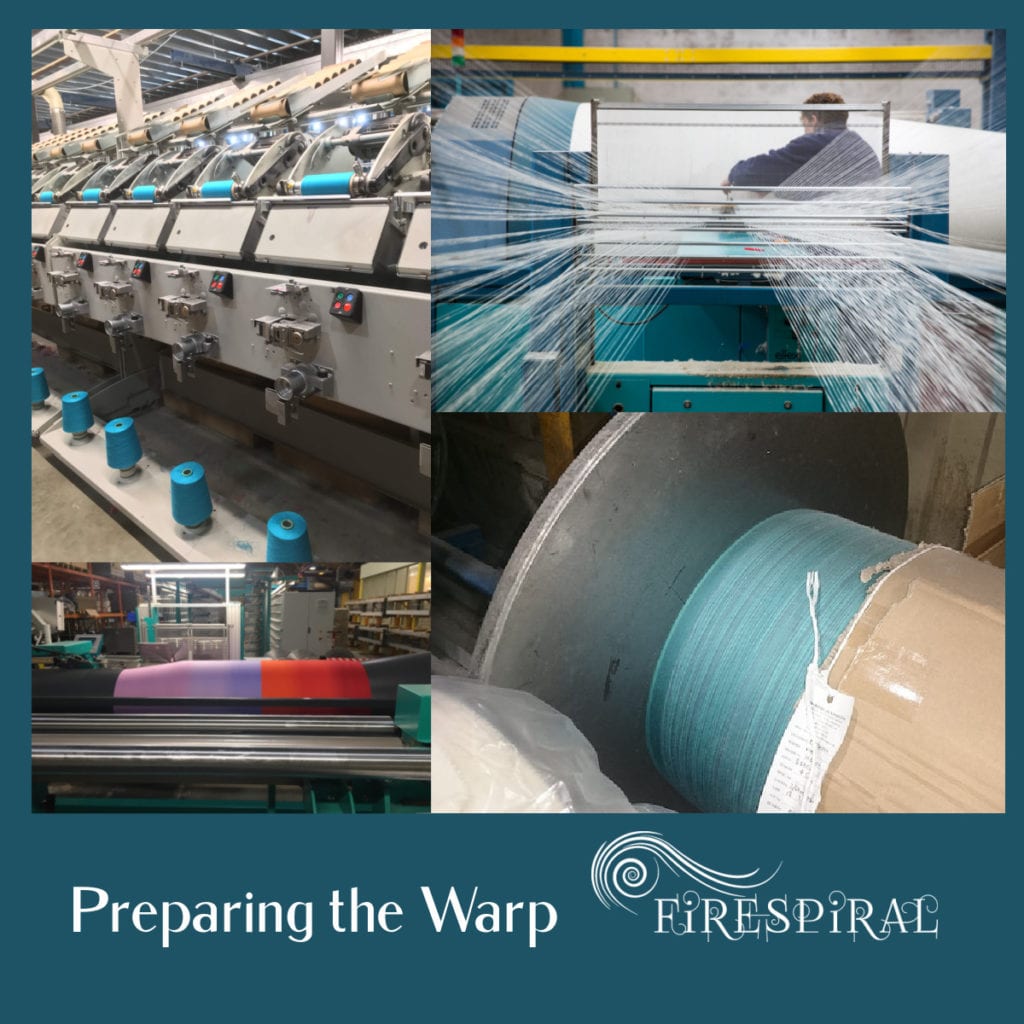 This involves winding thousands of individual threads onto a beam that can be put on the loom and fastened in. The weft threads are then woven across the warp. As this is jacquard woven cloth, each individual thread is either lifted or lowered independently before the weft is passed across it. This process builds up the pattern in the cloth. When one design is complete, the next design starts- all on the same warp, like multiple drawings made on a single roll of paper.
The finished cloth is then cut off the loom and wound onto rolls, ready to send to us.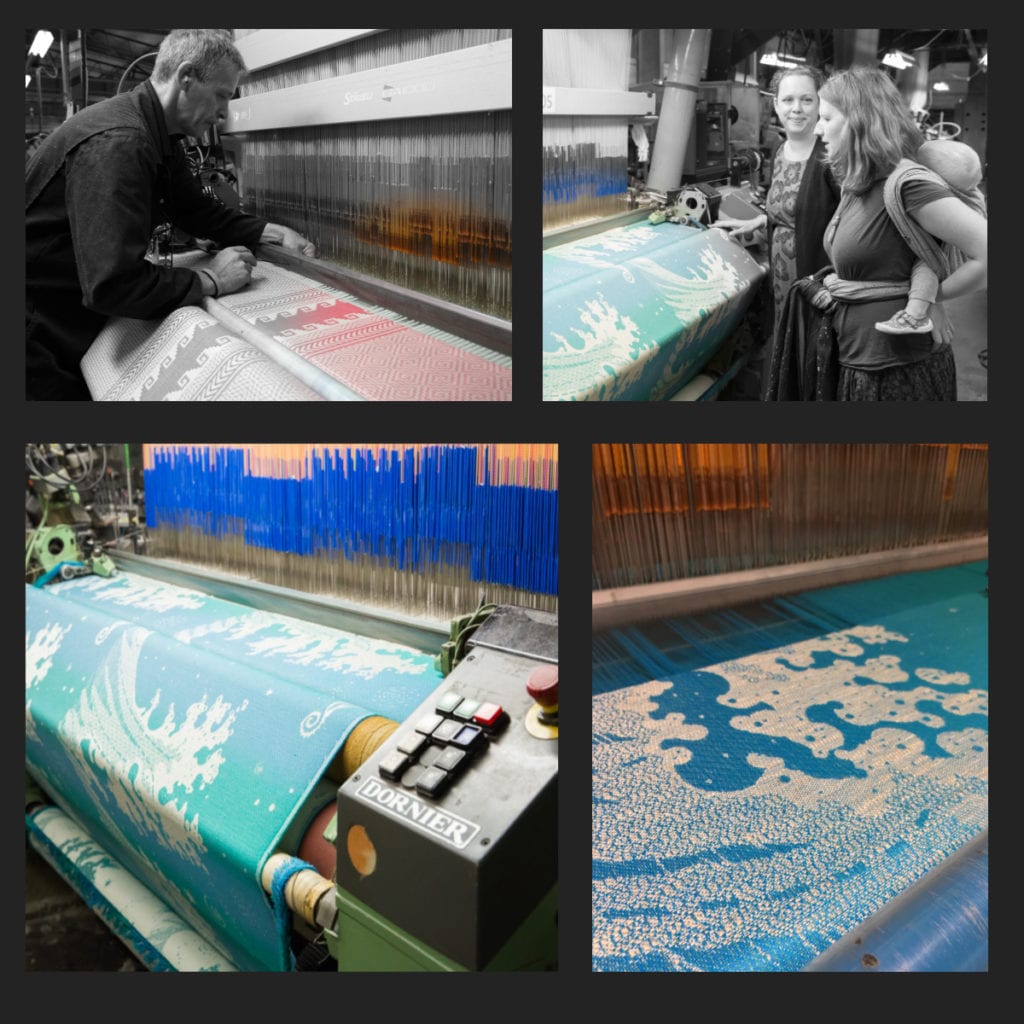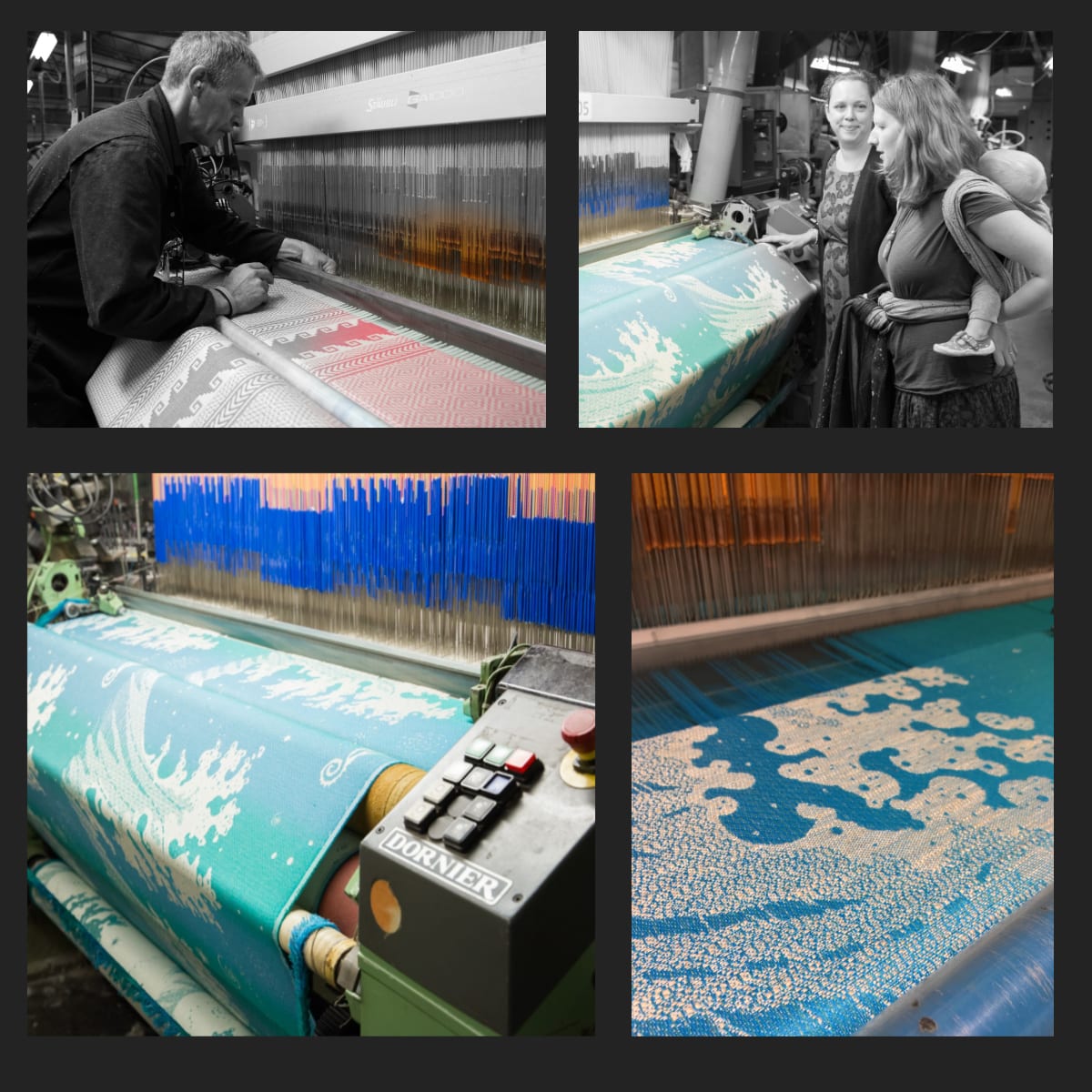 Sewing
The finished rolls of cloth in a van arrive at the workshop in Preston, ready for sewing. All our wraps are hand cut and sewn here by Judith. We helped to set up her business years back, and she now hems wraps for other companies too, making her one of the UK's leading experts in wrap sewing!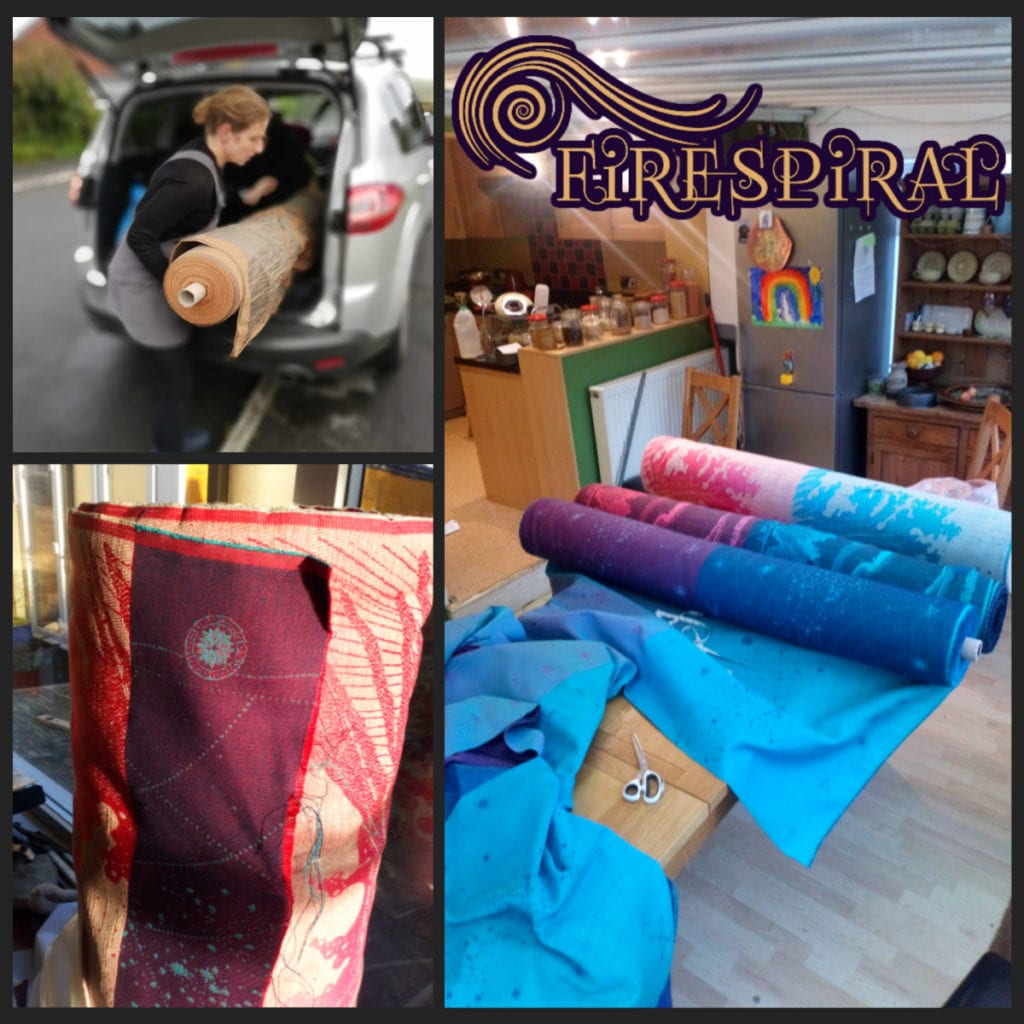 Some wraps are sewn straight away, other cloth is kept on the roll so that we can offer a wide range of items and just make them to order for you.
First the rolls need to be split so that the cloth is just one design repeat wide. Then the cloth is measured and cut to the right length, including the tapered ends. The edges are first overlocked then secured with a rolled hem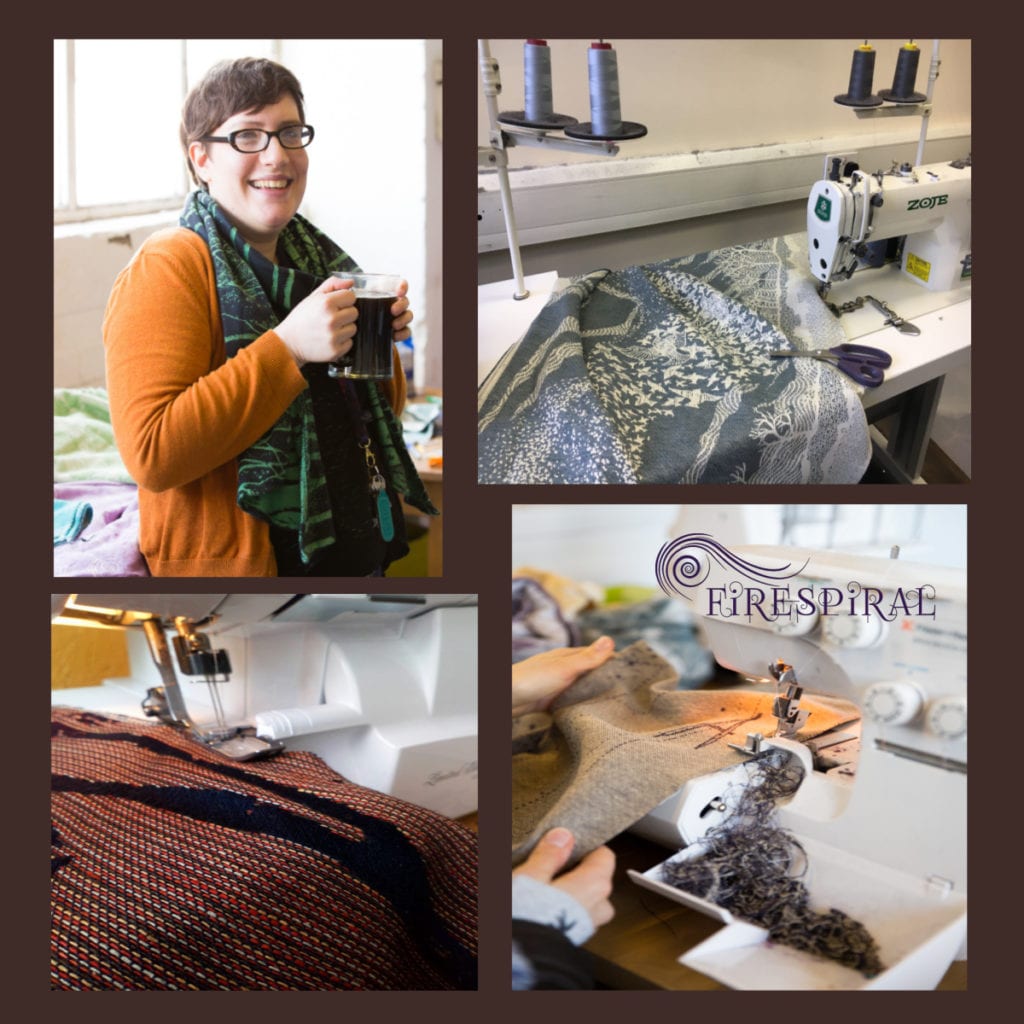 The care labels and middle marker tags are all woven in a jacquard label factory, just a few miles up the road from Jen.
Straight to your door!
We give the finished wraps a final check over and pack them up, ready to post out to you!