In loomstate the wrap came soft and lovely already. After one wash it fluffed up quite a bit. It has a wonderful feel to it. Firespiral cotton, as always, is soft to the touch right from the start. I don't know how they manage to use such soft wool that doesn't prickle but they do. It's luxurious. And the hemp in this wrap adds such a fun texture.
The natural slubs of hemp that stick out here and there give it an earthy and rustic feel. I love these colors. At first glance it may appear monochrome, but upon closer inspection you can see that the pendle warp is a dark, chocolatey brown. The chalice weft is a soft lilac purple with enough color to make it interesting but not so much that it will clash with bold colors in your outfit.
The midwinter design is so lovely. My toddler exclaimed "owl!" as it came out of the bag for the first time. Now for wrapping qualities. As one would expect with 28% wool, this wrap has great bounce. I calculated about 330 gsm and I'd classify this as a medium/heavy wrap. It felt thicker in hand than Delph and Grizedale (two other woolies in my collection) but not as thick as Firecrest. It has a nice amount of diagonal stretch and felt pretty moldable after just a few uses.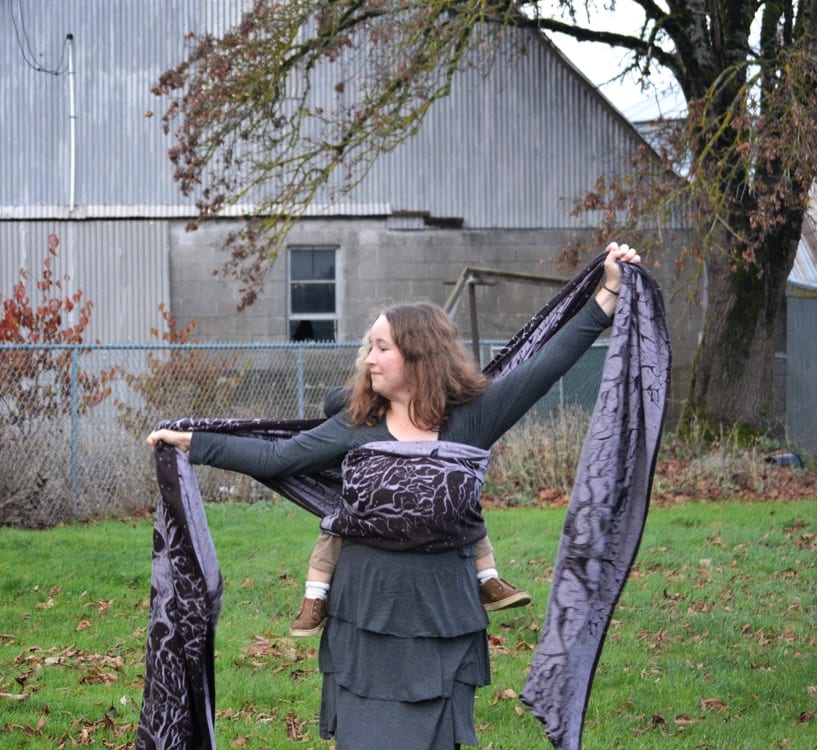 A nice firm L pull in a double hammock felt awesome; tightening this wrap is satisfying. It feels pretty springy. It's thick enough that it cushions the shoulders comfortably and isn't at all diggy. It's not so thick that it's unwieldy and I'd say there is more grip than glide. Using this wrap is like getting a big hug. My 30 pound toddler stayed super comfy in back carries and I felt very little strain. Chalice is perfect for big kids. I also tried it with my 4 month old who is about 15 pounds. It was not too thick to overwhelm his little legs. It might be a bit much for a newborn unless you are going to use it as a shorty. Which brings me to my next point that I think Chalice is going to be amazing in any size.
It's supportive enough for shorty carries and not too overwhelming for long carries. I expect that after it gets broken in more it will just be softer, fluffier, and more luxurious. I imagine the texture of the hemp will be more pronounced as the rest of the wrap softens up. The cotton will probably be silky soft and the wool will most likely lend more marshmallow-y qualities to the whole wrap. Jen and Tam have done it again. I honestly think this is going to be one of those legendary woolies. I'm so glad it's a tri-blend too; those are some of my favorites. Thank you for the opportunity to test this beauty!
Chalice Pendle Midwinter is a limited edition weave, and you can buy it here in sizes 1-9, subject to availability