As with many of our wraps, the inspiration for this warp came from our local landscape. My kids and I were talking about colours on a walk over the moors behind our house. They were intrigued by how all the things in nature appeared black at first glance, but are actually very dark shades of other colour colours up close.
The Pendle warp is a very rich, deep brown colour that appears black until you compare it with a true black shade. In the photo below you can see how the Pendle warp at the top makes the obsidian warp below it appear cool and almost blue-toned.
Pendle is the colour of the peaty bog earth that seeps through our walking shoes and stains our toes! It is the colour of the lichen and mill chimney smoke stained stone walls, and the dry bracken that covers the hills. It has the ability to reflect the various weft colours that it is paired with. With the red and plum toned wefts it take a deep aubergine hue, the very light wefts make it appear darker and more neutral, the greener wefts bring out the cool browns within the yarn.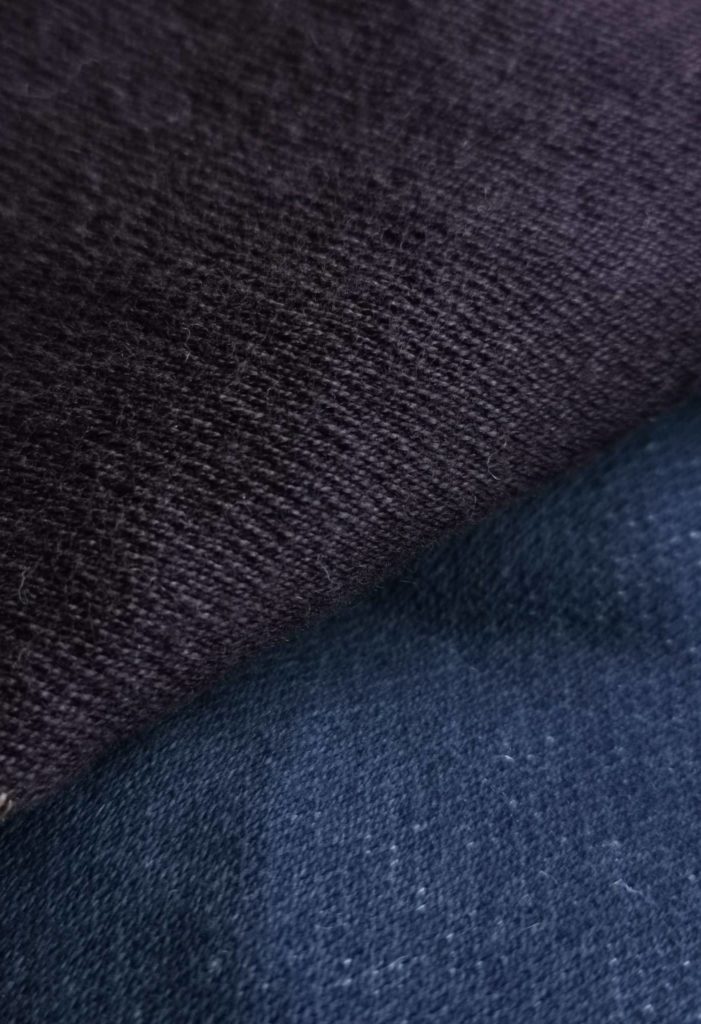 Pendle is an organic combed cotton warp. We use a plied thread for strength and sheen. There are 7 different designs woven on this warp. Pendle is an area in Lancashire, in between where Jen and Tam live. It is made most famous for the Pendle Hill Witches, the folklore tales that surround them and the real life events that inspire the stories.
| | | |
| --- | --- | --- |
| Wrap | fibre blend | weave |
| Whinfell Pendle Birch Trees | organic combed cotton 85% merino lambswool 15% | Alchemy |
| Silverdale Pendle Seafoam | organic combed cotton 50% merino lambswool 50% | Alchemy |
| Chalice Pendle Midwinter | organic combed cotton 55% merino lambswool 28% hemp 17% | Alchemy |
| Stonecrop Pendle Tentacular Spectacular | 100% organic combed cotton | Elements |
| Bifrost Geode | 100% organic combed cotton | Synergy |
| Firerock Pendle Starmap | organic combed cotton 60% viscose 40% | Alchemy |
| Earthshine Pendle Nocturne | organic combed cotton 63% linen 24% viscose 13% | Alchemy |