Woven wraps are an easy, safe and comfortable way to carry your baby- right from newborn all the way to pre-school age. One wrap can be used in lots of different ways so that you can carry your child on your front, back or hip.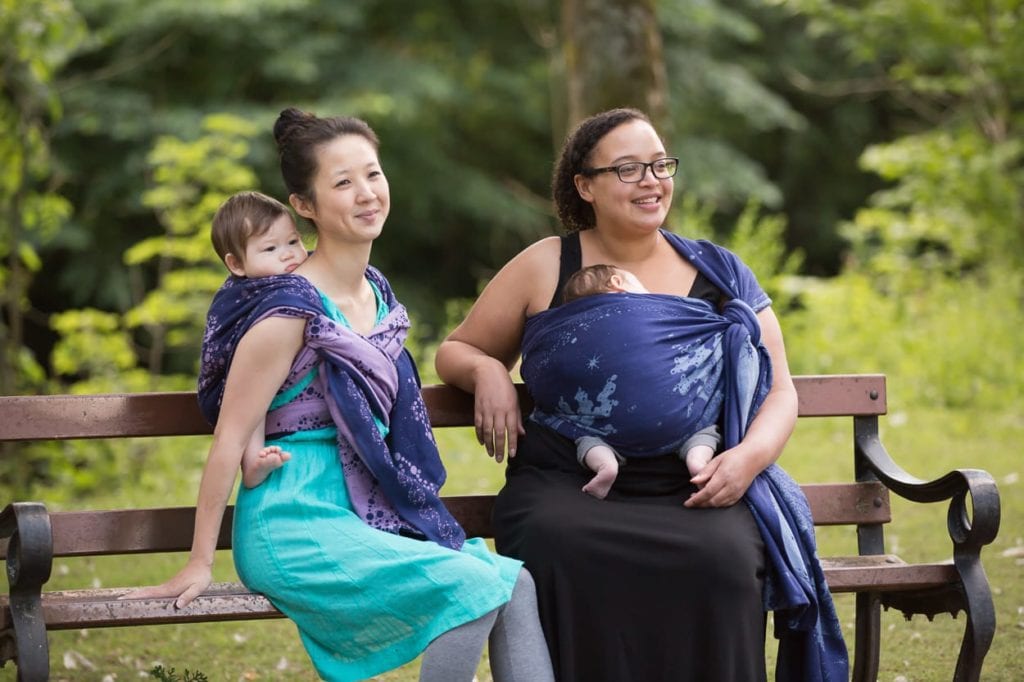 The Basics
Firespiral wraps are continuous lengths of woven cloth with no seams or joins.

The cloth wraps around you and your child, following a series of simple steps, and is then fastened off securely with a knot. The wrap fully supports your baby's weight and holds them in an ergonomic position which naturally mimics the optimal positioning of being carried 'in arms'.

They can be used from birth and can carry children of any age- you won't need to buy a larger size as they grow. Unlike carriers with fixed waistbands and straps, one wrap can be used by multiple different caregivers, even if you differ in height or body size.

Each wrap can be tied in a multitude of ways, allowing you to carry your baby on your front, hip or back.

Unlike baby car seats, there is no time limit that children can spend in the sling. They can nap and even nurse whilst wrapped. As the child's weight is distributed more evenly across your whole torso, you may find it more more comfy to carry them for long periods than you would in a more structured carrier.

You need to learn how to tie the wrap around you, but that is generally simpler than tying your shoelaces! Every part of the wrap can be adjusted as you tie it to give the most comfortable experience for both of you.

Wraps are sold in different sizes, but unlike clothing, this doesn't relate to your own body size, or that of your baby!
Sizes are usually numbered 1-9, with 1 being the shortest length, 9 the longest. Each size is used to tie different styles of carry. Short wraps are better in some situations, long wraps are better others. Your individual needs will determine what size is right for you, but a size 6 is the standard starting point for most people.

The first carry that most people learn is the Front Wrap Cross Carry ( often abbreviated to FWCC) and you can usually tie this with a size 6 wrap.

There are simple safety checks that you can do when your baby is in the wrap. You need to make sure that their chin is off their chest, that their airway is unobstructed, and the their body is in line. As wraps hold your baby in a very natural, familiar way, these checks are easy to do.
We weave our cloth for the specific purpose of carrying babies, so it has the perfect amount of stretch and strength and has different properties than the furnishing or tailoring cloth you might find for sale on rolls.

Our wraps have rolled hems, meaning that there is no right or wrong side to the wrap and can be tied with either side facing out.

The have a middle marker tag which helps to locate the centre of the wrap when tying.

They are machine washable and can be folded up easily when not in use.

They have gently tapered ends to make it easy to tie them off.

Simple pieces of cloth have been used to carry babies throughout human history, and all nations have their own tradition of carrying. This style of woven wrap is a reinvention of these carrying styles and borrows concepts from lots of indigenous carriers. These woven wraps are much longer than most traditional carriers, and this 'new' style was first popularised in Germany around 40 years ago. Woven wrapping has developed into a hobby and artform as well as a practical tool for caregivers.