This collection has two halves to it, Pink Moon and Blood Moon. The inspiration came initially from a photograph of the blood moon, the wonderful saturated oranges and reds created during a lunar eclipse. They've fascinated Jen since she first remembers seeing one whilst driving through the night in the hot summer of 1996.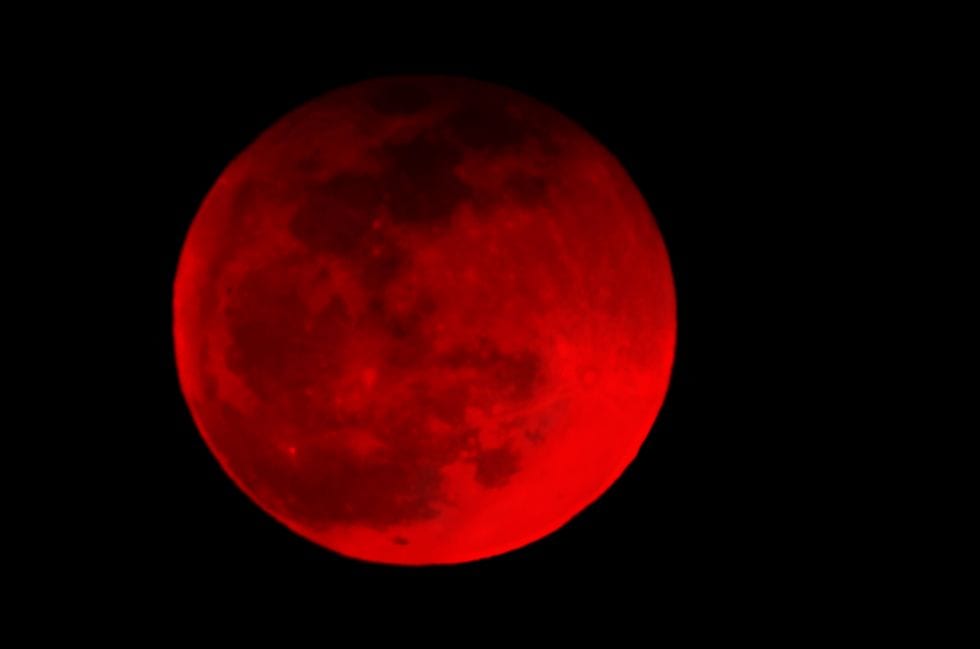 We knew that this was going to be a 'split warp', but we didn't know what colour the other side of the cloth would be yet. Our cloth is woven double width on the loom, so that the pattern repeats twice across it. Once it comes off the loom we then split the roll in two and end up with two lots of identical wraps. If we wind two different colours onto the loom, one on each side, we create two wraps that have the same weft yarn and design, woven onto a different coloured background.

We usually start with the warp colour as a base, then choose which designs and wefts to use. For the second side of a split warp, we end up working backwards- we already had the designs and weft colours in mind to fit with the blood moon side, so we then needed to think of something else that would work well with all those choices!

This was how we came up with the pink moon side, the name inspired by the Nick Drake album of the same name. We wanted to capture the delicacy of the light in the magical time between day and night, and create wraps that would have a very different energy to the dark and vibrant reds of blood moon.
Once we had the two colours in place, we made a few final changes to make sure that everything was the best fit, then we were ready to weave!
Each warp is a graduated blend of 3 colours
There are 4 different designs in this collection, and each has been woven on both Pink and Blood moon warp, so that makes 8 different options to choose from in total. Our warp yarn is all organic, two ply combed cotton. This gives it both a soft sheen and hardwearing strength.
The 4 wefts/designs woven across the Blood Moon and Pink Moon warps
| | | | | |
| --- | --- | --- | --- | --- |
| Weft Name | Design Name | Weft Blend | Weave | GSM |
| Touchstone | Microcosm | 66% organic combed cotton, 17% hemp 17% lambswool | Alchemy | 290 |
| Astral | Curves of Pursuit | 40% Italian viscose, 60% organic combed cotton | Elements | 245 |
| Greystoke | Winter Hill | 50%merino lambswool, 50% organic combed cotton | Alchemy | 320 |
| Arbor Low (pink) and Wilderswood (blood) | Birch Trees (spring variant) | 100% organic combed cotton | Synergy | 315 |
The Birch Tree wraps get two different weft names because of the synergy weave. It hides the warp inside the structure of the cloth, between two wefts. The weft colour still shines through though, and this completely changes the appearance of the weft colours, to the point where they deserve separate names.