Every wrap has a story in terms of its materials and how it came into existence, but Whinlatter Birch Trees has a particularly interesting history, and some unusual features that make it quite unique, and a very exciting wrap for us to make!
The Weft

Back in 2012 we started working with a small dobby weaving mill in Yorkshire who were expanding. They'd just taken on two jacquard looms, weren't really sure how the computer design system worked, and we became their guinea pigs! The qualities that we look for in wrap cloth are pretty different to the usual requirements for cloth, and so lots of what we were wanting seemed quite strange to them!  Together we figured it all out, they learnt all about slings and they went on to weave for several other UK wrap companies alongside ourselves.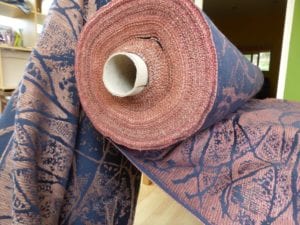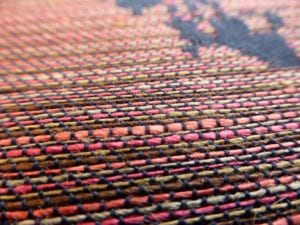 With them, we developed our Alchemy weave- a new variation on a standard style of weave structure that was being used for wraps at the time. They taught us so much about the technicalities of weaving, and we rely on that education even now. Weaving cloth is a complicated business, and our practical knowledge has allowed us to be really hands on and develop great wrapping qualities as well as pretty designs.

The digital designs that we created were transferred to the loom via floppy disc (the weavers would scour car boot sales for floppy discs at weekends!) and because weaving is a noisy, dusty process, the computer was housed in a big meeting room, full of sample cones and yarn swatches on rails. We spent so much time in that room, and our little children used to cause absolute chaos! One of us would do the work stuff whilst the other ran round picking up and setting everything straight.
Anyway, they had a wall display of beautiful linen in there, and we just loved it. The technicians that we worked with didn't really know much about it, only that it had been imported from Peru and that all they had were those display cones.

Fast forward 6 years and lots had changed. Our lovely mill was forced to close (the UK textile industry struggles to keep up with cheaper imports and unfortunately, many weaving sheds have gone) so we now weave even closer to home in Lancashire, in one of the few remaining jacquard weaving sheds.

A few months ago we got a call from David,  our favourite yarn supplier. He finds small quantities of left-over yarns that can't be used by larger manufacturers and helps to find it a new purpose. He rang to say that he had some very special linen that he thought we would love. He had all the paperwork for it, and it had initially come from Peru, but had never been collected from the docks and had sat in some dust covered boxes in the corner of a shipping shed until it was discovered and offered to him…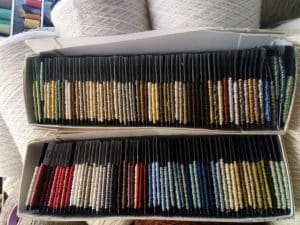 The UK weaving world is still tightly knit (!!) and through a bit of chatting and detective work, we found out that first mill had planned to be a UK supplier for the Peruvian linen, and had ordered enough cones of each colour to be wound into shade cards to send to customers. This obviously this wasn't to be, and when the weaving shed closed, the boxes of yarn were forgotten about. There were lots of different colours, but only a tiny quantity of each.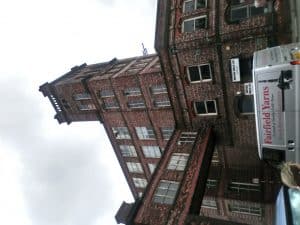 Tamsin and I spent a morning in the old mill (where the yarn supplier keeps his stock), sat in almost darkness, rummaging through the boxes to find out what was in them! Crouched on the floor, we grouped the yarns by approximate colours, creating piles of red, orange, brown and taupe yarn. The reds and taupes were all quite close in tone, but there was a wide range in the other piles. The oranges went from near pink, right through to terracotta, some browns were almost beige, others were a dark chocolate brown. There were over 20 different shades of yarn across the piles.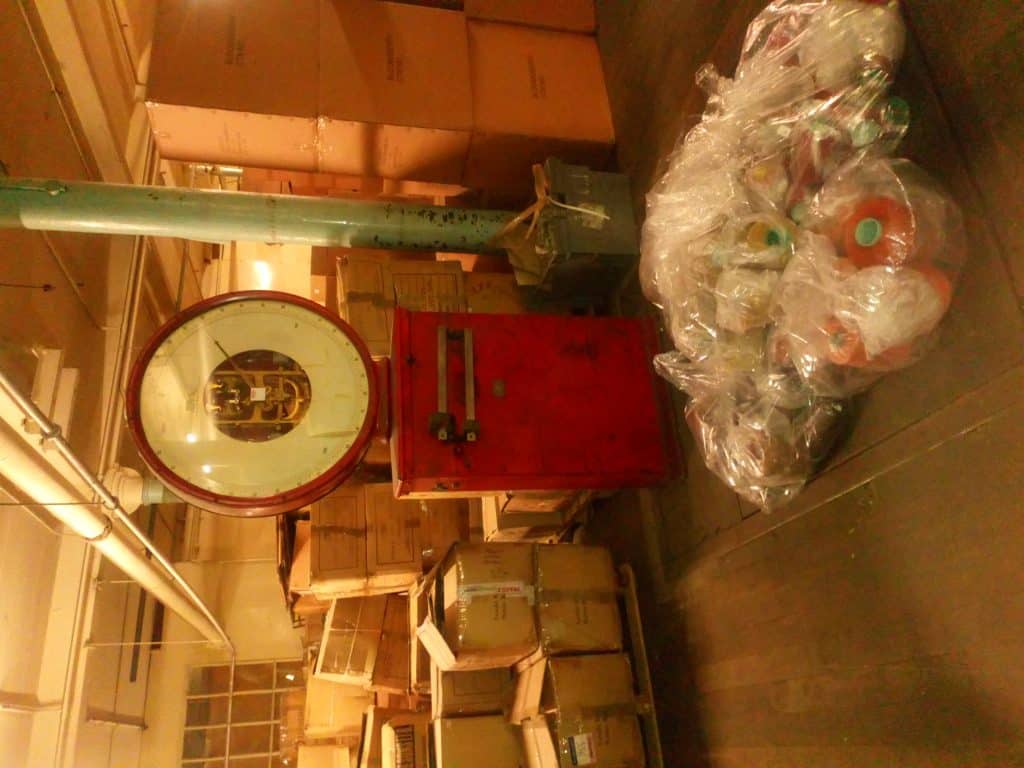 We popped them all on David's fantastic old floor scales and worked out how much cloth we could weave using everything we'd found. I sorted and catalogued everything in the proper daylight of my kitchen, them loaded the car to drive the yarn to the mill.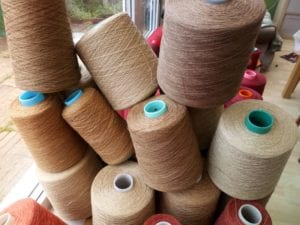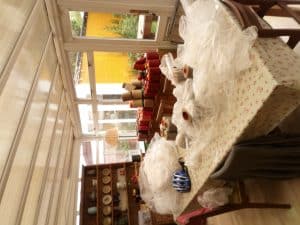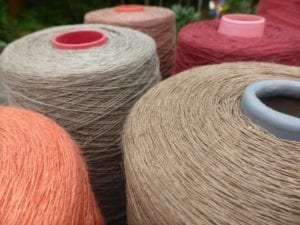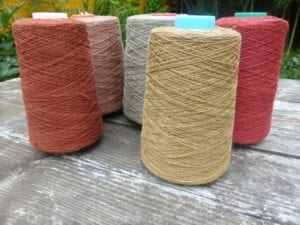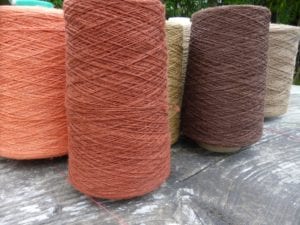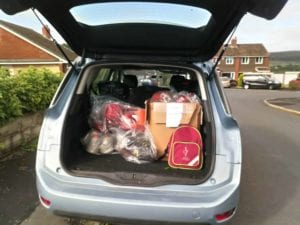 I was a bit nervous about explaining our plan to the mill; we wanted them to treat each box of colours as if they were one single shade, and to weave a repeat pattern of alternating colours, but when one yarn cone ran out, to replace it with a random one from that colour's box. We already weave absolutely tiny quantities compared to other cloth manufacturers, and because weaving is such a complicated skill with so many variables, the weaving technicians like to be given a clear plan to work to, not vague concepts!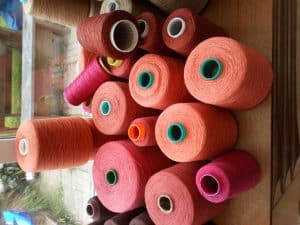 Luckily for us, the designer from the weaving team that we work with was enthusiastic about the idea! He is an artisan handweaver himself, and I think that our orders must be a bit more fun  and creative to work on than some of the larger ones (which tend to be for beautiful but sensible cloth for furnishings or clothing). The design team helped us to work out a way of making our idea work in practice. We chose a weave and a density that would give us a thick yet floppy and moulding cloth.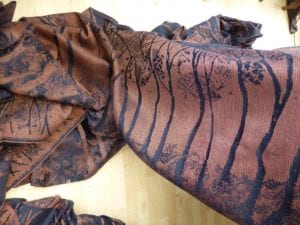 Unique Wraps
This whole process means that the pattern and balance of colours repeats consistently throughout the whole of the cloth, but the colour gently shifts in waves, getting warmer, cooler, darker or lighter as the cones run out and are replaced. There is an overarching theme that shows the overall kinship of the cloth, but each section is unique, each wrap is individual when you compare them up close.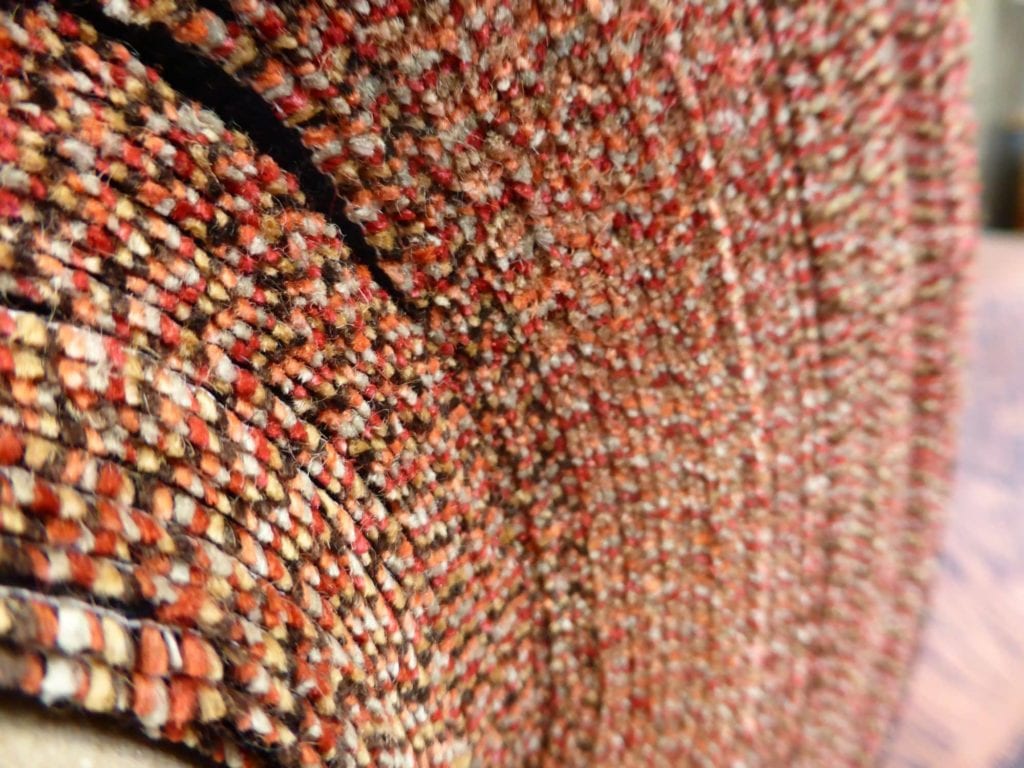 We've created a reference system on the labels to allow each wrap to be identified, and the science geeks in us hope that you'll be able to create a reference database that catalogues each wrap in terms of size and weft yarn colours! This is new territory for us- we've never had a release where every single wrap is unique. It isn't something that we would have thought to do had it not been for the circumstances, our understanding of the possibilities of weaving,  and us being desperate to use this linen!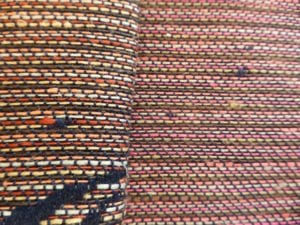 The Warp
"Twilight" was our first ever warp. We had a clear idea of the exact colour that we wanted- something that sat in the middle of purple and blue, something dark yet warm. We spent weeks searching for something to submit to the dye house as a colour reference- bed sheets, paint chips, book jackets. In the end we dyed an old muslin ourselves and sent it to be sampled.
Each new Twilight warp has been dyed to order, and has therefore been slightly unique. We knew that this new warp would be darker than the standard Twilight, and we didn't want the delay of getting more yarn dyed for us so we went with it. It wasn't really until the cloth arrived with us however, that we realised how much darker it was, and that it needed its own name. After a chat with one of our testers, we decided that 'Midnight' fitted the bill. Whilst it wasn't the colour that we were aiming for, it works perfectly against the warm coppery tones of the weft, and we'll repeat the colour in its own right in future. There is great value in just embracing the unexpected and allowing the universe to have her say in our design plans!

The Name
Whinlatter is the name of a mountain forest in Cumbria's Lake District, and it is one of our favourite places to visit with our families. We've made it a tradition to go and 'wrap the wizard' whenever we're there!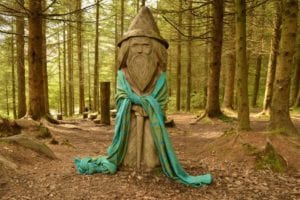 It is a magical place that is both beautifully wild and comfortably homely at the same time. Our wraps are beautiful pieces of cloth, but the true magic in them is that they wrap so comfortably and easily. Whinlatter felt like the perfect name for such a gentle beast.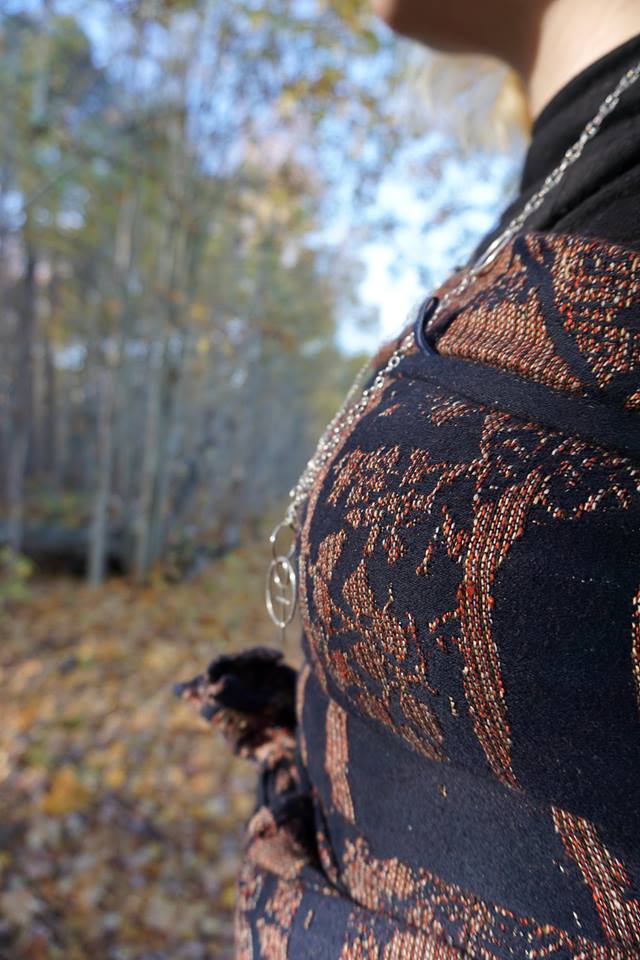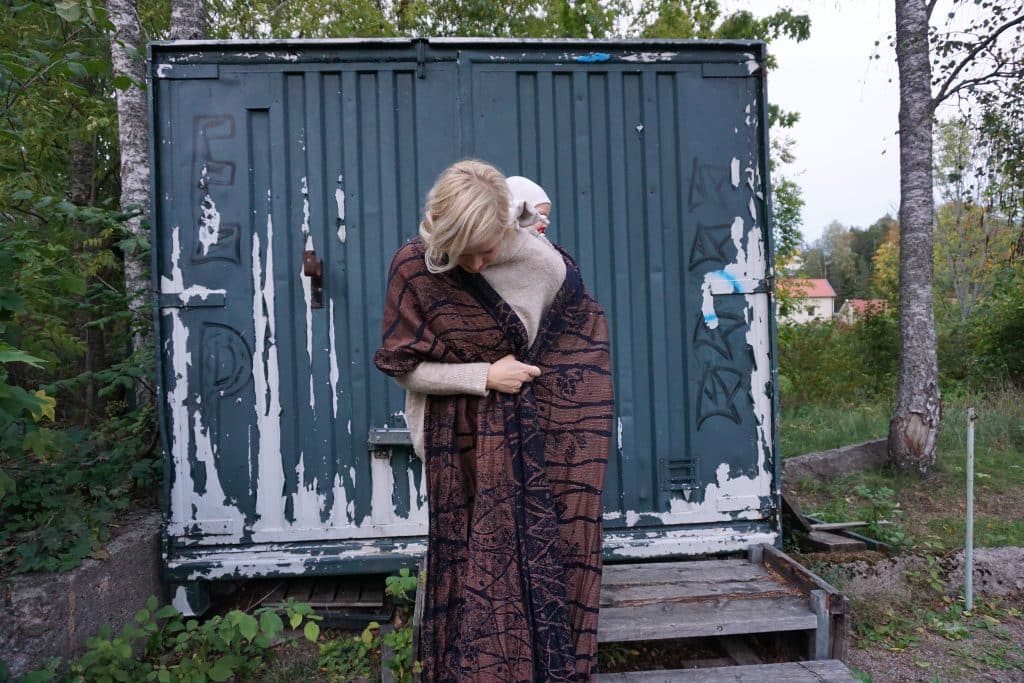 You can read more about the wrap on our database