Babywearing bags; do I need one?
Children might only be small people, but there can be a heck of a lot of stuff that needs to travel around with them!
Buggies and prams often have a basket or pocket that you can load up with all manner of things. Our buggy regularly carries school bags, sports kits, snacks and instruments- (and sometimes even has children in it too)!
But how can you carry all that stuff with you when you are babywearing?
What are my bag options?
You can use an ordinary bag whilst carrying your baby in a wrap. You may already own something that will do the job. There are a few things to consider when making your choice.
Rucksacks
Rucksacks are great for teaming up with front carries. They are designed to hold a lot, spread weight evenly over two shoulders and keep out of the way of your baby. They are less useful for using with back carries though, and I've had a few frustrating days out where my little one has changed carry several times and I've been left with a rucksack sliding off one arm or awkwardly perched on my front!
When your baby is mostly front carried, and you have to carry a lot in your bag, or carry it for a long time, then a rucksack makes a great affordable choice
Single Shoulder Bags.
You are already carrying the weight of your child, so it is important to find bag with comfortable straps that don't dig in and which distribute weight properly. My shoulders remember clearly the summer's day where I carried a two year old, a narrow strapped changing bag and a full picnic box all the way to the park…
Fixed length straps need to be long enough to fit over both of you, and you also need to be able to lift the bag over your head and the baby. That can be quite tricky when the bag is full to bursting and heavy.
If you don't have to carry your bag for long distances, and it has a suitable strap, then you may find that a standard shoulder bag or changing bag will serve your purposes.
Babywearing bags
Here's a video comparison of two types of babywearing bag
Babywearing bags are purpose designed for using when carrying your children. They are often made out of wrap fabric because it works well to evenly and comfortably distribute weight
Babywearing bags have wide cloth straps that are designed to mimic the action of the wrap and spread around both of you.
The straps undo to get round you both without having to lift the weight of the bag to get the strap over your head. You can then adjust the length to get the positioning just right.
There are lots of types of babywearing bag depending on your needs, styles and budget. Some will have different carrying positions, some use sling rings to fasten, whilst others will have tie fastening straps.
They can continue to be useful bags long after your carrying days are over, and serve as a nice memento from these special days.
Where do I buy a babywearing bag?
You have two main options, to buy an 'off the peg' bag or get a bespoke bag made.
Bespoke bag makers often have a bit of a waiting list but will allow you to customise your bag to your exact requirements. From personal experience, it can be tempting to get excited and order an enormous bag with a million pockets, but in practice that might not be as practical or useful as you think. A good bespoke bag maker will talk you through the various options, and be able to advise you from their experience.
You will be able to either use your own wrap to convert into a bag, or choose in stock wrap cloth like cloth from The Honeycomb loom, which works nicely on its own or with a decorative panel. You can choose from a range of options- key clips, pockets, different types of strap and fastener etc.
Absolute Bobbins and NAHLA babywearing both make excellent bespoke babywearing bags.
'In Stock' Bags
In stock babywearing bags can't be customised, but they have been designed to be great 'all rounders'- a good balance of size and features at a mid
We stock Wompat bags (formally Slingyroo) made from Firespiral cloth. Wompat is a well established Finnish brand produced by
Wearababy
, known for their ethically produced and distinctively stylish carriers. Their tried and tested bag design is simple yet very effective and will serve you well even when you're not carrying your children. Mine is my main, everyday handbag!
They are spacious inside with a smaller internal pockets for holding purses, phones, keys etc.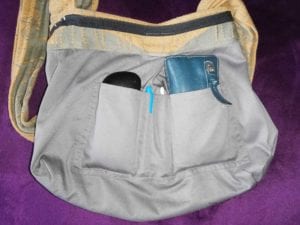 The body of the bag fastens with a zip to keep your belongings safe, and for easy, one handed opening when you're wearing it. They have a single, long strap that fastens to the other side of the bag with sling rings. This means that you can wrap the strap right around you and tighten to fasten. This is especially handy for back carries, as lifting the bag over your head can often result in the strap falling in between you and baby. Tightening and loosening the strap is easy to do one handed, and you can also knot the strap around the rings if you want to keep it securely in place. I do this now that I rarely babywear anymore, and know exactly what length I like my strap to be.
The bags have a hardwearing, protective lining inside and are expertly stitched for a solid and stylish finish. They come in their own protective cotton bag (a bag in a bag- what's that about??!)
Each bag costs £80.
You can read a review of the bag style here
Buy your Firespiral/Wompat babywearing bag here