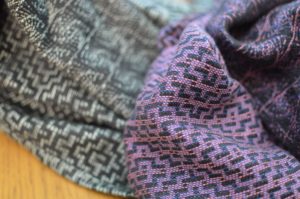 We originally created "The Librarian" design specifically for educators to use whilst teaching people how to wrap. When you learn to wrap it is helpful to visualise the cloth as having 3 distinct sections- top, middle and bottom. These can be referred to as 'rails'. The top and bottom rail also have a hem running along them which is the outer edge of the cloth.


The Librarian design is split into 3 sections , so that you can easily identify the part of the cloth that you are working with. It also has two distinct 'faces' to the cloth, so that you can check which is the outer side of your wrap, make sure you haven't twisted it etc. Finally, the two hems look different to each other, so that you don't get them confused.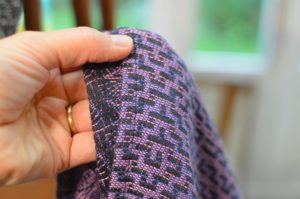 All these handy features make it easier to learn with, however this is an added bonus as the design is also very pretty in its own right! We had many requests from people who had tried and borrowed a library wrap, wanting to buy the same pattern, so we decided to make it publicly available as part of our design range.

We currently have The Librarian available in two different colourways, called Firefly and Jadeite.
These wraps are woven from our 100% combed cotton, using our 'Alchemy' weave. Soft and easy to care for, they have the flexibility to see you through from newborn to toddlerhood!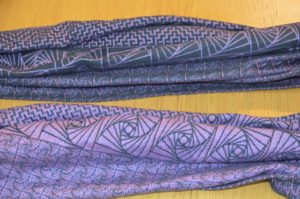 We have always prided ourselves on making very beginner friendly wraps- especially our 100% combed cotton alchemy weave wraps. We designed our cloth to yield and mould easily as you wrap with it, to do what you ask of it so that you are working in harmony with your wrap and tieing it as snugly and evenly as you need. The cloth will just slide into place and stay put! Our wraps need very little 'breaking in'- they are ready to use with great results right from the first wash.
Possibly the biggest influencing factor on how comfortable any wrap feels to use will be how well you've wrapped with it. A snug, even-tensioned, well balanced wrap-job with all the weight distributed properly will feel completely different to one where all the weight of your baby hangs off pressure points on your shoulders, or poorly tensioned rails cause sagging. That might sound like a lot of pressure on you to get your technique right, however,

getting a good, comfortable wrap job does not need to be hard!

If you have a wrap that works with you and does what you want it to do then the whole thing becomes much easier. Our airy and open weave allows the fibres of the cloth to move independently and really shape around you without trapping pockets of slack into your carry. Our combed, plied cotton gives you the strength and cushioning of a thicker wrap without bulkiness.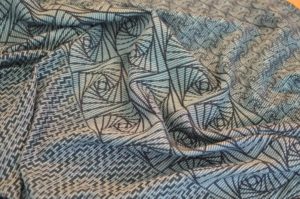 Learning to carry is just the start of your journey- your child is constantly growing and changing. It is no coincidence that people tend to start to find their child feeling 'heavier' at the point where their baby suddenly becomes more independently mobile! It is far harder to wrap a wriggling child than a still one, which leads to more hurriedly tied wraps that then feel less supportive.
There are a wealth of resources out there to help you build your wrapping skills (plus your own experience will teach you well). Here is our introduction to wrapping a newborn


If you come to enjoy wrapping as an art-form then there are a whole array of differently tied carries and fancy finishes for you to try to master- or you can invent your own! Equally, you may find that learning just two or 3 carries will see you through every situation. I've found that the Front Wrap Cross Carry, Rucksack Carry and Double Hammock (plus variations on these carries) pretty much cover every eventuality and every age of child! Whilst I might try exciting new carries for a little while, I've always defaulted back to those with all 3 of my children. Although I've been babywearing for nearly 9 years now, I've found that there is always something new for me to learn.

So if you like the pattern of this wrap, regardless of your wrapping experience level, then go for it! If you are relative beginner then the teaching features will be an added bonus. Your new wrap will arrive in 'loom state'- the threads are put under tension during weaving, and this needs to be washed out. This first wash will set the weave, fluff up the yarn and clean out dust that has accumulated during weaving and hemming, so is an essential part of the process. It allows the threads to relax into their natural positions and bond together. You should notice a change in the texture and the 'handle' of the cloth pretty much immediately.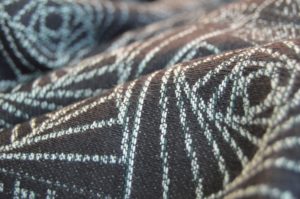 You can find 'The Librarian' wraps in our online shop, alongside lots of other exciting designs.

Don't forget to share your pictures with us via our Facebook page, Instagram or by using the #ISpyFispi hashtag. We love to see our wraps in use!