Thanks to Dan Nisbet for sharing his experiences of being new to babywearing and using short wraps.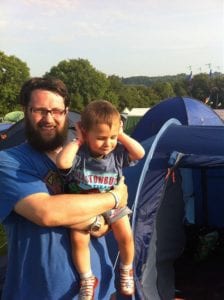 "I remember the turning point at which I jumped to 'full-time babywearing'. We had been carrying our first child, George, from being a newborn and I'd been doing carries with stretchies and longer sized wovens when we'd go for walks as a family into town or through the forest – under careful supervision from my other half! I wasn't a very confident wrapper but it was OK because my wife was great at showing me when I needed her to. It was a great luxury really, I got all the positives from babywearing but had kind of neglected the learning how to wrap part – it took me ages to learn how to tie my laces as a child too! My wife and I have a shared joke where she shows me one of those tricks you do with your hand, 'this is the church, this is the steeple' kind of thing and I always, always get it wrong!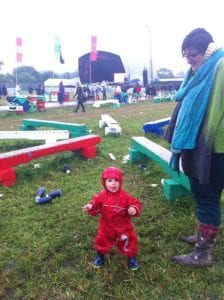 We were fairly well established in our babywearing when we went to the Glastonbury festival. George was around 15 months and wrapping was a key tool in our parenting kit.  We weren't sure how it was going to be, attending as a family, but had read up a little bit and knew that there were lots of great facilities for kids, a whole field of entertainment (with its own families-only toilets), the NCT tent was great too, providing baths for the kids and supplies of wet wipes.

Transportation wise, there was no debate really. He was fairly mobile at that age but we knew his little legs would never last (it's a huge site after all, lots of walking, over 1100 acres and 8 miles around!) We also knew though that the mud potential was very high; wheels wouldn't cope well, so babywearing it would be. Thankfully it turned out to be a beautifully sunny weekend though! Tamsin had lent us a beautiful size 3 wrap which she had dyed and off we went.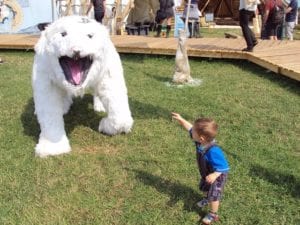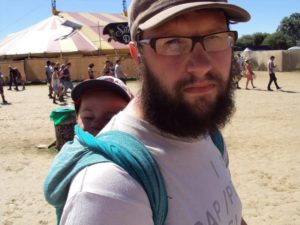 Getting into Glastonbury is quite an ordeal. It's a long way from the car parks to the campsites and when you've got kids, you have to account for even more things to be carried in. So as we trudged in with the masses we ditched the traditional cases of beer, opting instead for nappies, tiny wellies and lots of snacks
We'd found our spot in the family camping. Had some food and went for an explore. If you've not been to the festival I can't recommend it enough. Apart from the music there's so much going on. So many experiences jam-packed into a small space of time, it's impossible to see everything but well worth a try. The site opens before all the music begins so you can spend a day or so looking through the extra exhibitors – Kate made a beeline for the moon cup stall to express her thanks to them.
Then we ran into a problem. On the second day, Kate became unwell. She really needed to rest and lie-down and George and I being around wasn't helping her rest but travelling any real distance was a little far for those little legs. He was getting heavy for front carries so he really needed to go up on my back, which I felt fine doing when Kate was there to help, but I had never put him up on my back alone before, let alone used a size 3! Ka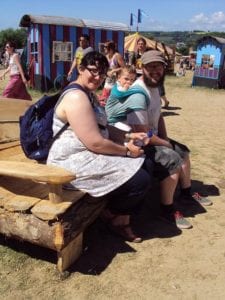 te talked me through it and watched me practice. Having her there to 'spot me' was fine but what would I do after we had got to the stage to see Willy Mason to get our son to the next stage? I need to learn a carry, get confident with it, and fast.
I had carried George on my back a lot in the past, with help from Kate, so knew what I wanted it to feel like and decided that the 'go-to' carry was to be a ruck. Plain, simple and speedy, which was a positive with a wriggly, sweaty-from-dancing, boisterous boy who was curious to see what was going on and anxious to get out and see it. As much as this was true he still needed naps and wasn't able to get very far on his own little legs. As nervous as I was it turned out that having only a size 3 with me took the decision out of my hands and it turned out to be the perfect size for us!
After a day of rest, Kate was feeling a bit better and was able to join us and enjoy the festival. I had built my confidence as a wrapper and as a parent too. We even managed to meet a couple of other babywearers via the Natural Mamas forum. Our son still loves Willy Mason and I was completely converted to short wraps from then onwards, we always make sure we have one with us, just in case!
.