Elysian Cirrus Seafoam is 10% viscose 3% linen and 87% cotton. It is an Alchemy weave wrap and weighs in at around 245gsm. Released on the 18th January 2017, it is available to buy here from our shop.
We trialled using viscose linen yarn last year and loved the properties that it lent to the wraps- a very silky feel, with bounce and stretch yet supportive and easy to care for. Viscose is a man made yarn created from natural materials (in this case wood pulp) that needs some extra processing in order for the fibres to be able to be spun into thread.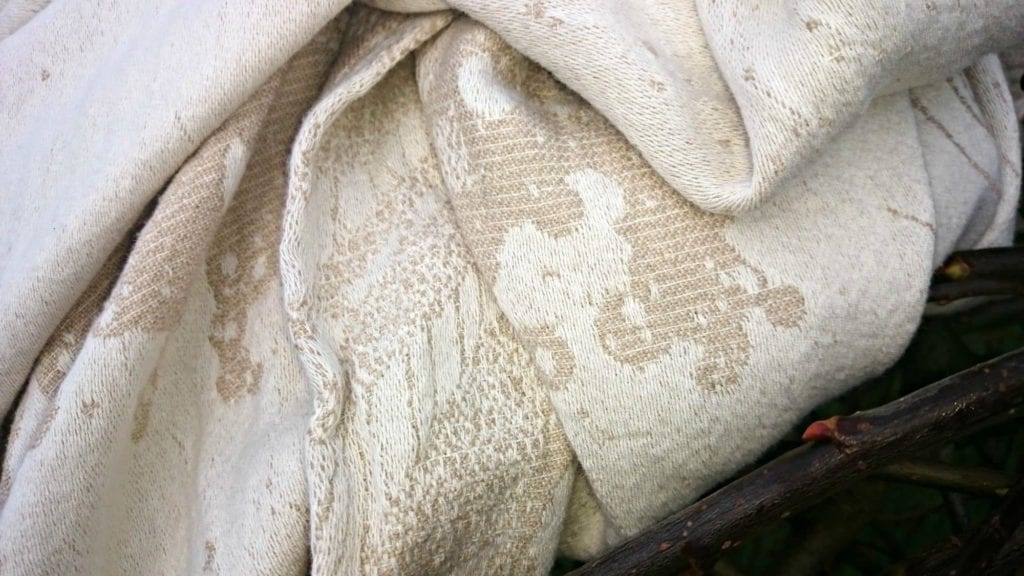 We wanted to find a repeatable source of viscose linen so that we could add it to our standard weft options and had several different boxes of yarn at the mill to sample with, each ever so slightly different from the next.
In true comic style boxes and labels got mixed up somehow, so whilst we planned to weave Elysian with a much thicker weft yarn (and changed the loom specifications to accommodate that) we accidentally used the finer viscose linen instead. When the cloth came off the loom, we were greeted with something that felt more like cheesecloth than the chunky, texture we were anticipating!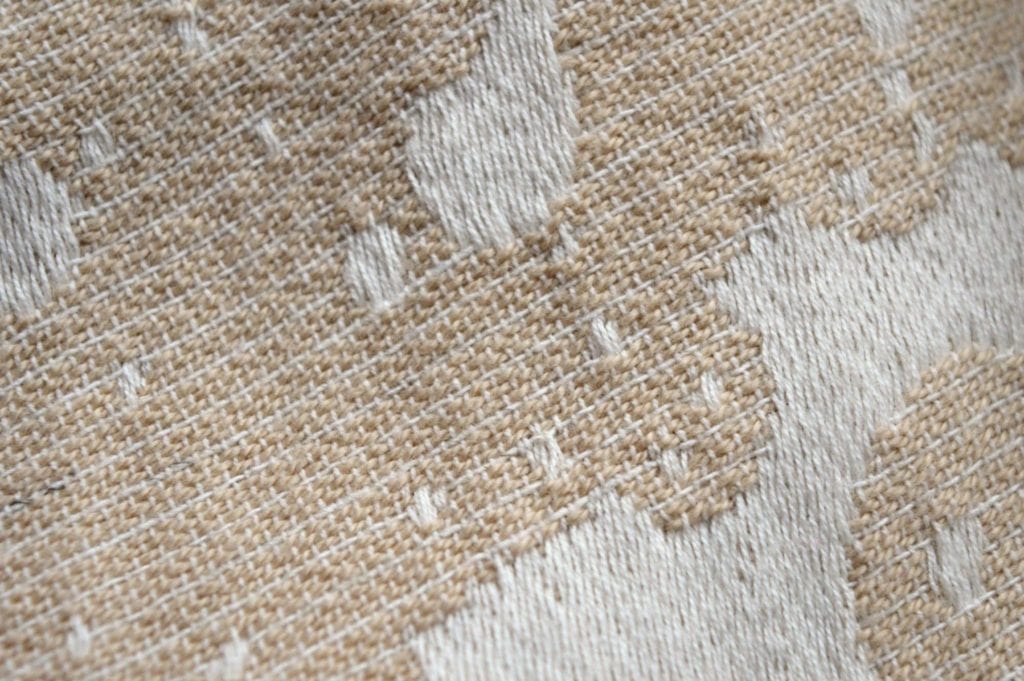 I'll admit that we were a bit worried, although experience should have taught us that our mistakes often take us in more exciting directions than we expected, and that allowing a bit of chance into our planning is a good thing.
We hemmed a piece up and threw it in washing machine. The wrap that came out of the tumble dryer at the end felt like a completely different creature! New cloth quite often 'blooms' after the first wash- the artificial tension of the cloth being stretched tight loom dissipates, allowing it to contract, soften and fluff up. Elysian took on a light and airy feel, with a bandage-like recoil.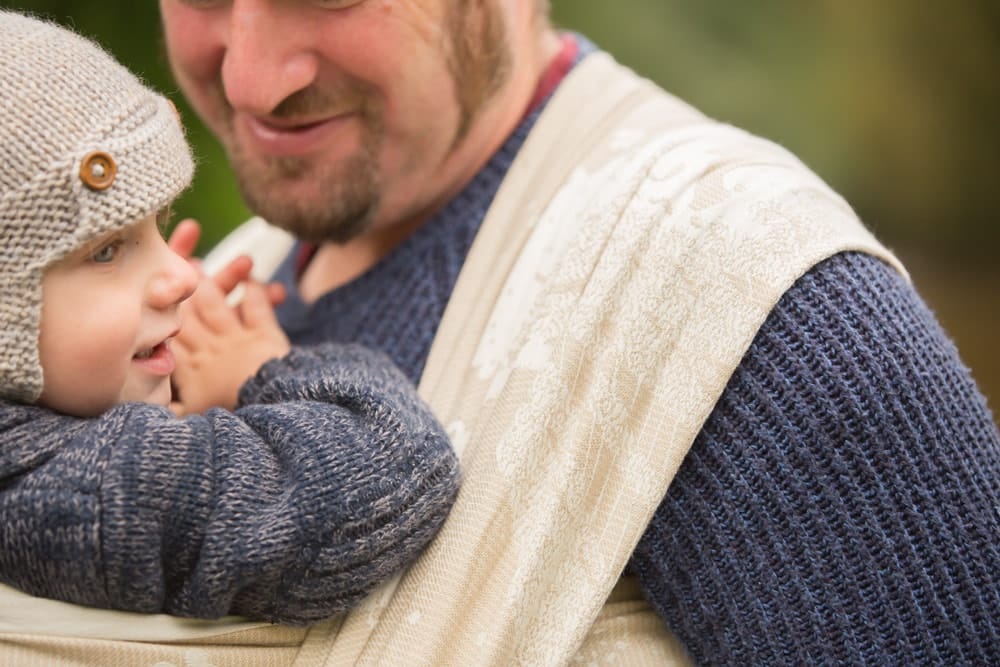 This was in the middle of the summer holidays, and the children were keen to go out to the park so I hurriedly wrapped Nina in a ruck carry and we set off. It took maybe 100yds for me to suddenly realise how lovely this wrap was to carry a wriggly 18month old in. I'd put little thought into my wrapping, but it was even and neat, tight enough across the centre of the wrap without having become overly tight on the rails and that made for an exceptionally comfortable carry.
Properties of great wraps are often hard to describe- they are so well balanced and make the process of wrapping feel effortless. There are some wraps that are just naturally co-operative!
Elysian felt like a perfect summer wrap, but my first thought was that this would be excellent to use in the winter over bulky coats and toddler layers, or as a breathable newborn wrap under layers of cardigans. In cold weather it can be tempting to assume that we need to break out the thick wraps, but a pliable, thinner wrap can actually work better, especially with the guidance for using removable layers to help regulate infant temperatures.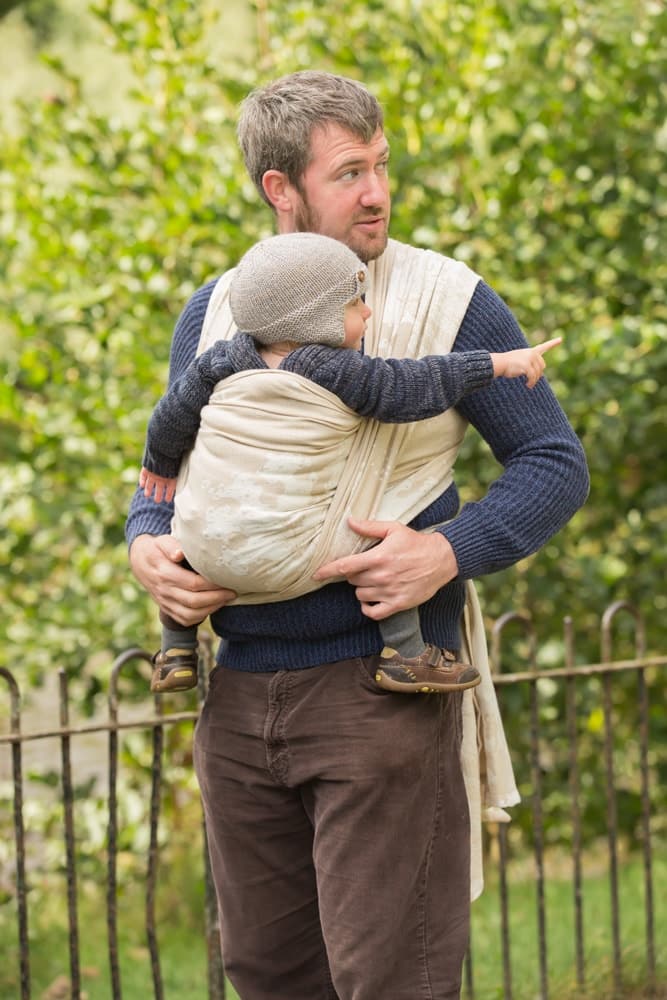 It is easy to write off 'natty' (natural) coloured wraps as being plain or colourless, but they have a surprising depth of colour and celebrate the natural colours of the fibres. They're not particularly hard to keep clean either, and can withstand more vigorous spot cleaning than dyed yarn can. If, however, natty isn't your cup of tea then machine dyeing is very easy to do and opens up a multitude of colour possibilities.
Viscose takes dye as readily as cotton does. An overall dye will change both the warp and weft threads, meaning that the wrap will be a single colour with little variance in shade. The weave design will still be visible through the texture, creating an embossed effect that works particularly well with the seafoam design.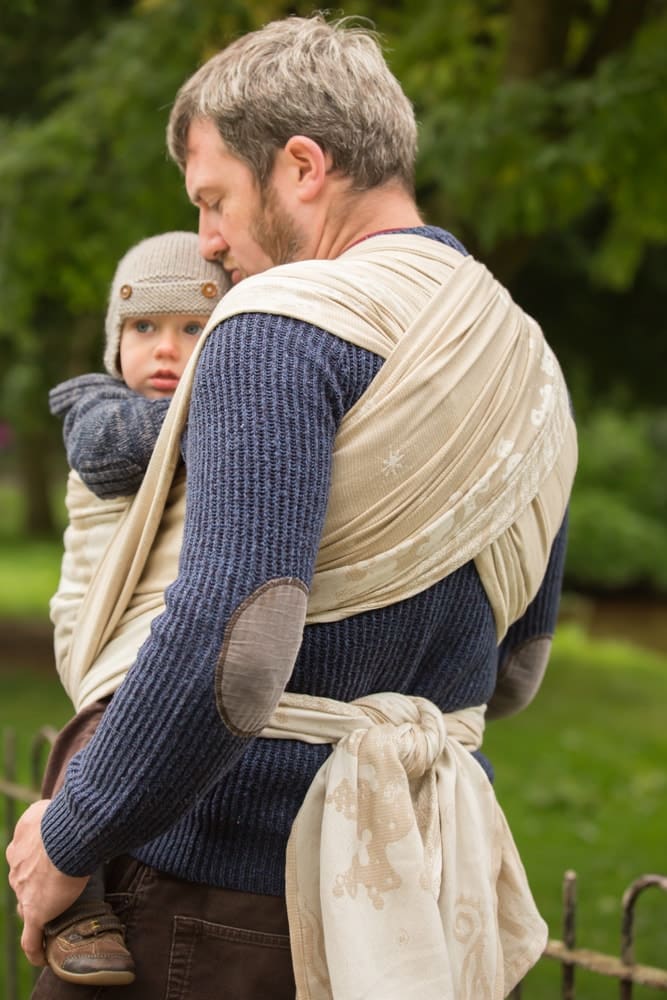 In the UK, Dylon is the most readily available brand of dye that you can pick up in most craft shops and habadasheries- even in some supermarkets. Their machine dye is fibre reactive, meaning that it bonds to the cloth on a cellular level and is therefore safe to be sucked and chewed by little ones once fully rinsed. It comes in a box with salt already added to the dye, so that it is ready to go. They have a wide range of standard colours and often have limited edition colours available. It doesn't stain your washing machine, and the colour washes well over time without fading. Washing the wrap at 40 degrees c as part of the dye process does affect the combed cotton slightly, making it more 'crunchy' to the touch at first, but it will soften back up with plenty of use and ironing.
The dye comes with instructions for use, but we get best results by tipping dye and salt mix into the empty washing machine drum, and gently rocking it back & forth until all the powder and salt has disappeared through the drum. We then cover with a muslin or other cloth just in case any specks of dye remain on the drum surface. Your wrap should be pre-washed and still evenly damp. It is worth shaking it out a bit to un-crease any rails or tightly scrunched areas.
1 single pack of dye should be enough to give a strong solid colour for a medium weight size 6 wrap.
As always, we love to see your wrapping pictures, dyed or undyed! You can share them with us on our Facebook page.