The story of Fantasia
Way back in 2013 we decided that we wanted to make a multicoloured gradient effect warp for our jacquard designs. At that time the only multicoloured warps were on the striped dobby woven wraps, so it was a new thing for the wrap world and we didn't know how it would be received!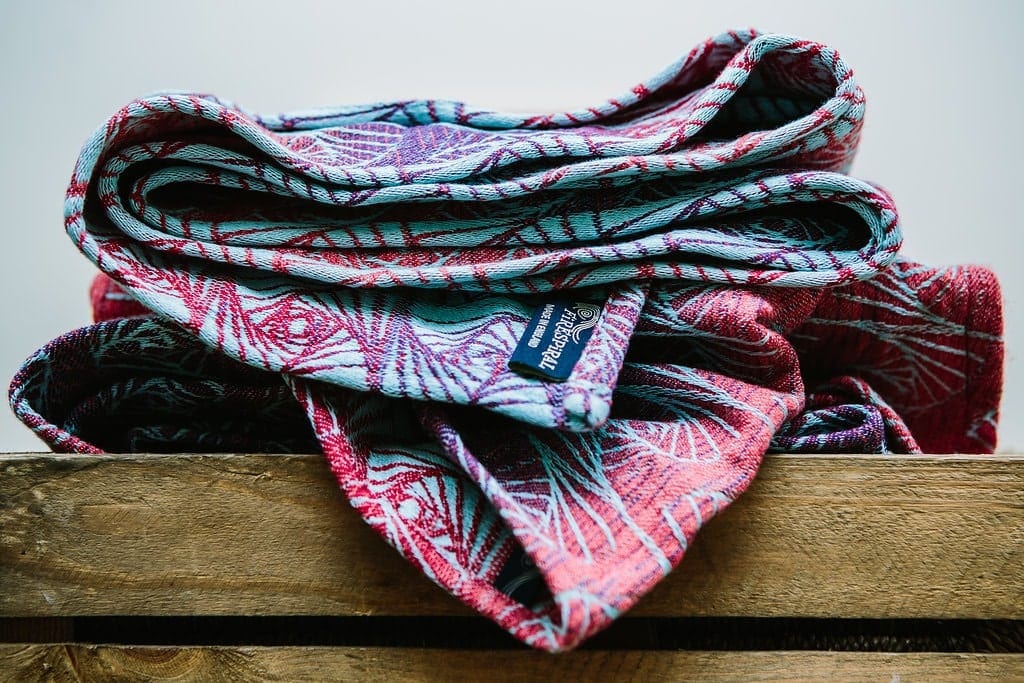 Putting a warp on the beam is very expensive, and dyeing the yarn 3 colours instead of 1 would only add to the expense, so we needed to have a trial run to make sure our idea would work. The sample loom at our weavers was set up differently to the large looms that we used to weave our wraps, with a much smaller repeat, so we couldn't use any of our existing designs.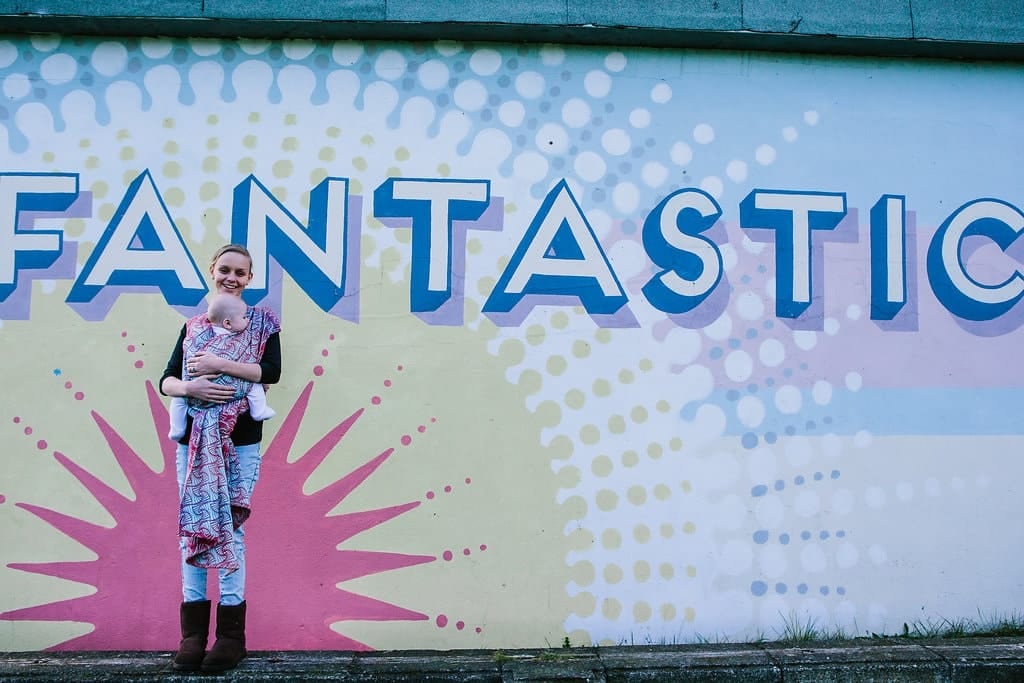 And so Curves of Pursuit was born. It was a quick, thrown together design which fitted the criteria for the loom, but it worked perfectly and we fell in love with multi-directional movement that the pattern created on the cloth, and of course the way that it wraps.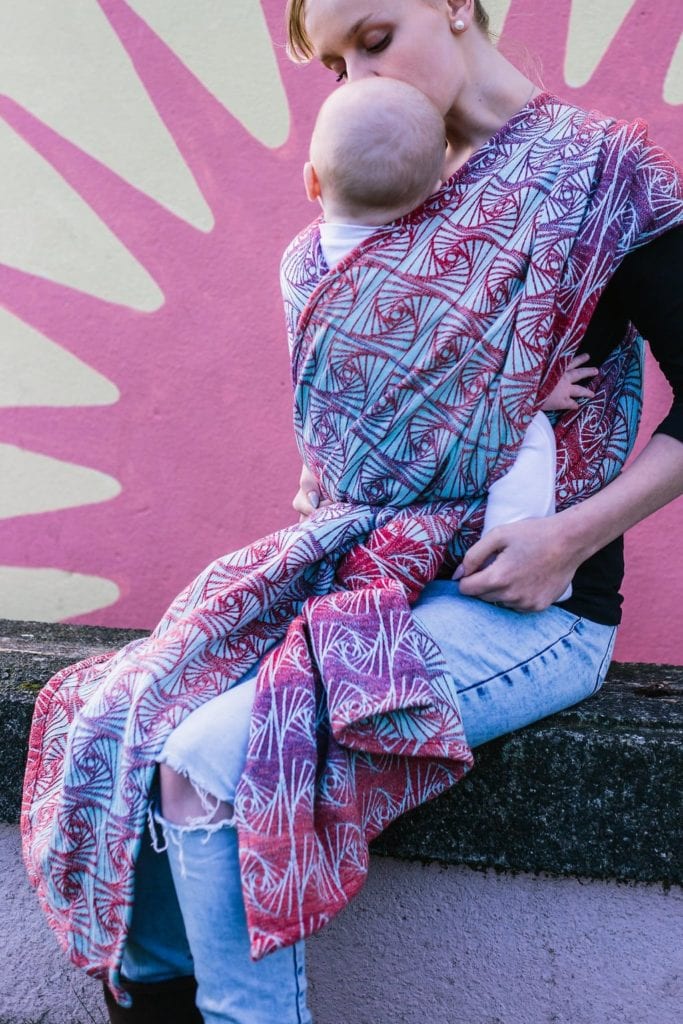 The next job was to source some warp and weft for our sample. For the warp we visited our small local yarn supplier and bought a few cones of colours that we thought were pretty (and that they had in the right amounts), the weft was a cone of a beautiful aqua blue lambswool which we had fallen in love with ages before, and had bought a couple of cones of just because it was so lovely!
The warping plan came next, where we had to work out the position of each individual warp thread so that the colour would flow correctly, and then the weave.
I remember taking delivery of the cloth, and sitting next to my husband on the sofa, where we both looked at it in awe! He likened it to the pelt of a fantastic mythical beast (and I agreed).
We put this sample cloth away at this point, as it was just a test for what would become our groundbreaking Cyano warp (and the point where the floodgates of multi-coloured warps for jacquard wraps was opened across the wrap manufacturer world).
But this piece of sample cloth, which eventually became a wrap, has always been very special to us. Our recent Aqua warp was conceived of purely so we could create something very similar (although we have flipped the colours to make it fit with the rest of our wrap plans!).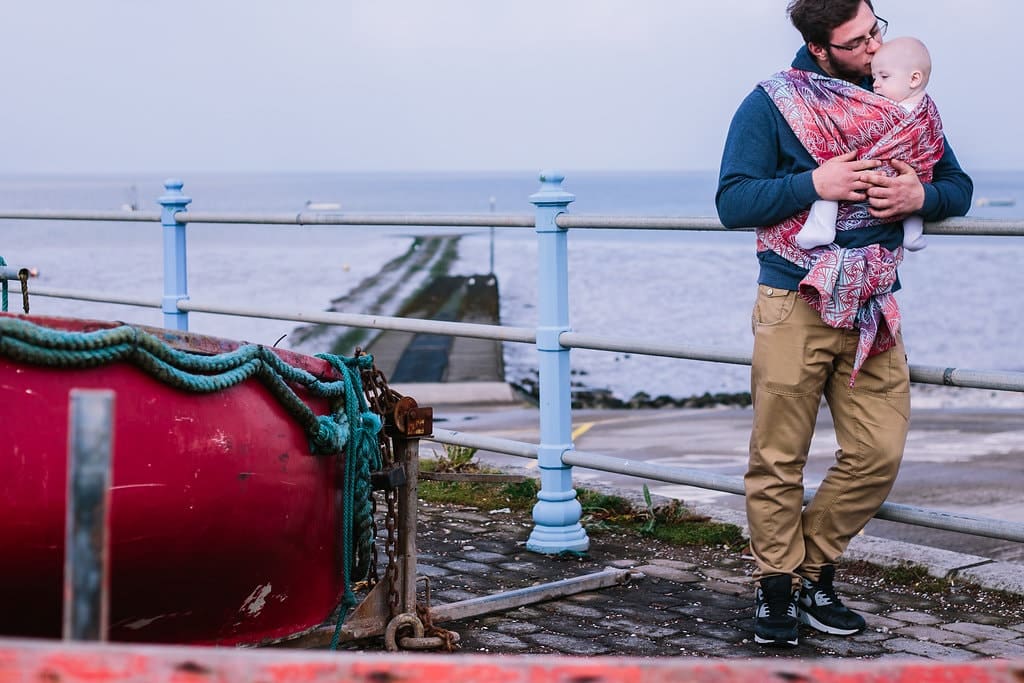 Fantasia Aqua Curves of Pursuit has a combed cotton Aqua warp, and a weft made from a flowing gradient of purple, red and orange merino lambswool. It is a thick and blankety wrap, weighing in at around 320 gsm, it is machine washable on a wool setting, and needs to be air dried. It is super cushy, makes a big knot and wraps a little short due to its thickness.
Learn more about machine washing our 50% merino wool wraps, and the amazing properties of merino!
Fantasia Aqua Curves of Pursuit will be available in our shop from Saturday 5th November 2016
We hope you've enjoyed reading our blog. We'd love you to sign up to our newsletter where you will receive a monthly treasure trove of wrappy information!