A blanket review written for us by May. Some of these blankets are labelled as dry clean only, however we personally machine wash and tumble dry them (and newer care labels will say to machine wash). It changes the texture of the blanket a little, but we still find them as appealing, and almost more 'blankety' as a result!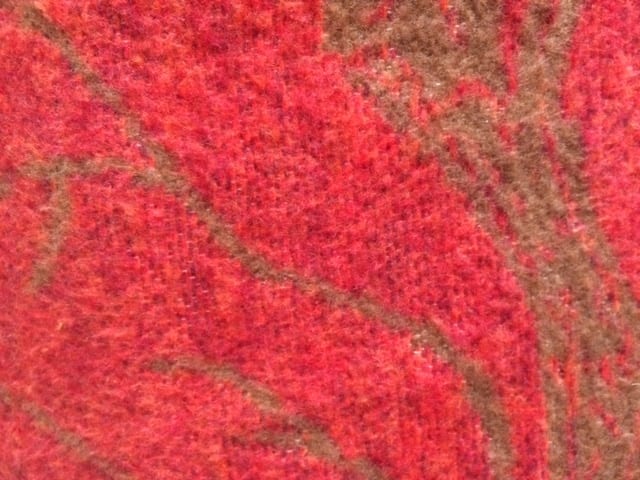 "Every home needs a Firespiral blanket! Seriously. I'll try to explain why. Until I had one of these gorgeous woven blankets in my hands, I didn't quite realise just how completely different they are from every other blanket we have knocking around our house (& yes, we have quite a lot!).
The weight is the first clue. Not too heavy to be unwieldy; just enough that you can feel the quality and warmth. The blanket is super soft with a luxurious fluffy, strokeable finish that urges you to wrap yourself in it immediately;  especially on cold blustery days like today. As with all nature-inspired Firespiral designs, the blanket looks beautiful too.  There is a depth to the colour, which can't be captured easily in a photograph.  Not one uniform shade, but a subtle mix of rich, warm autumnal reds.
I admit, I'm always a bit nervous when dry cleaning is recommended for things, and I wouldn't like to sacrifice the gorgeous fluffy finish of the blanket by machine washing. I am pleased to say however, that I was able to sponge off the inevitable baptisms of baby sick and cherry tart easily and with no noticeable change to the finish of the blanket.
Blankets don't just have one purpose either it seems! In the short time since it arrived, ours has performed duties as a tipi, magic carpet & puppet theatre cover, as well as providing those lovely warm, snuggly cuddles. Certainly worth the investment in my opinion.
It's a generous size; large enough to go on a double bed or, as is the case with ours, act as a throw on a 3-seater sofa. They would make a wonderful gift for a wedding or other special occasion and are the kind of thing that you'll keep in your home for a very long time."