Thank you to May for testing and reviewing 925 Twilight Starmap for us. The weft was still unnamed when we sent it out to her and so she nicknamed it "Ziggy Starmap" which will remain our pet name for this wrap!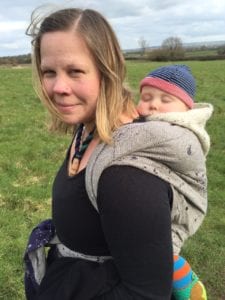 "When I heard I'd be testing a new Silver Twilight Starmap I was pretty excited. The Firespiral Twilight Starmaps were one of the first things to catch my eye when I discovered babywearing, and I still think that nothing quite suits the design like the classic Twilight and Silver combo.  First appearances didn't disappoint. 925's stunning shimmering indigo blue Twilight cotton warp contrasts beautifully with a deliciously chunky textured linen weft, which takes on a rustic stone coloured appearance in natural light. 

At first touch I was a little nervous. I've been wrapping for just under a year and generally stick to light or medium weight wraps as I've found them easier to work with. 925 Twilight Starmap is at the lighter end of the heavy weight category, weighing in at roughly 319 grams/m2 post wash. In loom state, the linen felt a little bit crispy compared to the soft & blankety Firespirals I'm used to, and quite rough to the touch. 

It went straight in the washing machine on the 30 degree (low spin) delicates cycle as per the instructions. Despite being given the heads up by the Firespiral ladies, it was still a little bit of a surprise when the wrap came out of the wash wrinkled up like a pair of Nora Batty's tights (if your grandmother wasn't a 'Last of the Summer Wine' fan, you'll have to google it!)!  I smoothed it out a little and hung it up to dry. Being cotton / linen it dried quickly, and was soon ready for a good going over with the steam iron. It was then that I started to really appreciate 925's potential.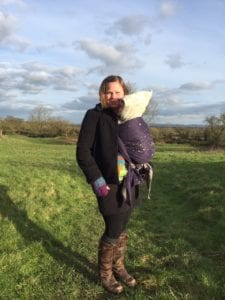 The wrap qualities are really quite special. 925 Twilight Starmap is sturdy and very supportive, but has a nice amount of diagonal stretch and a surprising amount of bounce for a 50% linen, 50% cotton wrap. I was testing a size 4 and it was outstanding in a single layer carry. We went for an hour long walk with my 26 lb 11 month old in a ruck and it was really comfortable, even on my picky shoulders. As you might expect, the linen side is incredibly textured and grippy and doesn't slip an inch. However, the contrasting glide of the smooth Twilight side means that it wasn't too difficult to wrap with either.  We also used it to try our first ever rebozo carry and the knot, which wasn't too bulky, wasn't going anywhere. 

As with most thicker wraps, 925 wraps a little on the short side. We could still do everything we'd normally do with a 4, but if you normally don't have much tail left, you might want to consider going up a size. 


After two washes and steam irons and a couple of weeks of intermittent use, it's softening up beautifully. It's probably not the wrap I'd choose for a newborn due to the thickness and grippy texture. However if, like me, your little one is getting less little by the day, and you want something with a bit more support, without it feeling like a carpet, then 925 Twilight Starmap is the wrap for you. It's supportive yet mouldable with two gorgeous looks, depending on which side you have out. A real work horse that'll see you through toddlerhood without too much bulk."
This washing assessment was carried out for us by Samantha of The Wrap Diaries using a size 6 wrap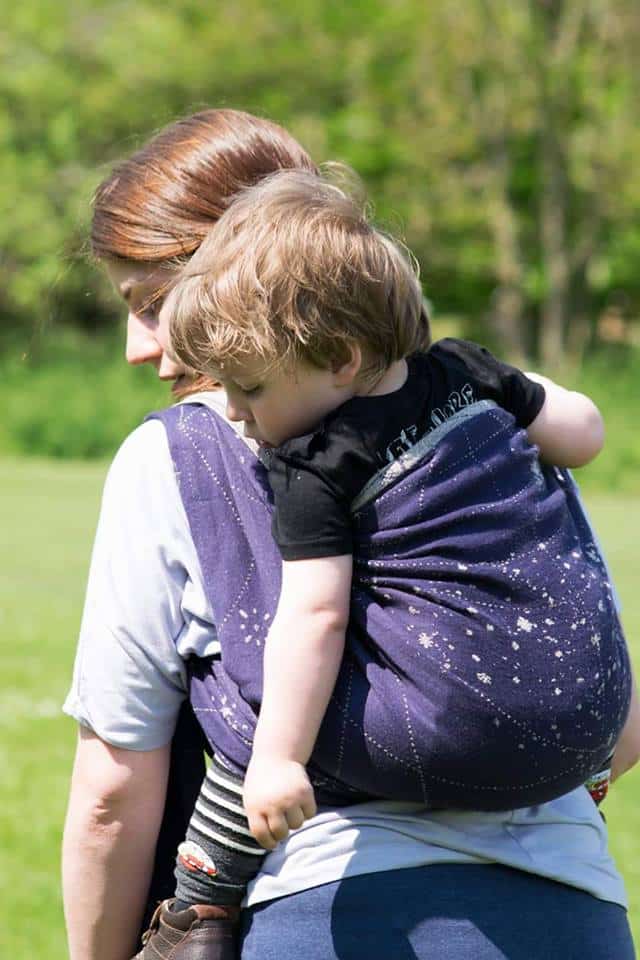 Loom state – 4.94m long, 71cm wide,
Twilight side soft, smooth, no major creases. Silvery side rough, a bit crunchy.
30 degree delicate wash, 800 spin. no tumble dry. Looked shrunken and very creased when taken out. hung to dry on airer.
Pre iron, very slightly damp measurements – 4.64 long, 61.5cm wide,  Not actually shrunk, just very creased and crinkled. Ironing was a lot of effort, even after both sides were steam ironed on cotton setting there was still a small amount of crinkle.
Post iron measurements – 4.865m long, 68cm wide,
Still has some 'crinkle' in the fabric, though not much at all – it hasn't regained the loom state smoothness. It is, however, very cushy and soft, definitely lacking the same scratchy feel that the other linen has.
925 Twilight Starmap will be available in our shop from the 16th May 2016.