Our Spindrift (hemp) Twilight  Seafoam  proved such a hit as a sort of 'classic' firespiral that we wanted to create a counterpart timeless starmap in our original silver and twilight colour way; something that celebrates all that linen has to offer. This time we chose to make a thicker weight wrap that despite its weight still embodied all the characteristic easy wrapping qualities of a Firespiral. A toddler worthy wrap that was still accessible to those new to wrapping and suitable for smaller babies too.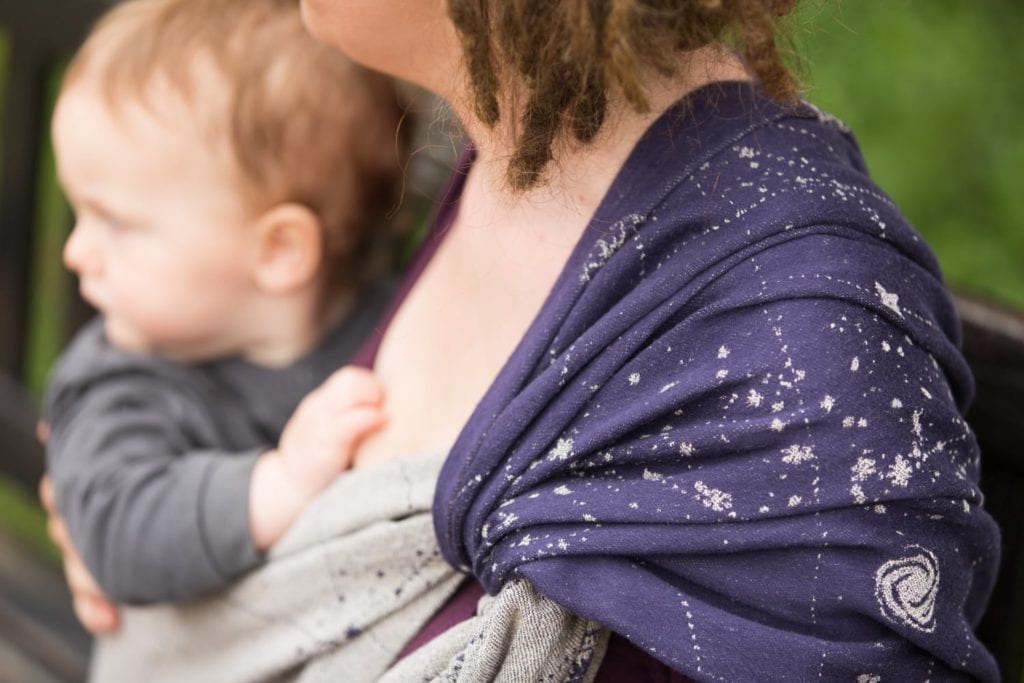 This wrap requires an investment of time and level of effort at the outset that is unusual for a Firespiral wrap, but we promise you will be rewarded handsomely for it!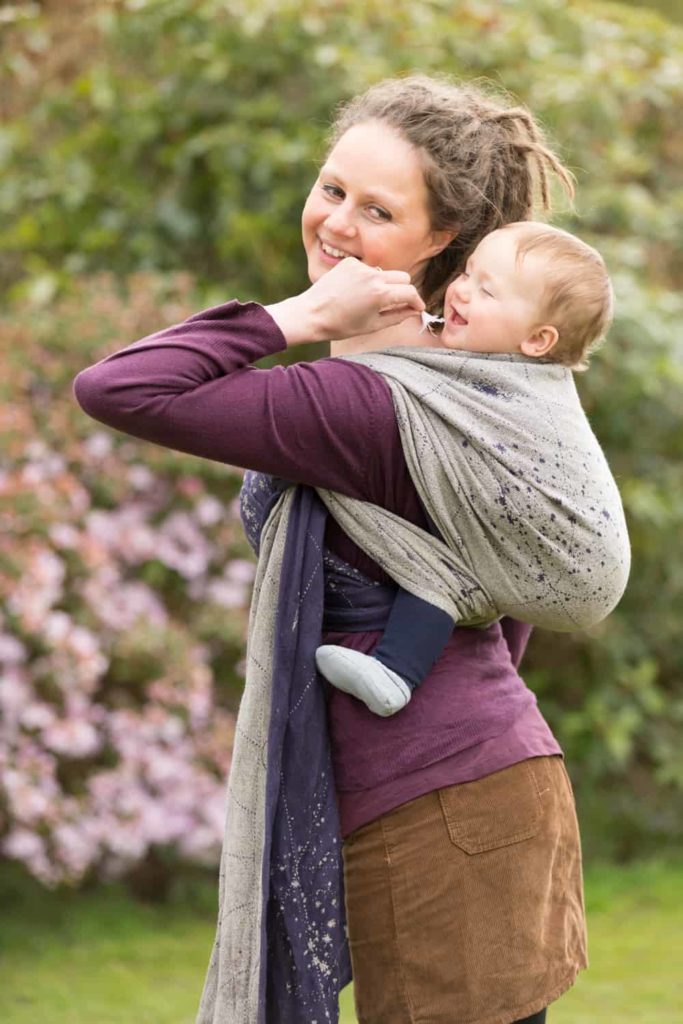 The reason for this extra effort isn't to do with needing breaking in; it softens pretty much straight away and has great wrapping qualities from the outset. It does however need pretty intensive ironing after each of its first few washes as it wrinkles up pretty dramatically, although this should diminish significantly with time as the weave settles and the fibres balance themselves.
Edited to add that washing the folded wrap in a mesh laundry bag massively reduces the initial creasing, and the subsequent ironing is much less intensive! A pillow case would probably work equally well if the open end was tied closed.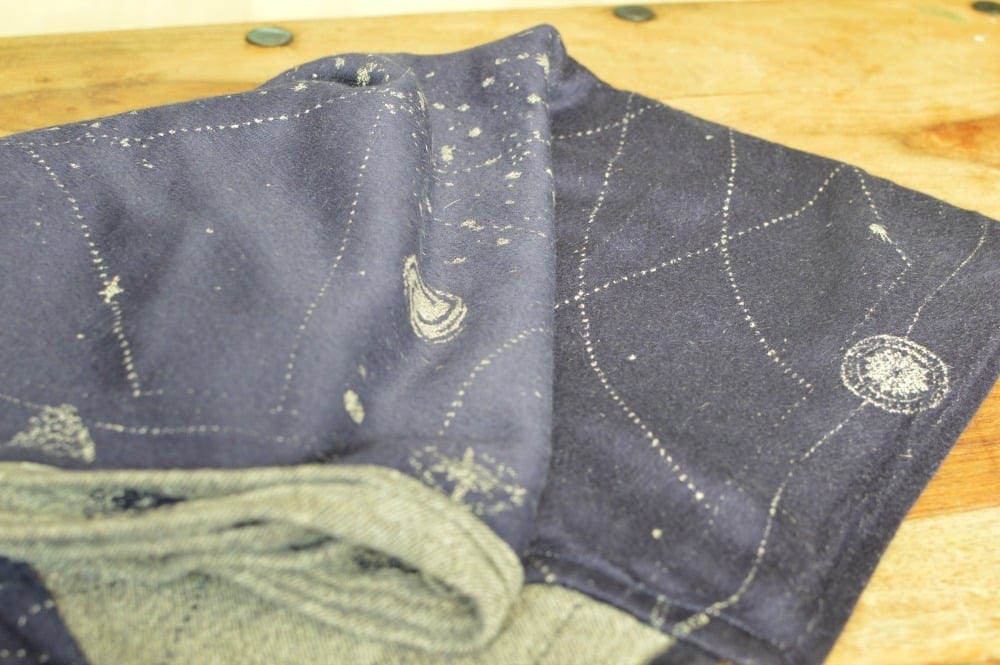 The reason for this crinkling is the 'cottonised' linen weft; a pure linen thread that has been specially processed to be as strong and supportive as a thick, singly ply thread, yet almost instantly soft and supple to wrap with- unlike any standard linen thread. Its high linen content makes it cool and breathable, yet it is capable of near- weightless carries with larger children. It weighs in at 320gsm but doesn't feel overly thick. It has plenty of texture without being too grippy… We aren't fans of high maintenance wraps in the whole, and we try to keep things as simple as possible for you, but we felt that the wrapping qualities of the 925 linen outweighed any inconvenience caused by the need for a vigourous ironing session.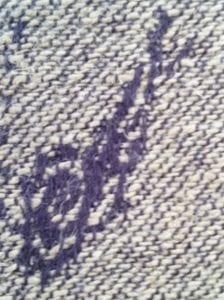 What if I don't even own an iron?
Ironing isn't 'technically' necessary- the wrap will function perfectly well without it, but without it your wrap will develop minute wash crease lines on the twilight face of the wrap after its first few washes. How bothersome these are depends on your own tolerance really. They blend in with the starmap pattern- your own unique sprays of galaxies, they are not the same as perma creasing and are purely cosmetic. They are even less visible when your wrap is in use, and their effect softens over time as the fibres settle and break in. But if knowing that they are there is going to keep you up at night or 'spoil' your stash for you, then you will need to take some care with that first wash especially. We are being over cautious here, but we feel it is better to have most people wonder why we made such a big deal about it than have some people upset that their wrap got creased.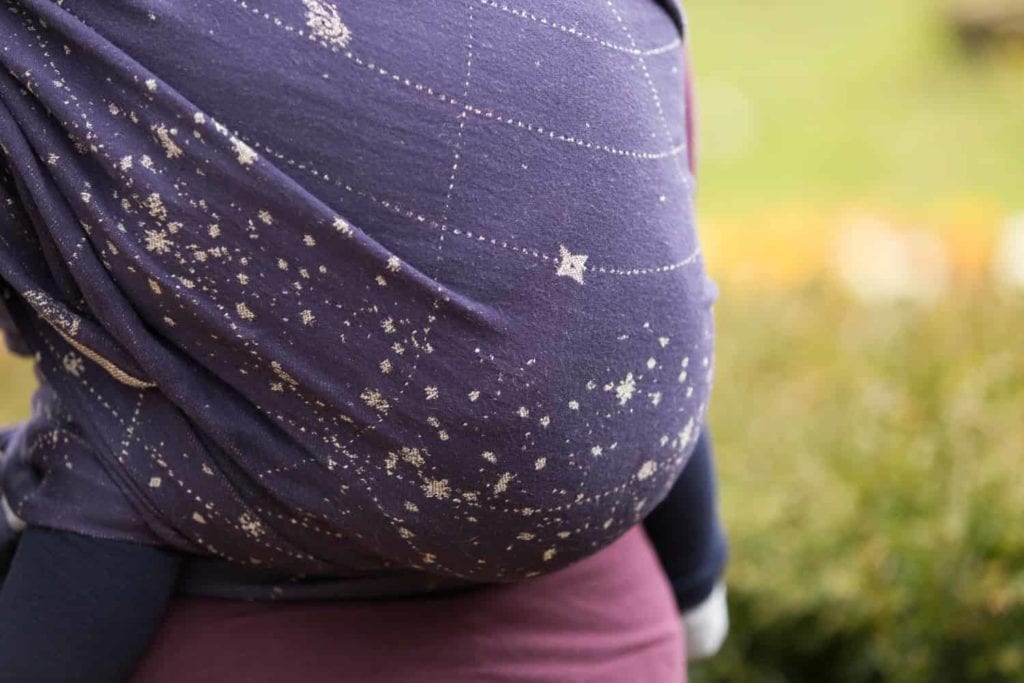 So what do we mean by intensive ironing?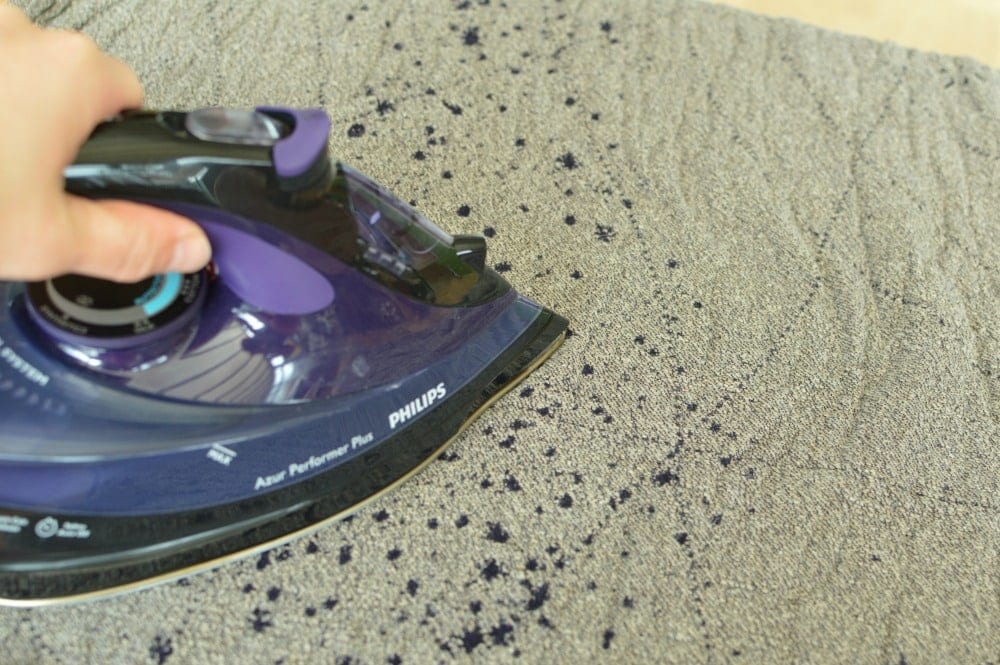 This wrap wrinkles up amazingly after the first wash, although this becomes less pronounced after subsequent washes. In order to keep a perfectly smooth finish you are going to need to iron the wrap bone dry from being damp. We'd recommend keeping the spin low, stretching the wrap out as it leaves the washing machine, drying until still slightly damp to the touch and then really going for it with a hot iron. No steam needed as the damp wrap will generate enough of its own.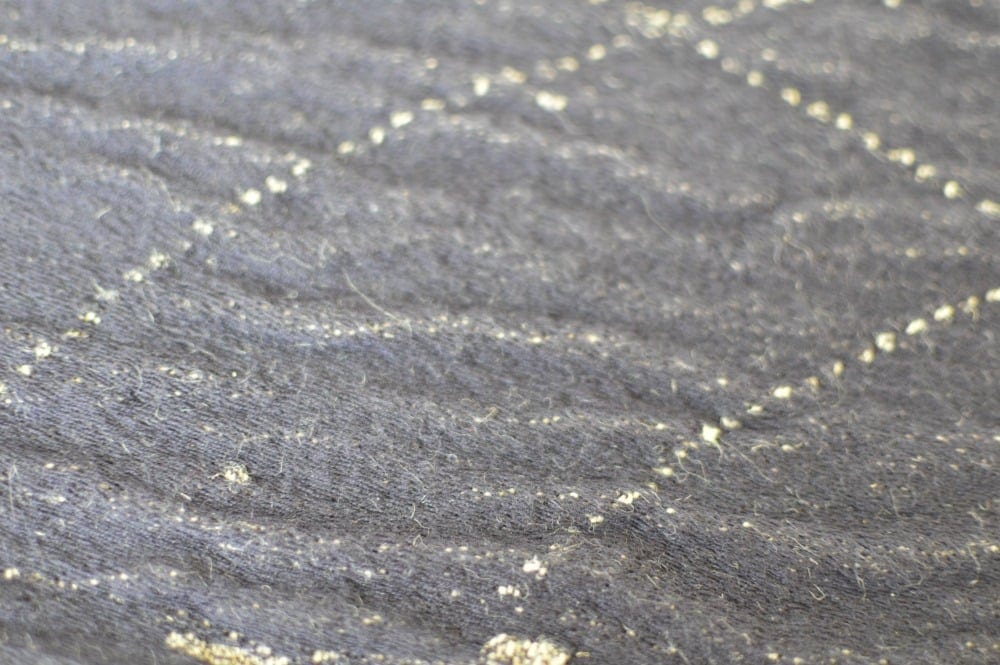 You may need to iron the silver (weft) face first then give it another going over on the warp side, but as the wrap dries completely under the iron you'll notice the silkiness return. If the wrap is still a touch damp you'll see those wrinkles return ever so slightly, so keep going!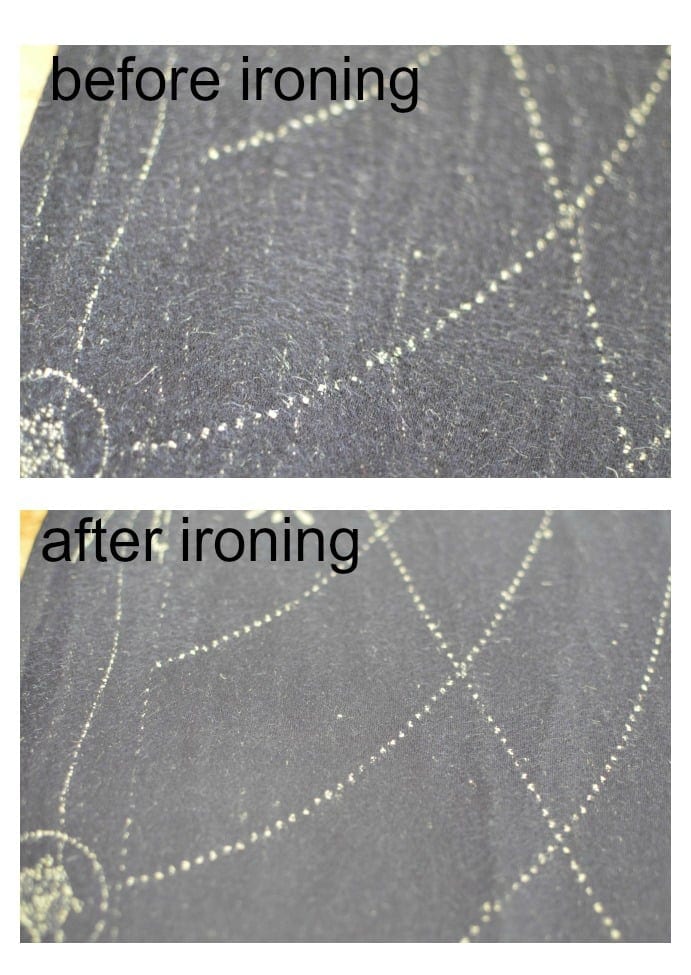 This is a video of a 925 wrap being washed for the first time along with some suggestions.
Our blog post about types of creases, their prevention and maintenance might also be of interest to you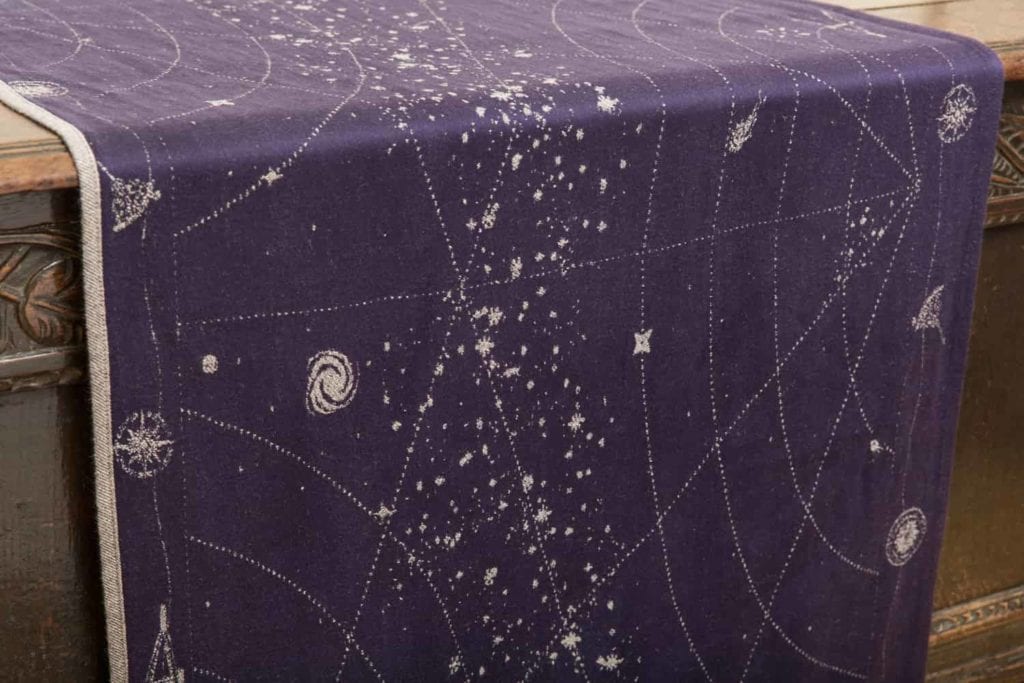 925 will be available in our shop from the 16th May 2016. This is the last release before our price increase comes into effect for new stock.