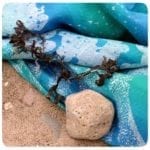 We are giddy with the excitement of having a new warp colour to work with! I say colour, but actually this warp is made up of 3 colours, a bright turquoise, a warm emerald green and a peacock blue. They blend together to give the softly undulating clarity and richness of a tropical sea, yet retain the evidence of their woven nature, like a well worn deckchair at a fondly remembered british seaside resort!  As with all our warps it is a 2ply combed cotton dyed locally for us.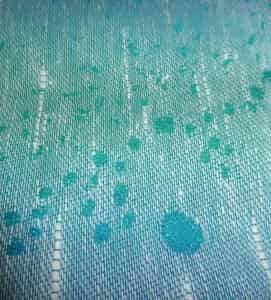 The weft is a beautifully textured soft white hemp. It has bold and structural slubs which deserve to be shown off, and we prefer to wear this wrap weft side out, but of course the choice is yours as to what you do with yours! See our previous update for details of the fantastic natural qualities of hemp. These wraps have been prewashed and preshrunk meaning that they arrive with you in a buttery soft state, although as with any new item for use with a baby we still recommend that you wash before wear. The pre-shrinking means that we have been able to cut these wraps truer to the stated size. Our hemp wraps will be priced in line with our linen and wool blends, between £96 and £151 including postage to the UK. International postage is charged on top of this, but we subsidise the cost of postage in line to account for the free postage offered locally.
Spindrift Cyano Seafoam is the first weft option of several seafoams to be woven using this tri-coloured warp. We also have a 100% cotton, a 50% linen 50% combed cotton and a 50% combed cotton, 25% linen 25% hemp blend still to come, so there should be something for everyone.
These wraps will be available for sale on our website from Friday 23rd May at 9pm BST
We accept both debit/credit cards and also payment via paypal (although the latter is subject to a processing charge as outlined on the website and before you complete your transaction)