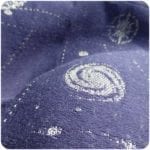 We finally have our new silver starmap wraps ready for sale.  The first release used a 2ply Italian linen and those wraps were called 'Silver'. The second small release used a single ply Irish linen and we called it 'wild silver' as it was slightly darker and more organic feeling. This is our final reweave of the design and uses another Irish single ply linen but this one is a little softer and more refined than the Wild Silver.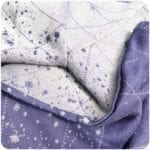 The Siolfur linen has a slight slub which creates a delicate texture and of course it retains the classic linen shimmer. These wraps are 50% linen and 50% combed cotton. They are strong and supportive yet light and airy. They reach their natural state after a couple of washes and a little wear. Whilst they will soften significantly, they won't require much work to get them fully broken in.
'Siolfur' is one of the variant Anglo-Saxon spellings from which our modern word 'silver' derives. We'll have these wraps ready to buy from 10am  (BST) on Wednesday 23rd April 2014. We know that will be the middle of the night for some of our customers, but we have been successfully moving away from the panicky rush that seems to characterise wrap 'releases', so we now have a nice steady pattern of sales and enough for everyone who really wants one (without having to get up at a painful hour in the morning to secure your purchase)!!
We know that there is a thrill in the stalk and the chase, but we feel that there is an equal thrill in spotting a wrap that you really like, having time to consider it and still be able to get hold of it at retail value!