We are aiming to get the remaining Gamma Crucis Twilight Starmap wraps for sale on the website from 3pm (BST) on Saturday 5th April 2014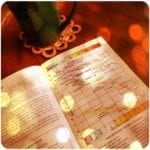 Gamma Crucis is the nearest red giant star to the sun (around 88 light years away from us). I read that in the pocket book of astronomy. Enough scene setting and on to the proper details!
This version of our starmap wrap has a 2 ply Irish Ross  linen weft, making it 50% linen and 50% combed cotton. The ply of the linen makes it super soft and floppy straight from the bag, whilst maintaining its strength.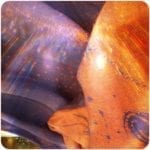 The linen naturally has a few natural inclusions of extra  fibres and little slubs, but these will naturally settle down and disappear with wear, leaving a smooth but organic looking weft. As with many linens, it has an amazing shimmer to it and can move from the brownest of copper tones through reds and oranges  to hints of gold as the yarn catches the light.
The colour change isn't limited to the weft thread as the twilight indigo warp also takes on a warm purple tint as the red/orange threads glow up through them. This is a medium  fine wrap at around 205 gsm, but it wraps so smoothly that it  holds its own against more chunky wraps in terms of good weight distribution.