In the early eighties I had a little pretend post office set (complete with scales, forms to fill in and a real date stamp ) that I adored.  Maybe that is why I am so childishly thrilled by the fact that we have had a franking machine delivered, meaning that we are now essentially our own mini post office!
We've explored lots of ways to ship our wraps but Royal Mail seems to be the most reliable option by far.  Having to queue up at the village post office with sacks full of parcels was getting pretty unfeasible though (the staff were very fond of us, but the queue trailing behind me never seemed as keen).
Whilst I'm sure that the thought of me weighing and stamping like a veritable Mrs Goggins is exciting enough in itself, there are other equally positive benefits to our new arrangement. The international postage prices are considerably cheaper when using the franking machine, essentially because we are doing all the work ourselves,  so we have passed that cost saving on to our customers and reduced our international shipping (by around £10 in some cases). The new prices are already in place on the website.
The children are fascinated by the whole thing and insist on getting involved in printing postage, sticking on recorded delivery labels etc, so if your tracking sticker looks a little wonky its because it was added by an enthusiastic toddler!!  There is something magical about all the little drawers full of different stickers and special recording books that keeps us all entertained.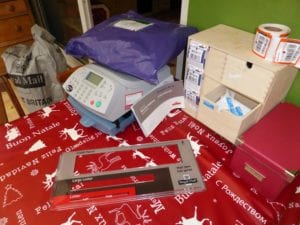 We use  high grade eco friendly, biodegradable mailing bags and document wallets to package your wraps in (all produced within the UK and sold by a small independent business) and pretty soon all our franked parcels will have our logo printed as part of the postage impression. We both still get a lot of pleasure from hand packing each wrap and knowing that it is just starting its journey as a baby sling. It feels as though we should supply them with passports to record all the families they visit and the babies they hold over the years…