We thought it would be useful for us to give you the weaving order for each of the designs/wefts so that you get a sense of what is coming up, even if we can't give you exact dates or quantities at this stage. We will always give prior warning before we list any design for prebooking or general release- ideally two days where possible. We will also give you a time and an idea of quantity (although timings will always be a bit flexible as we both have young families to care for alongside our business pursuits).
Being checked and packed up ready to sell are:
Amber Starmap 100% combed cotton (approx 50 wraps)
These should be ready to release midweek sometime (we'll work out a firm date and time asap)
Currently being hemmed are:
Violet lambswool weft fractal spirals (approx 30 wraps)
magenta 100% combed cotton weft fractal spirals (approx 50 wraps)
lime cashmere cotton blend weft  fractal spirals (approx 15 wraps)
These are all going to  be a straight release onto the website as we didn't really have enough cloth for us to run the prebooking system.
Off the loom and ready to cut soon are:
Violet linen weft Gossamer
Gossamer with a cashmere cotton blend weft (we aren't sure what colour this will be woven up- it was a soft ecru/yellow- not as warm as the amber cotton though)
Pearly blue/grey 100% combed cotton weft Seafoam
Jade linen weft Seafoam
We need to decide whether we have enough of any of these to warrant running the prebooking system for any of them. We will get some photos and more information about each wrap early next week. Here is a photo of the jade linen yarn before it was woven up.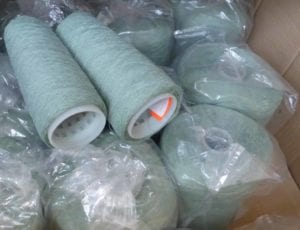 Still being woven are:
Pearly blue/grey weft 100% combed cotton birch trees
burnt orange linen weft birch trees
amber ish linen weft starmap
silver linen weft starmap
Before we make anything available to sell we will announce it on here and also on our facebook page, along with pictures. As we get ourselves more organised with the pattern of weaving, hemming, checking, packing etc we should  build a steady rhythm of wrap releases and get them all out before the new year (when we have a quick breather and then start again with the next weave)!