Autumn is a season of extremes, and working out what to wear, which woven wrap to choose and how to dress your baby from one day to the next can be a challenge! Here are some tips from the Firespiral team on how we wrap in autumn.
1.Layer Up!
The weather can be changeable outside, so it helps to be able to add or remove a layer as the temperature fluctuates. Remember that each layer of cloth in a carry acts like a layer of clothing too, so you can spread the passes of a carry across baby's back to instantly add extra warmth.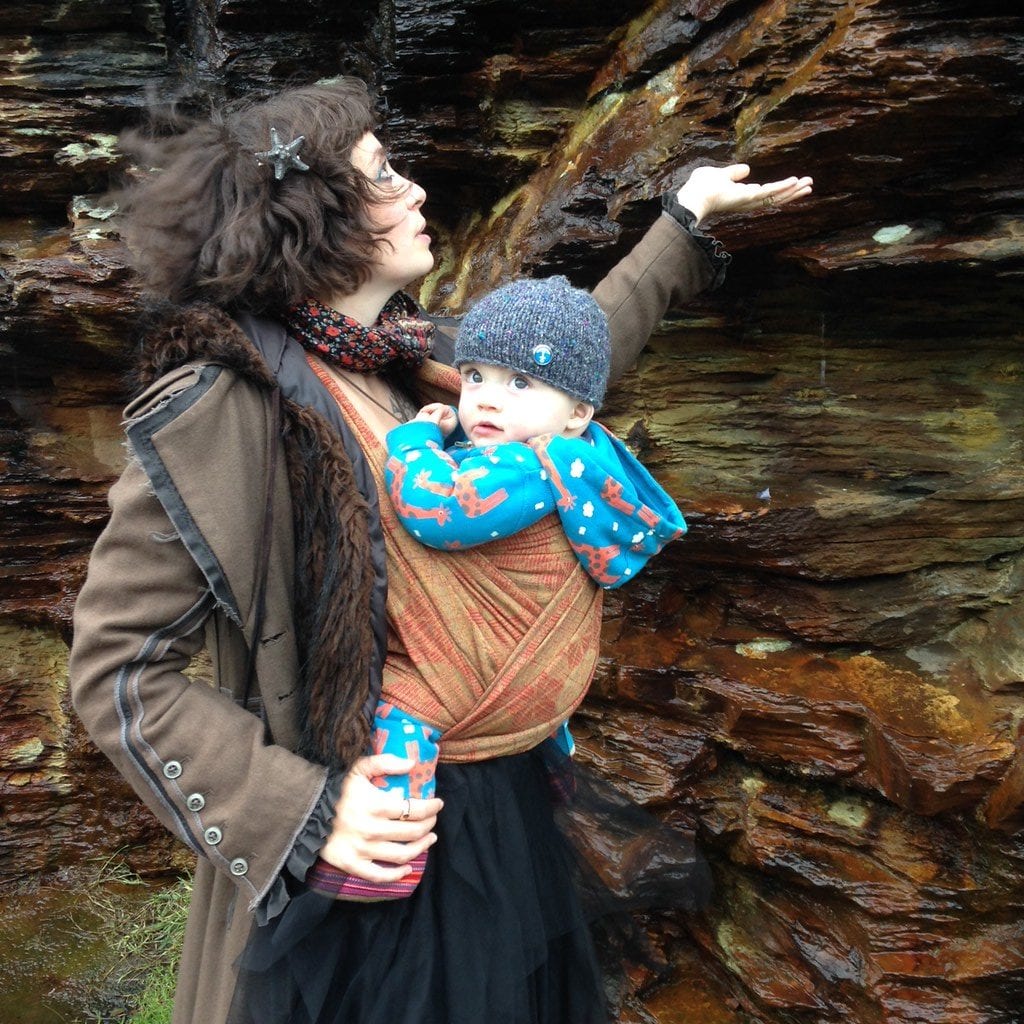 2. Pick The Right Wrap
Choose a fibre blend that will work well for you in different temperatures. Merino wool blends are great for this. Due to its natural temperature regulating qualities, merino wool has historically been used across different seasons. As a hollow fibre, it has the great ability to keep the wearer warm in cold temperature yet feeling cool and fresh in warmer weather. It can trap warmer air or allow heat to evaporate easily. Merino is also hypoallergenic, making it a great choice for babies. Finally, wool has a natural water resistance, so that in light drizzle your wrap won't soak through! For small babies, a thicker wrap will offer enough warmth for them to be dressed in regular clothes underneath. Mobile children are more likely to be wearing their own extra layers, making them more squishy and padded than normal! When independent walkers wearing coats etc suddenly want to be carried whilst out and about, a thinner wrap can be easier to get snug and tight over their extra bulk.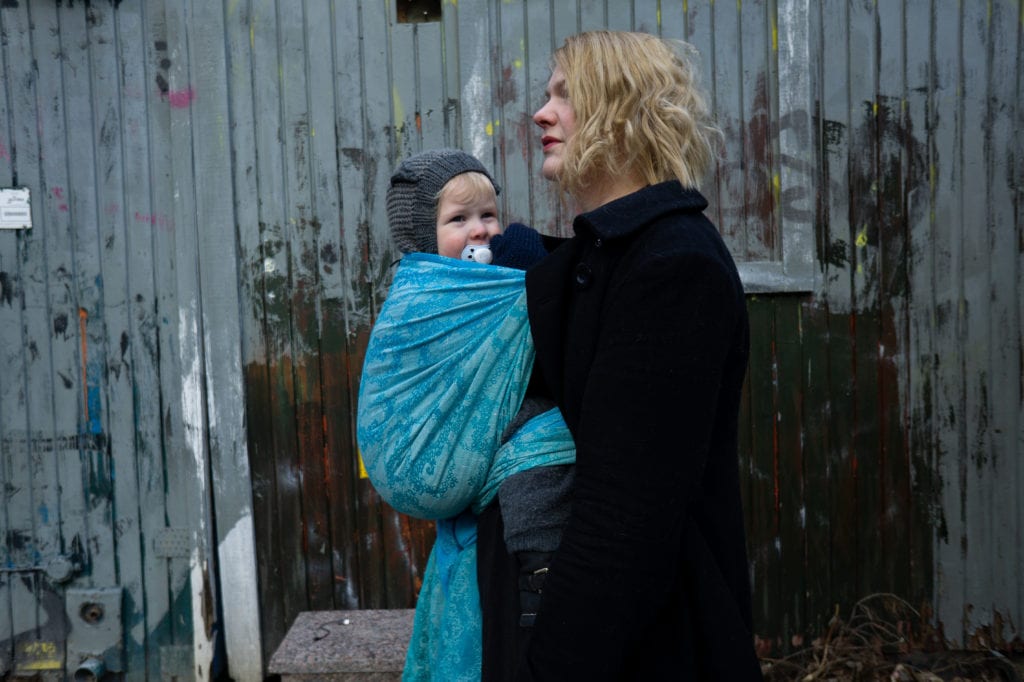 3. Prepare For a Shower Or Two!
As a sling librarian, I often get asked about how to sling in the rain. My first recommendation is a good umbrella. I use a clear Fulton Birdcage umbrella – the shape means that it doesn't blow inside out if it is windy, and it fits really nicely over the both of us. My second recommendation is a waterproof poncho which packs down nice and small. I have two of these, both cheap pac-a-mac ponchos which I have modified with a pair of scissors – in one case I have chopped off the hood and made a V shape to accommodate my wrappee's head when I am back carrying (it was a 5 minute job but it works really well). The other is a pac-a-mac that is meant for hikers to wear over a large rucksack. I have modified that section into a space for my toddler, and think we would both survive a monsoon in it!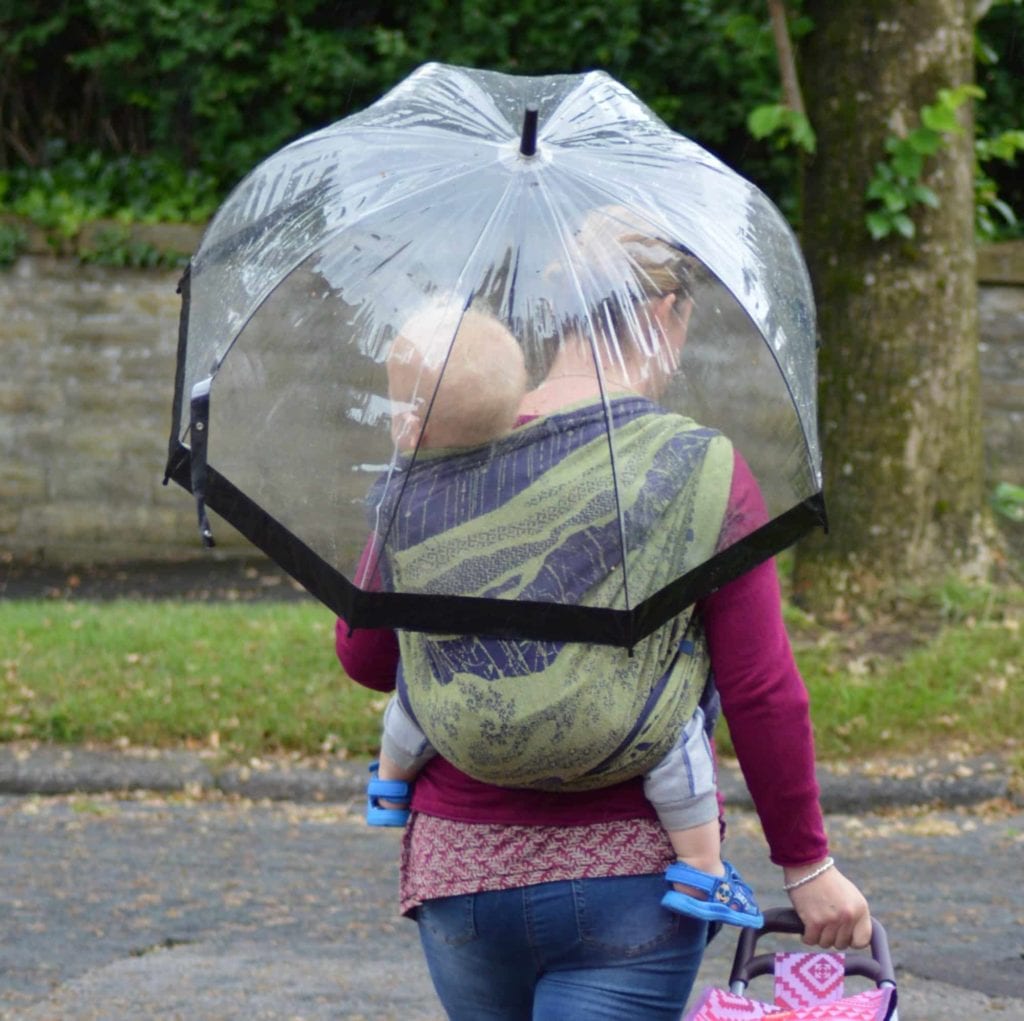 4. Share Your Body Heat
Allow your body heat to pass to your baby by only having thin layers between you, and use layers that cover the both of you to trap it there. This gives you an easier way to check how warm your baby actually is. Bootees, hats, leg warmers and extra socks will help keep your baby's limbs and head warm, but other than that they can be dressed normally. Oversized cardigans or other layers that can fit over both of you will keep you both warm and can easily be removed without having to unwrap your child . Use a scarf or cowl to cover your neck and shoulders and keep the draught out when your baby's head stops you from fastening coats etc all the way up. This is especially handy if your baby is sleeping in a sling, as it allows you to go inside and remove layers easily without disturbing them or having to unwrap.
5. Get a Coat
As the weather cools, you'll definitely need a coat. For front carries an oversized regular coat will usually be fine and a cheaper option. There are zip in panels to extend your own coat, or hacks to use an older child's coat and tuck it round your baby. For back carries however, nothing beats a purpose-made babywearing coat. I have tried a few, and my all-time favourite is the Mam babywearing poncho. I love how it looks good even without a baby, and how it is both warm and shower proof. It is also far easier to get on an off over baby's head unaided than any other coat I've tried. The only downside about wearing a babywearing coat is that no one can see your beautiful wrap underneath! Don't be tempted to wrap a small baby who is wearing a snowsuit – this great article by Rosie Knowles from Sheffield Sling Surgery explains why.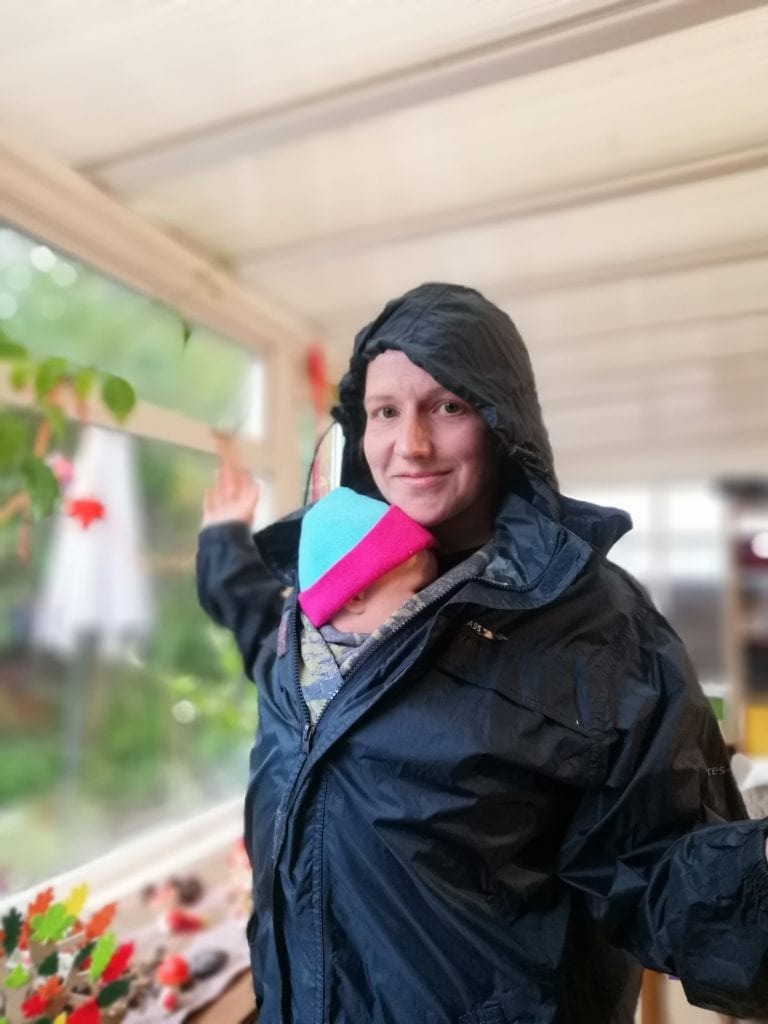 Here are some of our favourite wraps in the shop for Autumn 2021
100% Organic combed cotton
63% Organic Combed Cotton, 24% Linen, 13% Viscose
Blend: Cotton, Merino Lambswool